This article is contributed. See the original author and article here.
Introduction
AI, without a doubt, is revolutionizing low code development. The capabilities of Artificial Intelligence into Low code have the power to revolutionize the way you work and enhance the applications and solutions you build.
You may be wondering what's in it for you with AI as a low code developer. Well, AI has immense potential from automating repetitive tasks, adding intelligence into your applications, building chatbots, automated workflows, predictive analysis and much more on AI.
As a low code developer, you understand the power of technology to streamline the development to deployment process. Well in addition, with the recent development of AI this is a chance to take your skills to the next level. This is a rapidly growing field with massive impact and as a low code developer, you certainly do not need ten years of experience to develop AI models or rather add intelligence into your solution. In this blog, we'll explore the basics of AI for low code developers, what opportunities you have in this platform and responsible AI.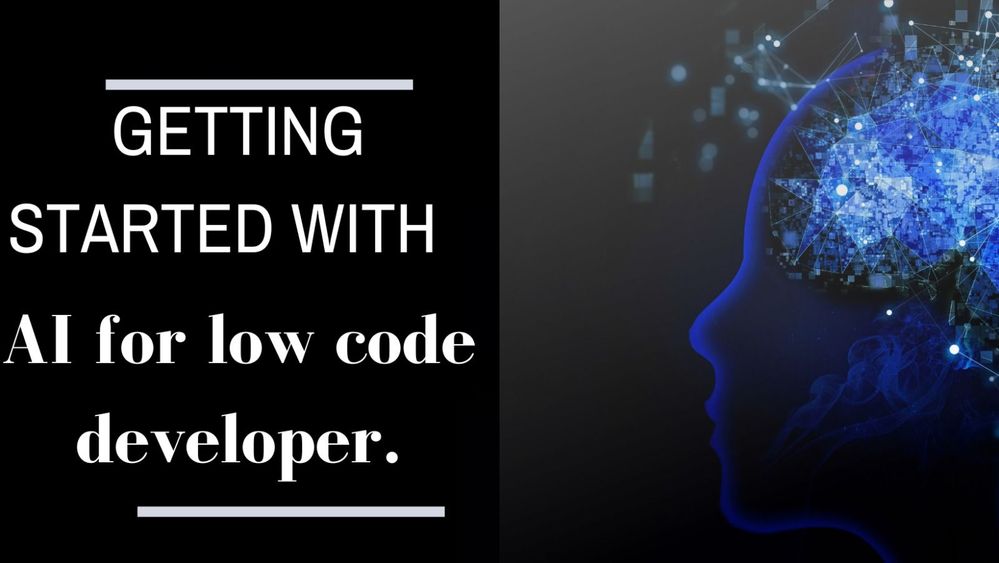 What is Artificial Intelligence?
AI refers to the development of algorithms that can perform tasks that typically require human intelligence such as recognition, decision-making, solving problems and cognitive services. This usually involves training a computer/model to recognize patterns, make decisions and solve problems based on data. With the current development of AI, the main goal is to be able to create systems that can learn, adapt, and improve over time.
The results of AI are immense and have the potential to revolutionize many industries and change the way we live and work. For a low code developer this means you can automate tasks, improve accuracy and speed, provide valuable insights that can enhance user experience.
Opportunity of AI for a low code developer.
As a low code developer, the opportunity to integrate AI into your development process is too good to ignore. Regardless of your level of experience as a low code developer, AI is a powerful tool that can help you add intelligence into your solution and get the most out of it. As AI continues to evolve, we can expect to see more innovative solutions and use cases of AI in our solutions. Some examples of the several ways you can use AI as a low code developer include:




Creating chatbots – Leveraging Power Virtual Agents helps you create conversational chatbots where customers can get quicker services from your business with tasks such as customer service, ticket processing and general inquiry. It is easier also to integrate chatbots solutions into your existing solutions easily. For instance, once you are done building your solution you can publish the chatbot onto your website, mobile apps, messaging platforms (teams, Facebook). Get started here Intelligent Virtual Agents and Bots | Microsoft Power Virtual Agents


Top tip: Remember to publish your chatbot for any updates you make to reflect changes.







Automated workflows – AI can be used to automate workflows in low code applications, reducing manual effort and improving efficiency. This also helps an organization follow a structured manner in the business processes with the organization.


 





Decision making – Using AI you can be able to gain some valuable insights from the data that you have. For instance, if you need to predict a future trend based on data from the past few years, you can achieve this as a low code developer using AI


Image and object detection – Leveraging object detection allows you to fully utilize AI as a low code developer from tasks such as document scanning and extraction of texts from images. This will help you improve the quality of your applications and extract substantial amounts of data in a short time.


Natural language processing – This can be used in low code applications to improve accuracy and speed of text- based tasks such as sentiment analysis. If you need to detect the tone in a customer service review, you can leverage on this to detect the sentiments whether it is positive, neutral, or negative.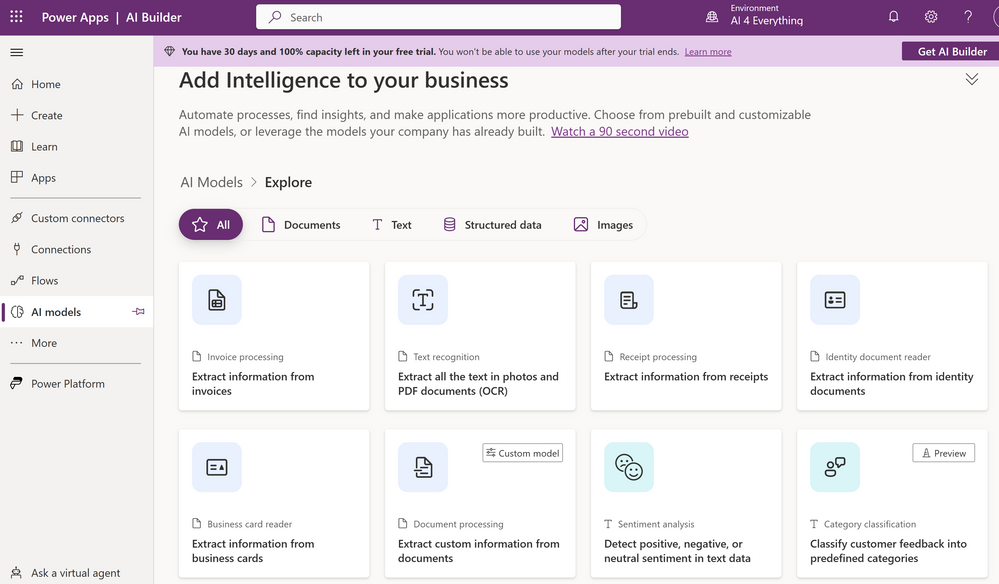 Here are some of the key benefits of using AI in low code development.


Automation of repetitive tasks – With AI, you can automate repeated tasks such as data entry, form processing and this will let you focus on other high priority business activities


Improved accuracy and speed – Some processes that are tedious and manual can be prone to errors and time consuming. Pre-built AI Models can be integrated into your solutions to enhance your application's accuracy and speed.


Gaining valuable insights – AI can help low code developers extract valuable insights from data such as trends, this helps you make data-driven decisions for greater business success.


Getting started with AI as a Low code developer.
You can quickly bring AI into your solutions using Microsoft Power Platform, connecting to your business data regardless of where they are stored in One Drive, SharePoint, Azure, Dataverse
With a few simple steps you can easily get started using AI Builder
.


Understand business requirements – Before you begin, it is important to understand the business process that needs to be integrated with AI.


Choose a use case – Once you have decided on the business process that needs AI choose the best use case you can start with. Some of the common use cases we have are similar across businesses, including form processing, invoice processing and sentiment analysis.
If the business problem is unique to your business, you can create a model from scratch to better suit your business.


Using AI Builder – To use AI Builder, you need to have a Microsoft Power Apps or Power Automate license, with which you can access AI Builder from your Power App or flow. If you don't have one, you can create a free developers account here


Choosing an AI Model – You can either use a pre-built template or create a custom model from scratch using your own data or pre-existing data. Using a prebuilt model means that you are utilizing already built AI scenario templates, like invoice processing.


Test and deploy your model – Once you have selected the model that you want to use based on the business process case, with AI builder, you can test the model's performance before deployment. With this you can validate the model's accuracy and adjust it as needed. Once you are satisfied you can deploy it to your Power Apps application or Power Automate flow.


Monitoring and Improvement – After deploying your model, you can monitor its performance and adjust as per your need.


Responsible AI
As you get started with AI as a low code developer, it is important to ensure that the AI you build is developed and used for the right purpose and in the right environment. Microsoft highlights six key principles for responsible AI namely:




Transparency


Fairness


Reliability and safety


Privacy and security


Inclusiveness


Accountability.


To achieve this as a low code developer who is exploring AI, Microsoft provides resources to help the developers, businesses, and individuals to understand and use responsible AI practices and ethics. This provides a set of principles to guide the development of AI in a responsible way.
Learn more about responsible AI here https://www.microsoft.com/ai/responsible-ai and how Microsoft is achieving this.
Wondering how to get started and explore more resources, check these out:





Watch this video for a demo on how to get started


Brought to you by Dr. Ware, Microsoft Office 365 Silver Partner, Charleston SC.