This article is contributed. See the original author and article here.
In telecommunications, avoiding downtime is Job One. Planning, scheduling, and tracking maintenance operations that can reduce or avoid outages is critical. Plant operators need to have a quick, accurate picture of maintenance while maximizing efficiency.
Version 2.0 of Dynamics 365 telecommunications accelerator includes an extended data model and new sample applications to help you meet customer needs and realize time-to-value more quickly.
The first release of Dynamics 365 telecommunications accelerator provided place management and telecommunication sales capabilities for network and mobile operators, internet service providers, and others in telecommunications:
The ability to tie services, products, and deployed plant and network resources to specific geocoded physical locations such as buildings or a campus
Enhanced lead management with built-in service availability, qualification checks, and lookups for network resources, network mapping, and addresses
A telecommunications extension for the Common Data Model, with telco-specific data entities and attributes for fast application development
Partners who work with the Microsoft Power Platform can extend the data model or sample applications.
Add support for maintenance types, plans, network resources, and zones
Version 2.0 of the Dynamics 365 telecommunications accelerator enhances the extended data model and adds sample applications. Plant operators can define maintenance types and plans, starting with supplied sample data for warranty, contractual, and compliance.
Operators can also define types of network resources, such as optical network units, antennas, and switches. They can also define network zones and service areas, tracking where they're deployed, the accounts they serve, and the manufacturer. It's all fully customizable and configurable out of the box with Dynamics 365.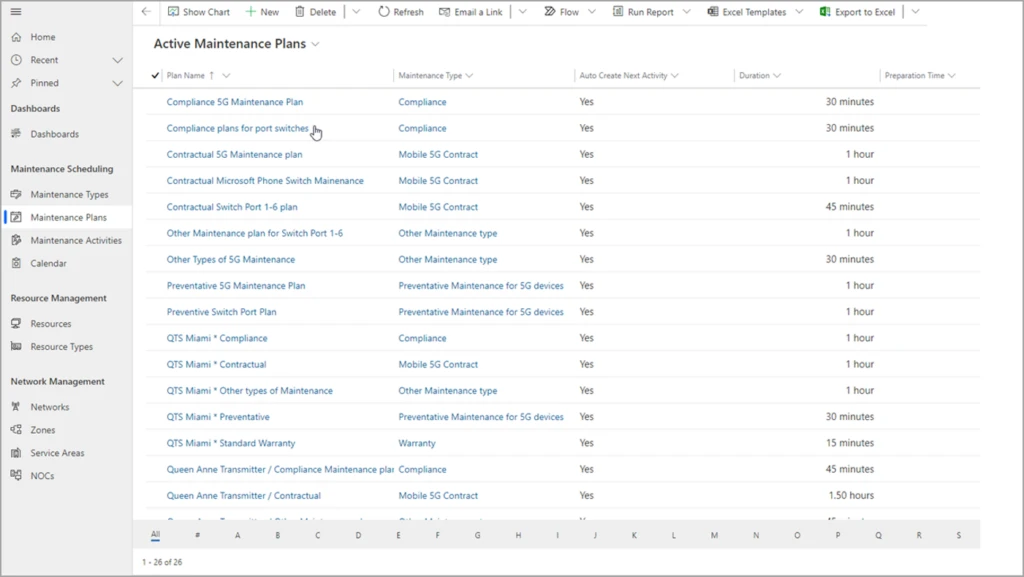 Schedule maintenance plans and repeatable tasks
In the latest version of telecommunications accelerator, plant operators can easily schedule repeatable maintenance tasks. This not only streamlines operations, it also helps operators respond to audit and liability questions by tracking maintenance activities.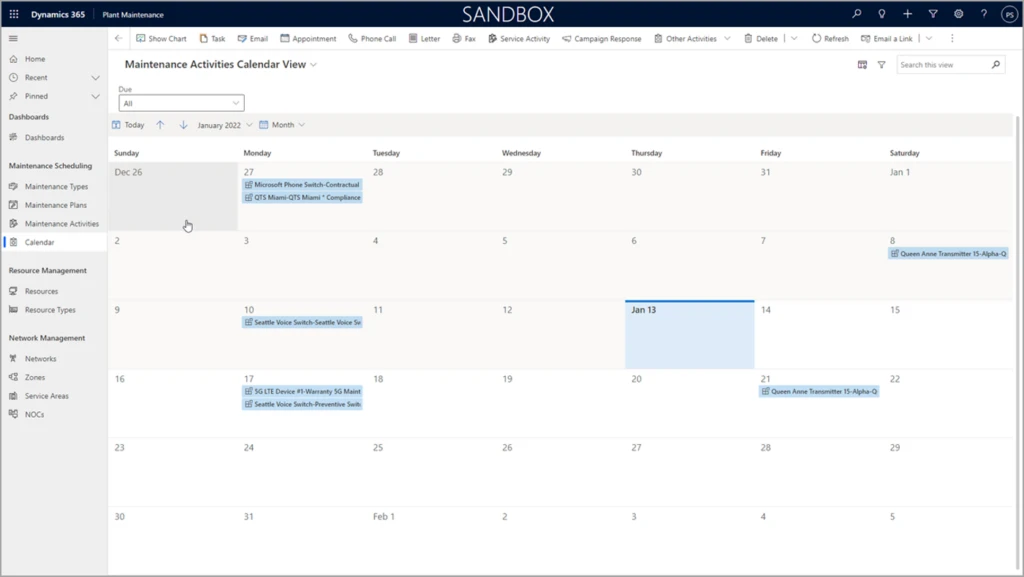 What our partners are saying
Rhyan J. Neble, Vice President of Product Innovation at ETI Software:
Microsoft's telecommunications accelerator not only makes it possible for ETI to introduce new features to our customers faster, it empowers our team to innovate and extend our solution. For example, the maintenance scheduling features will enable our digital twin solution to identify customers and service areas impacted by planned and unplanned plant maintenance. This will allow proactive notifications to both the customer service teams and the subscribers. By integrating version 2.0 of the telecommunications accelerator into ETI's Service Management Platform, we are able to immediately provide critical functionality to our customers and reduce costs at the same time.
Joe McDermott, COO of Carma:
Carma is continually impressed with the collaborative investments Microsoft is making in the Dynamics platform and we're enthusiastically supporting development of the telecommunications accelerator. The version 2.0 release of the telecom accelerator delivers new functionality that we've integrated into Carma's Network and Digital Infrastructure Platform for our existing and future customers. Planning and documenting preventative and other recurring maintenance is a key activity for datacenter and network operators striving for 100% uptime. With telecommunications accelerator's plant maintenance features, Carma enables them to manage these activities with ease and visibility across the whole organization.
Next steps
Get started right away with a test drive of version 2.0 of the Dynamics 365 telecommunications accelerator on Microsoft AppSource. The data model, solutions, sample applications and data, Power BI reports, and UX controls that come with the telecommunications accelerator are available to any Microsoft Power Platform developer.
For supporting documentation and configuration information, visit the telecommunications accelerator overview documentation.
The post Streamline maintenance tasks with Dynamics 365 telecommunications accelerator appeared first on Microsoft Dynamics 365 Blog.
Brought to you by Dr. Ware, Microsoft Office 365 Silver Partner, Charleston SC.