This article is contributed. See the original author and article here.
Windows Admin Center is a tool I wish I had had when I was managing servers. When the tool was first announced in 2017 under the name Project "Honolulu", I was intrigued. I was working for a managed service provider at the time and was mostly focusing on Microsoft 365 migrations and adoptions, so it wasn't a tool I really got to use much, but I did have it installed and used it to manage the test server we had in the office!
What is Windows Admin Center?
Windows Admin Center is a remote management tool for Windows Server. It can manage your server wherever it resides, either in your on-premises datacentre, in Microsoft Azure or another cloud.
The tools you expect to need to do management tasks on your server are there, you don't have to go opening the Microsoft Terminal Services Client (MSTSC) to remote into the server, you don't have to open a separate Microsoft Management Console (MMC) windows to carry out that task you've been asked to. You can use Windows Admin Center! It's a single management plane for your server management tasks.
When I was managing servers, I remember the days of having multiple MSTSC sessions open, or MMC windows open or even some browser-based session open to carry out tasks. It would get confusing having so many windows open, and there was all the chance of accidently doing something on the wrong server.
Windows Admin Center is a browser-based management tool that can help you manage those single server instances or cluster instances in troubleshooting, configuration, or management scenarios. One of the greatest benefits of Windows Admin Center is that there are no additional costs, it's included with Windows Server license.
Built for the future
Windows Admin Center can also help you extend on-premises deployments of Windows Server to the cloud using the Azure Hybrid services. Windows Admin Center can help you implement technologies such as Azure Backup, Azure File Sync, Azure Monitor, Azure Arc, Azure Update Management and Azure Security Centre into your on-premises servers.
From within Windows Admin Center you can start to interact with your Azure subscription, setting up resources groups and installing the necessary agents for Azure Arc to help manage and monitor your on-premises servers.
From within Windows Admin Center you can configure it so that your server is protected by Azure Backup. Windows Admin Center walks you through the process needed without leaving your Windows Admin Center session.
What I love about this is Windows Admin Center is something you can start using within your organization today, even if you aren't using any cloud services, even if using the cloud isn't on your trajectory just yet. But when you are ready to use the cloud the features and functionality to help you manage your on-premises servers is there built in ready for you to use. So, it's ready for the future.
Extensibility
The other great thing about Windows Admin Center it has great extensibility. Which really means that it gives Microsoft and 3rd party developers the ability to build out additional capabilities to complement the existing offerings. Microsoft offers an SDK that enables developers to build their own tools for Windows Admin Center. Several partners have developed some extensions, such as DataON, Fujitsu and Lenovo. So again, Windows Admin Center is helping to give you a unified experience, with your Windows Server management tasks, your Azure management tasks as well as managing your hardware.
The option is there for anyone to have a go at creating a tool extension, solution extension or gateway plugin. The SDK contains content and examples to help guide you through the process.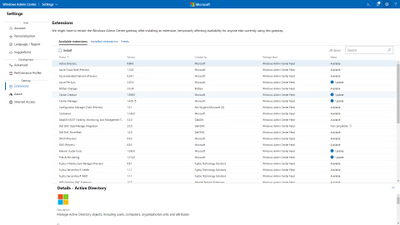 Windows Admin Center in the Azure Portal
In September 2020, the team announced a new way to utilize Windows Admin Center. From within the Azure Portal! This new capability allows you to manage tasks you need to carry out within your Windows Server Azure IaaS VMs seamlessly and at a more granular level. The feature has went public preview so is now available for you to try!
Get started today
If you have to manage Windows Servers and haven't tried Windows Admin Center, then go download a copy today and give it a whirl and understand how it can help your environment!
Brought to you by Dr. Ware, Microsoft Office 365 Silver Partner, Charleston SC.