This article is contributed. See the original author and article here.
Customer Story: Within this story, I will give you some insights into how user adoption is different between a company comprised of mainly office workers and a company where the main focus is to create, sell and maintain key infrastructure components on a global market.
Customer Background: During the last months, I've been working with a customer who's a "hidden champion" or global player. This company is producing devices responsible for cooling in industrial, transportation, tourism, building and many more sectors. Their headquarters is in Germany.
Due to the focus on creation, sales and production, the number of people sitting behind a desk is just one third of all employees and IT is just something that must work 24×7.
The last component to make it even more difficult is the fact that this company is a holding of multiple single companies, part of the company group over months or even years, but still not (fully) integrated from the IT perspective.
So, let's start with the hard facts:
60 locations worldwide

Sizes from 3 to 500 people in each office
Larger ones with standalone IT

No overall governance or policy to enforce specific technology or trainings
Small central IT with multiple local supports / admins
Every country has its own company with a local Director, responsible for IT as well
Microsoft 365 E5 licenses are available for all desk workers but mostly used for Office suite licensing only
Customer Target: We've started with the target to implement Office 365 as "another" IT solution additionally to the local IT like file servers, email systems, Skype for Business, etc.. Some in the cloud and some on-premises.
Over the initial implementation phase, we've figured out that Microsoft 365 needs more governance and principals to ensure a secure environment, combined with Azure infrastructures.
The main goal for the project became a M365 full stack implementation with the main driver: Microsoft Teams.
Adoption insights
We've started with a small but important step: we've involved the central IT and especially the IT Director, responsible for all IT decisions within the whole group and first contact for any IT questions of the local directors. He's also in direct discussions with the C-Level executives for business decisions like "more cloud" or "less cloud."
From a general change management perspective, we've made our first alliance with the Management level.
The next step was to identify people who are involved in many business processes in the company and willing to help the IT department for the implementation.
We found these people in a special group of persons, distributed in every department and on a global level: the assistants.
These people already had strong experiences by creating global projects and bringing some new digital workstyles into the whole company group like travel management portal. Another benefit is the direct contact of these assistants with the head of departments or even the C-Level itself. These people became the champions for the whole project.
We've created a strong relationship with these assistants by creating 2 weekly calls, providing direct trainings, sharing knowledge of the M365 products as well as the current project status for our global rollout.
Anyhow, all of them had different backgrounds for IT, beginning from a person with more knowledge of the manufacturing process as the PC handling, to someone who delivers IT trainings to multiple departments within the customer group.
Our initial idea was to run the following deployment process:
Creation of the team can be done via Head of Department or Assistance only
Every user will be enabled for Teams right away and we will announce trainings etc. on a central platform
Rapid rollout
Within the regular champions call we've tried multiple trainings ideas and asked for feedback about them:
Create an internal knowledge base with know-how articles
Online articles from Microsoft
Self-created Training materials
Self-created training tasks / challenges

Small references to Microsoft and internal training material to provide help

Offer open office hours
Create a test team with full access to create
Providing showcases with a dedicated trainer
With the experiences of our Champions network, we've adjusted our plans. One was an "easy to use" Teams online request form, based on a request template with basic questions for all users AND the other one was the decision to provide more training and start with another rollout approach: activate the users in groups, divided by department with a slower rollout to ensure a good user experience.
Based on these insides we've also identified a strong need to create valid personas for different target groups. We also made the decision to separate the persona groups by office worker and production worker.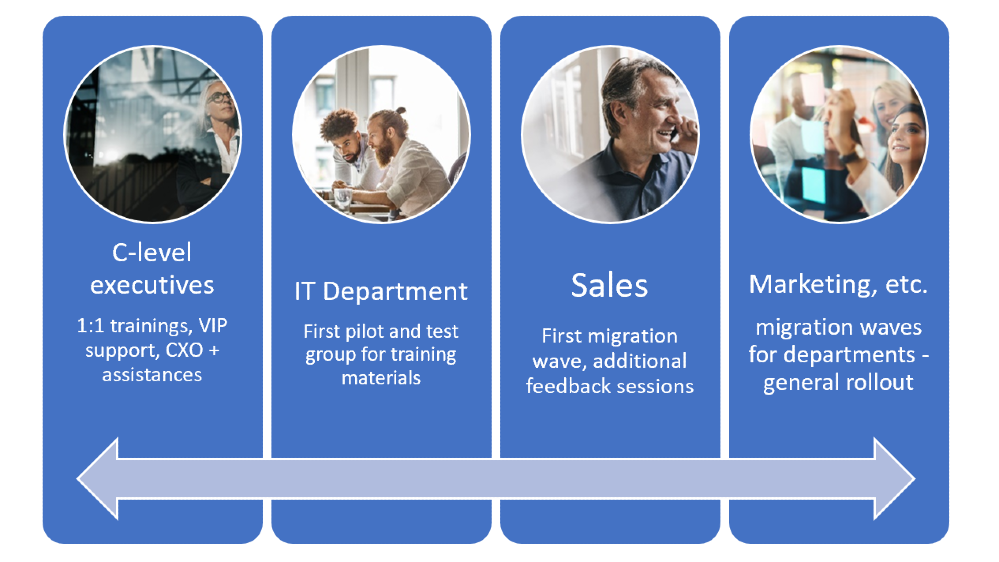 These different persona groups enforced the whole project to create different rollout plans and different training concepts.
The following onboarding concept has been used for the office workers:
Marketing
Internal newsletter with the announcement of Microsoft Teams is coming
Intranet-Posts on the daily startup page in the browser
Article / extra in the internal news page magazine
Pilots
Low risk pilots with IT friendly users
Creating best practices and marketing
Create a show case to visualize the success
Build up a Champions community
Create a champions community with interested people
Clarify the future role as a direct contact during rollout
Announce these champions directly
Rollout – Communication
Start with e-mail communication before the rollout starts

multiple weeks before as announcement
couple of days before rollout with a description what happens during the rollout
1 day before with some reference links to training material

Send out a welcome Mail and invite to a welcome team with reference and training material as announcement during rollout
Floor walkers offer a help on migration date
Multiple open office hours during the whole migration phase
Provide direct and anonymous feedback via feedback forms
Rollout – Trainings
Invite for a kick-off when the rollout happens in the background
Provide mandatory basic trainings
offer optional advanced trainings
But this was just the on-boarding concept. We also needed a training concept as well.
Based on our experience with the champions and the feedback of the PoC / pilot users, we've decided to offer multiple training options, instead of single one. But the key for the rollout kick-off was a classroom training where all user of the migration wave should meet some of the champions and get some first hands-on experiences within the test-team.
Before and during rollout
Provide training

materials via internal knowledge base (multi-lingual)
Know-How videos (multi-lingual)

Create a Test-Team for each wave

with welcome message
specified trainings / hands on experience tasks for testing
Add Microsoft Teams (and additional) licenses to the users of the current wave 1 day before the kick-off is planned
During Kick-Off Event
Add these users to the Test-Team
Present basic, quick enable knowledge during Kick-Off event
Complimentary basic training
Invitation will be send during Kick-Off event
Optional Offers
Multiple advanced trainings for new tools and options like Planner, Forms, PowerApps, …
Open office hours
During all the time we've got constant feedback from the champions to create an additional Q&A channel to the new users but also between the champions and the IT department.
Due to multiple projects we've been aware of the general approach for office worker but for production worker, we had other needs and requirements. The production worker also has another "relationship" with IT.
For the production users we had the following dependencies:
Not every worker has an account
Generic accounts with Internet access are used in "open areas"
The foreman has a direct account
No mobile phones in production just customized iPads
With these prerequisites, we've identified the following personas: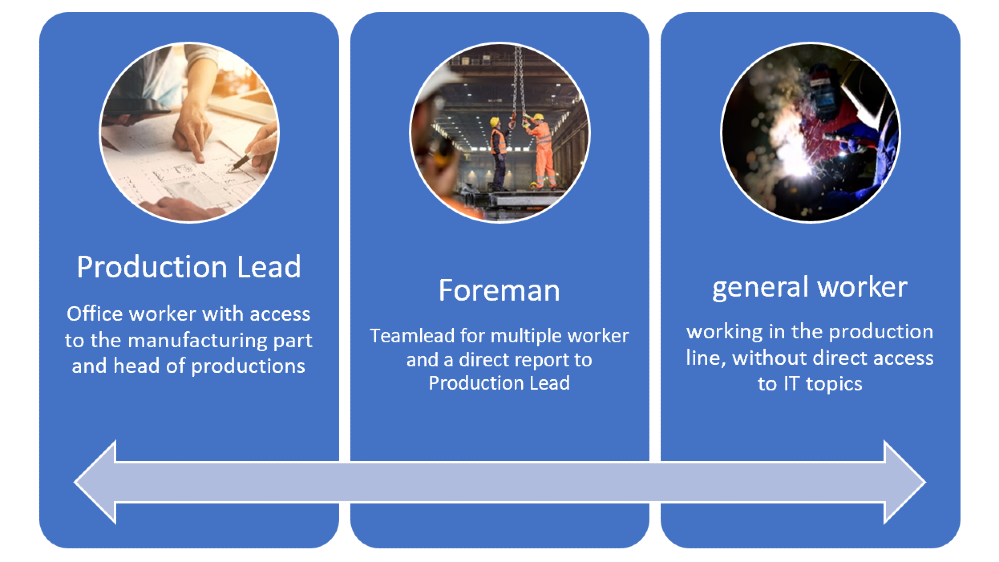 Unlucky for the integration, but good for the adoption concept: The initial idea to implement shifts for the whole production area was rejected due to the huge invest regarding training and hardware. This decision reduced the change impact to a smaller set of production users: the production lead and the foreman.
Over 2 weeks, we've evaluated the original way to work and identified typical business processes where we can bring in some benefits for the target groups.
This knowledge allowed the creation of specific water-proofed handouts and quick-start guides.
We've also created another rollout concept with single parts from the concept for desk worker but provide more production specific marketing and training strategies.
Brought to you by Dr. Ware, Microsoft Office 365 Silver Partner, Charleston SC.