This article is contributed. See the original author and article here.
Hello, June. Good bye, June. Nice to know ya, June… oh, how you flew by! And what nice tech treats you left for us in SharePoint and related tech land…
June 2020 brought a lot – 100GB file uploads, Microsoft Search: Acronym Answers, site analytics updates, Quick Edit updates for lists and libraries, a new default teal site theme, sharing links to block downloads of PDFs, images and audio, and more. Details & screenshots below, including our audible companion: The Intrazone Roadmap Pitstop: June 2020 podcast episode – all to help answer, "What's rolling out now for SharePoint and related technologies into Microsoft 365?"
In the podcast episode, I chat with Cathy Dew (LinkedIn | Twitter), senior program manager at Microsoft who works on all things Teal and Fluent. Cathy is a design expert managing user experiences across the whole of SharePoint – most recently aligning with and adopting to the Microsoft Fluent Design System, providing consistency throughout – and this month, one main update can be categorized by the phrase "from Blue to Teal."
Cathy Dew, senior program manager (SharePoint/Microsoft) [Intrazone guest]
All features listed below began rolling out to Targeted Release customers in Microsoft 365 as of June 2020 (possibly early July 2020).
Inform and engage with dynamic employee experiences
Build your intelligent intranet on SharePoint in Microsoft 365 and get the benefits of investing in business outcomes – reducing IT and development costs, increasing business speed and agility, and up-leveling the dynamic, personalized and welcoming nature of your intranet.
Microsoft 365 now supports up to 100 GB file sizes, per file, into OneDrive, SharePoint and Teams
The funnel into Microsoft 365 grows… We're increasing the max file Size from 15GB to 100GB for individual files. For best performance, we recommend uploading very large files using OneDrive sync – especially *differential sync* when actively working with large files. And it, too, applies to content migration scenarios.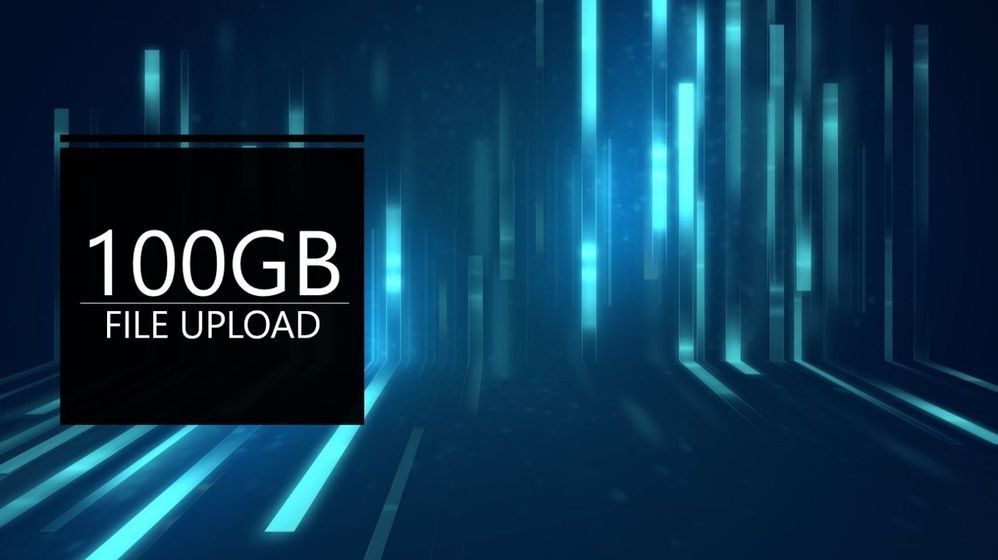 Microsoft 365 now supports upload of files up to 100GB – applicable to OneDrive, SharePoint and Microsoft Teams.
Microsoft has a continuous focus on overall performance throughout the lifecycle of a file – from upload, to download, to use and edit. The end result being productivity enhancement and protection on more files in your organization, even the big ones, by getting them into Microsoft 365 – now with fewer size limitations.
Acronym answers are now available with Microsoft Search in SharePoint
Users often run into unfamiliar acronyms and abbreviations used by their organization or team. Terms that are specific to organizations or teams might be new to people who move from one team to another, those who work with internal partner teams, or are new to the organization.
Acronym Answers allows Search administrators and editors to create definitions for commonly used acronyms to help people discover their meaning – be them new or unfamiliar.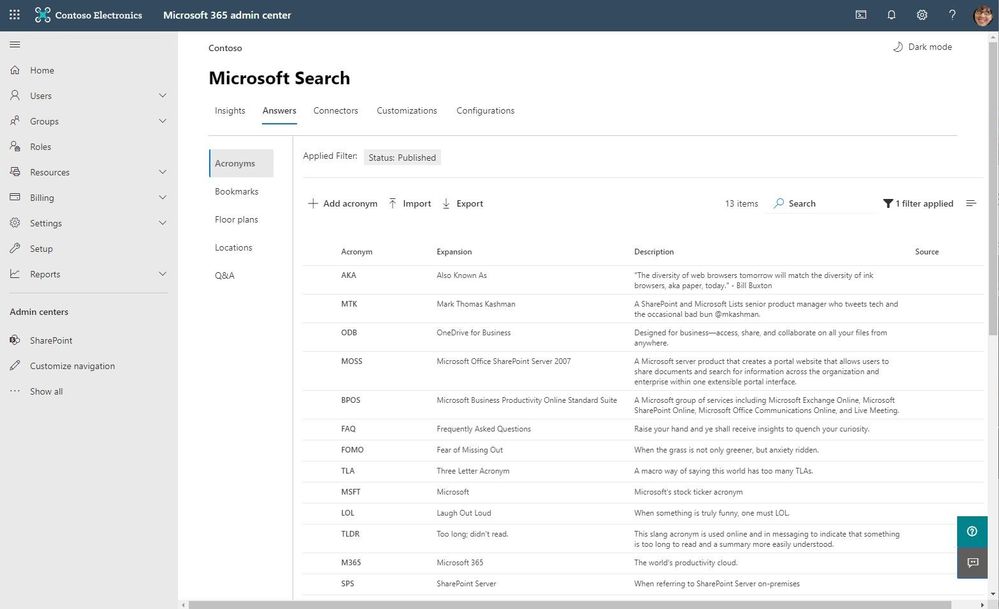 Search administrators can set up editorial acronyms on the Acronyms tab in the Microsoft Search admin center. You can add acronyms from any internal site or repository to the admin center.
You can now enable the communication site experience for classic SharePoint team sites
This optional feature allows SharePoint admins and site owners to enable the modern communication site experience on any classic team site that meets the requirements, including the root site.
A SharePoint communication site is a great tool for sharing information with others in your organization. And now, classic team sites can enjoy the benefits of modern communication sites – a modern home page, full-width pages with horizontal navigation, and improved capabilities to share news, reports, statuses, and other information in a more visually compelling way.
Demo showing how to enable the communication site experience for a classic SharePoint team site.
Sample PowerShell script using the SPOCommSite cmdlet.
SharePoint admins or site owners must run the "Enable-SPOCommSite" PowerShell cmdlet. And note: this action does not change any site permissions or remove any content, nor does it create a new Microsoft 365 Groups membership.
Site analytics – average time people spend on any given site
We are adding a new report on the SharePoint site usage page, that details the average time spent per user. Each site has this dedicated analytics page. You'll see a trend line for the time people spend on site pages and news posts for 7-day and 30-day periods. The average metric is calculated by comparing the total time spent on that page with the number of the unique visitors on that page in the given timeframe.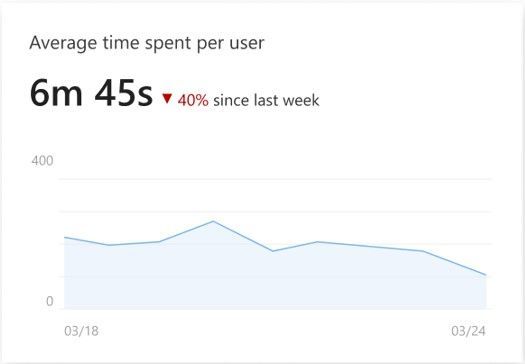 In this example, the report shows that the average user spent 6 minutes and 45 seconds actively engaged with the site during a 7-day period. This is a 40% decrease from the prior 7-day period.
Note: the report does not yet include time on lists, in documents, site admin pages, or when pages are viewed via mobile.
Site analytics – cumulative analytics for SharePoint hub sites
SharePoint hub sites make it easy to organize information and collaboration based on project, department, division, or region. This report provides site owners and members cumulative insights to unique viewers, total visits, top sites, and most popular content – for all sites that are part of the hub site.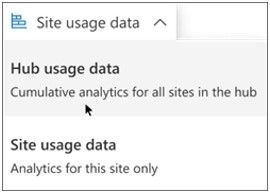 Choose to see the cumulative hub usage data for all sites within the hub or solely the usage data of the hub site itself.
To view these reports, site owners or members need to go to the hub site and select Site usage data. By default, you will see analytics for all sites in the hub. It is possible to view data only for the hub site itself.
Consolidated page for Migration in the SharePoint admin center (Microsoft 365)
This is essentially a new Migration landing page within the SharePoint admin center. It has everything you need no matter where your content is coming from. It is your one-stop shop for all things files and content into SharePoint, OneDrive and Microsoft Teams.
The new, consolidated page for Migration in the SharePoint admin center (Microsoft 365).
Click on "Migration" to see all – Migration Manager for scaling file share migrations, plus links out to SharePoint Migration Tool for migrating from on-premises SharePoint Server, and Mover for cloud-to-cloud migrations – all on one page instead of separate tabs; consider this the Migration center for all things file shares and SharePoint into Microsoft 365 – moving content into OneDrive, SharePoint and Microsoft Teams.
Updating the default SharePoint site theme from blue to teal
Old SharePoint logo and color scheme – blue. The new SharePoint – icon and theme – is teal. We're updating the default site theme to match the SharePoint timeline. SharePoint will automatically update new and existing communication sites and team sites with a new teal site theme. Group-connected team sites, and sites that have been customized, will not be impacted.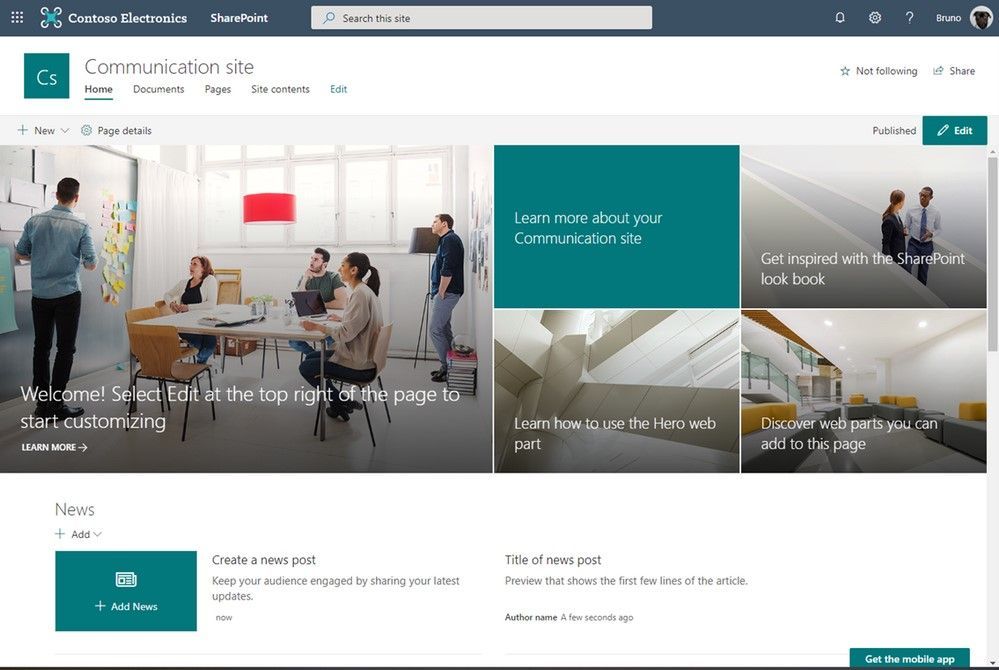 SharePoint communication site with the new Teal site theme.
The new teal theme can be changed to the former blue theme at any time in the Change the look panel. If site owners want to keep the current blue theme – or simply want to change the theme – they can edit the theme in the Change the look panel. This change can be made at any time, and each site will require a manual change.
Microsoft uses the Fluent design system to ensure a cohesive and accessible design
Beyond teal… Fluent has been applied to more of the SharePoint user interface resulting in some visual changes. You will notice larger and bolder typefaces, increased opacity for drop shadows, and rounded corners for square graphical elements.
The broader anatomy of Microsoft UI components.
Fluent is about SharePoint designers and developers working better together to create best-in-class experiences that empower your productivity throughout your intelligent intranet.
Teamwork updates across SharePoint team sites, OneDrive and Microsoft Teams
Microsoft 365 is designed to be a universal toolkit for teamwork – to give you the right tools for the right task, along with common services to help you seamlessly work across applications. SharePoint is the intelligent content service that powers teamwork – to better collaborate on proposals, projects, and campaigns throughout your organization – with integration across Microsoft Teams, OneDrive, Yammer, Stream, Planner and much more.
Improving the Quick Edit experience for SharePoint lists and libraries
The team has been working hard to improve the Quick Edit experience – Quick Edit being a mode you can move into to make bulk updates and add list or file items quickly within lists and document libraries.
One example of the updated Quick Edit experience: the "New" button appears so you can enter information via the input form while in Quick Edit.
Create all column types directly from Quick Edit.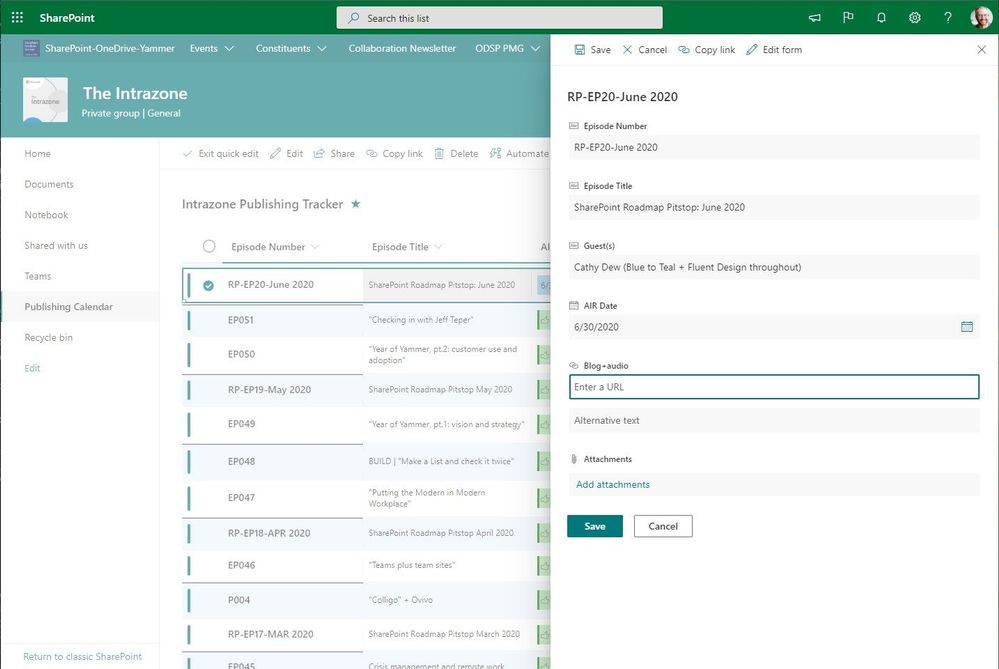 View and edit items in forms inside of Quick Edit.
Updated list and library forms and web parts
Updated hyperlink and date column editors
We are always striving to improve design consistency, user experience and performance. Now when you add a hyperlink and text to an item or add or update it's date and time, you'll have a much better experience doing it. These simple updates save you time, and simply look and work better.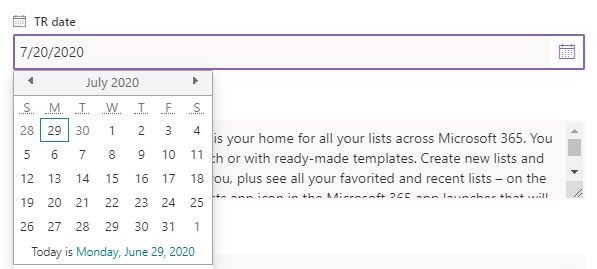 The new, inline Fluent Design date picker experience for a Date column in a list.
Bulk edit your list items and file properties in the form
You can now select multiple items and edit their list items or documents properties at once in the form. Again, a big time saver.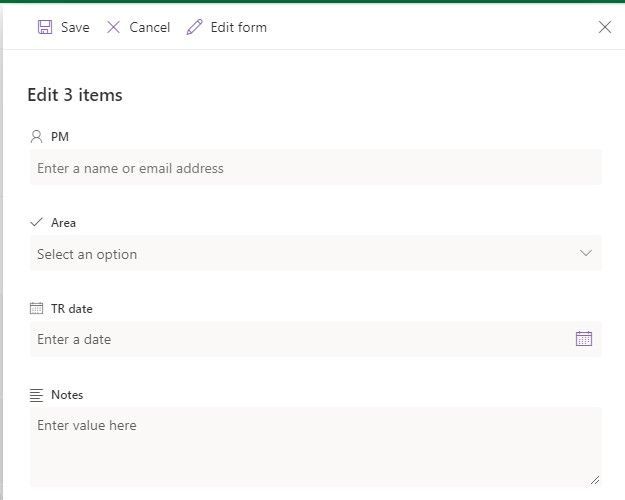 Once you select multiple item on a list, you'll see it reflected in the form where it says "Edit 3 items" and it shows only the fields that can be bulk edited.
Connect web parts to consume dynamic data
Dynamic filtering allows you to filter the contents of a list or library web part on a page depending on a value selected in another list or library web part on that same page. Think of one being a source and the other being a way to visualize the item details. A nice way to build quick productivity apps in conjunction with SharePoint pages.

The List web part on the left is connected to the Document Library web part on the right.
Our documentation team has been working hard to update all the help and how to materials for all things lists and libraries updates.
Learn more about recent lists and library updates:
Updated sharing links that block downloads for PDFs, images and audio files
Today, you can create sharing links that block the download of Office files. This sharing link allows recipients to read the file, but not download it.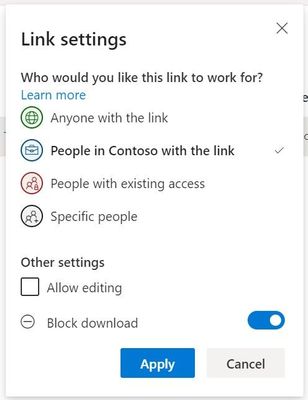 Select Block download when adjusting sharing settings, now on Office files, PDFs, images and audio files.
This month's update expands the list of supported file types to include PDF files, images, and audio files. The experience of creating a "read-only/download-blocked" sharing link is unchanged; you must uncheck "Allow editing" for the "Block download" toggle to appear.
Note: admins can control whether the "block download" setting appears only for Office files or whether it will allow additional file types by editing the BlockDownloadLinksFileType setting in the Set-SPOTenant or Set-SPOSite PowerShell cmdlets. The options are "enable for only Office files" or "enable for all supported files" (now the new default).
Related technology
PowerPoint Presenter Coach on Android
Last fall, the virtual Presenter Coach released to PowerPoint for the web. And, it is now generally available for Android devices – both in the PowerPoint app and in the new Office mobile app.
This feature uses AI to help you hone your public speaking skills by providing on-screen guidance on your pacing, use of inclusive language or profanity, and noting use of filler words and culturally insensitive phrases. At the end of each session, it also provides a detailed report with metrics for additional practice.
Simply open any presentation – especially those stored in OneDrive, SharePoint or teams. Tap on the "three dots" more actions menu, tap "rehearse with coach," and tap "start rehearsing". Download either the PowerPoint Android App, or the Office Mobile App, so you can experience coaching on-the-go! Note: Presenter Coach will be available for iOS in the coming months.
Temporary increase to 20k attendees for Live Events in Yammer
Earlier this year, Microsoft announced this temporary limit increase would be enabled for Microsoft 365 live events to help better support customers, through July 1, and now will continue to support until October 1, 2020.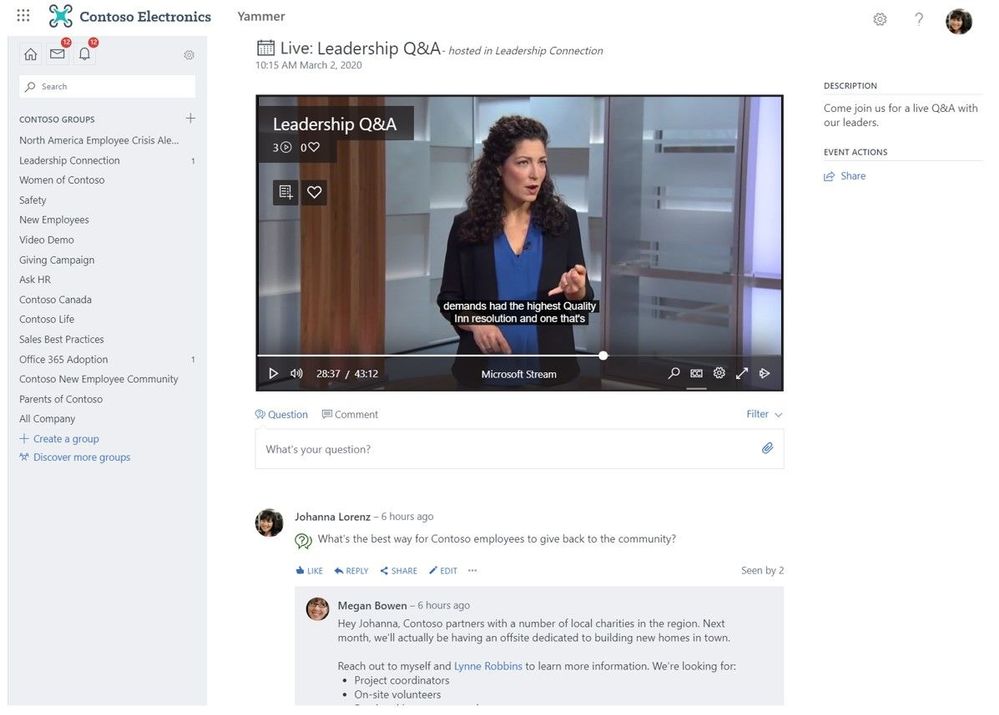 Create live events and have them show up directly in Yammer where viewers can participate in live discussion while watching.
Live events hosted in Teams, Stream and Yammer can be up to 16 hours in length and 50 concurrent events. Additionally, you can reach out to the Microsoft live events assistance program to host live events up 100,000 attendees.
SharePoint Starter Kit v2 (for developers)
This is a comprehensive solution designed for SharePoint in Microsoft and SharePoint 2019 which provides numerous SharePoint Framework (SPFx) web parts, extensions, and other components, as well as PnP PowerShell driven provisioning which you can use as an example and inspiration for your own customizations. This, too, applies to building modern portals and packaged solutions in Microsoft Teams.
You'll find updated samples, documentation, recent source code updates to match current version of SharePoint Framework (SPFx), a new sample layout site via the Look Book, and more.
July 2020 teasers
Psst, still here? Still scrolling the page looking for the rolled out goodness? If so, here's a few teasers of what's to come to production next month…
… shhh, tell everyone.
Helpful, ongoing change management resources
Thanks for tuning in and/or reading this episode/blog of the Intrazone Roadmap Pitstop – June 2020 (blog/podcast). We're open to your feedback in comments below to hear how both the Roadmap Pitstop podcast episodes and blogs can be improved over time.
Engage with us. Ask questions. Push us where you want and need to get the best information and insights. We're here to put both our and your best change management foot forward.
Stay safe out there on the road'map, and thanks for listening and reading.
Cheers and thanks,
Mark "MTK" Kashman – senior product manager (SharePoint/Lists) | Microsoft)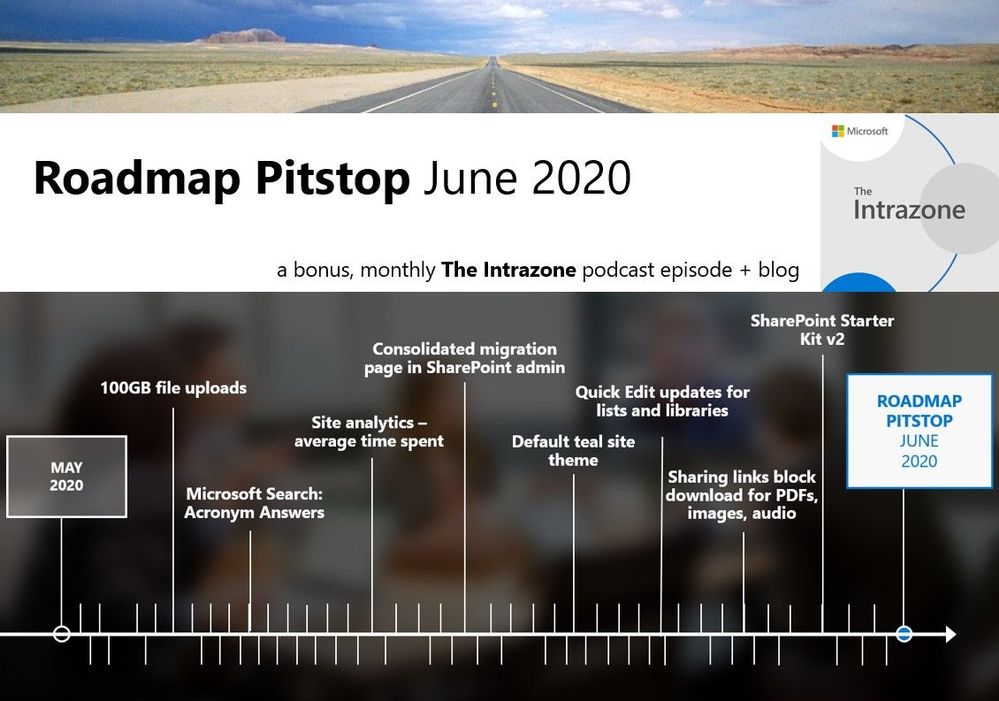 The Intrazone Roadmap Pitstop – June 2020 graphic showing some of the highlighted features released in June 2020.
Brought to you by Dr. Ware, Microsoft Office 365 Silver Partner, Charleston SC.