This article is contributed. See the original author and article here.
Hey Folks….
Phil here… just thought I would share the following with you.
Scenario
Office 2019 is installed
FSlogix rules are applied to prevent Office being accessed by unauthorised users
When the rules are applied , Word fails to launch. We see the splash screen and then it times out.
Excel /Outlook/ PowerPoint, Access and other Office apps all launch providing the user has entitlement
Cause:
Word needs the SYSTEM account so this needs to be added.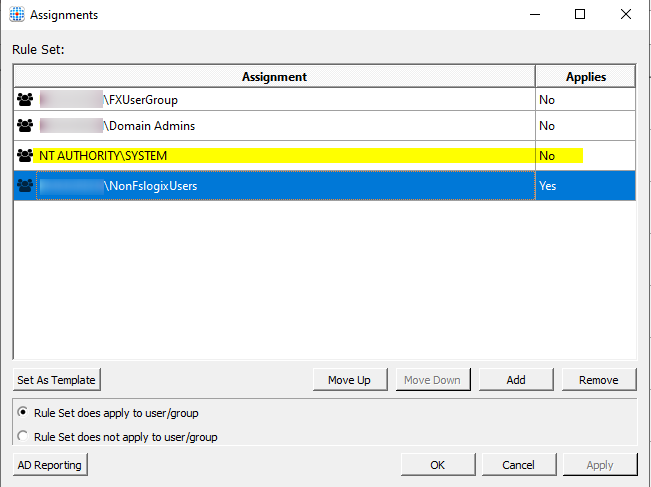 However, when testing , Word still failed to launch. We still see the splash screen and then we exit.
What could be wrong?
Cause :
After investigation, we saw that Adding the system account , Word would still fail. This is because The rule assignment for the SYSTEM account via the object picker is written for a Group and not User.
You can validate this by looking at the ".fxa" file that the rule editor writes out.
0x00000012 S-1-5-18 NT AUTHORITYSYSTEM 0 0

The 0x00000012 indicates


Its a Group


The Rule is not assigned


You may also have 0x00000011


Its a Group


The Rule is assigned


It should be 0x00000006 unassigned rule (you may also choose to have 0x00000005 assigned rule) both indicate it is a User assignment.
Workaround
To resolve this , edit the assignment file (.fxa) in Notepad and change the setting :

To the following

Word should now launch as expected.
This is a known issue and is scheduled to be fixed in the next release cycle of FSLogix
Until Next Time…..
Brought to you by Dr. Ware, Microsoft Office 365 Silver Partner, Charleston SC.