This article is contributed. See the original author and article here.
Whether you're working remotely or in the office, your team can use Whiteboard to run effective meetings, brainstorm, plan and think creatively.
We're excited to announce that some of the most loved Microsoft Whiteboard features on Windows 10 and iOS are now available to use in Teams and Whiteboard on the Web.
These new features make it easier than ever to keep the creative process moving forward virtually with your team or class.
Let's go through each of these features to give you a better understanding of the use cases for both Enterprise and Education.
Sticky notes
Sticky notes let you quickly add ideas and feedback to the canvas, especially if you're using a device without a digital pen.
Sticky notes can be added through the toolbar or by right-clicking on the canvas to insert one in a specific place.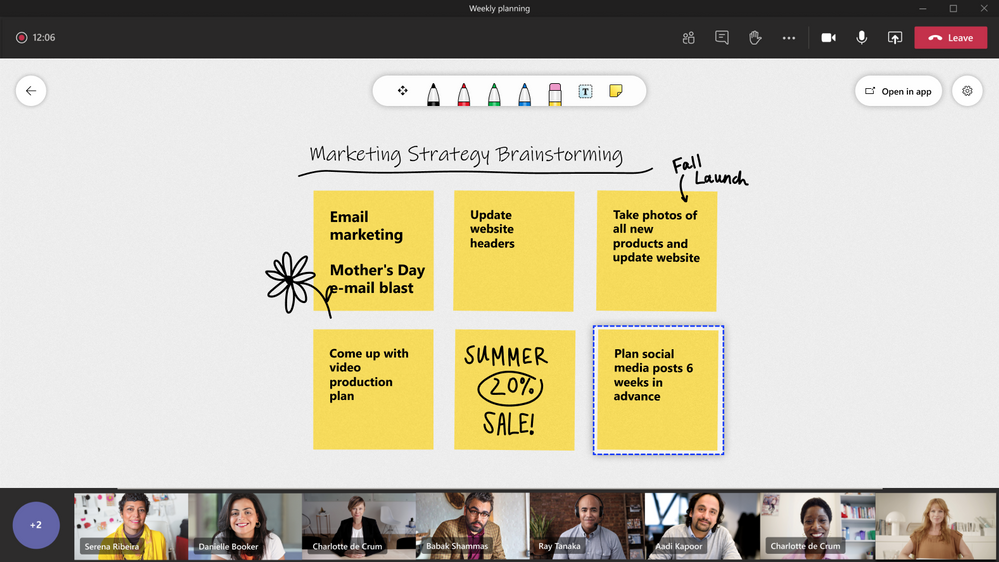 Text
Text objects are a great way to add structure to the canvas, such as adding an agenda or details.
Text objects can be added through the toolbar or by right-clicking on the canvas to insert one in a specific place.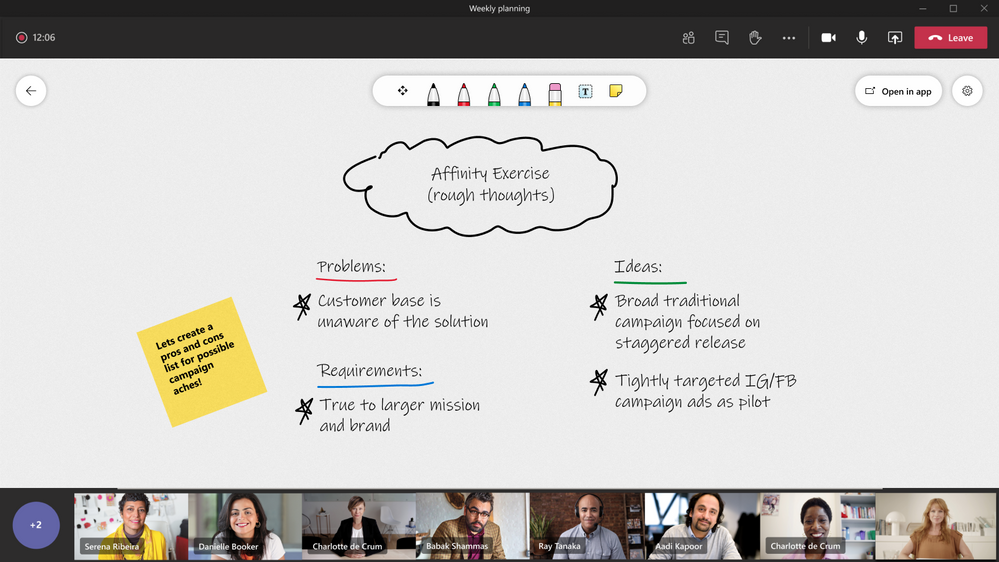 Select and move objects
You can move and re-order objects when organizing ideas, tasks or other content on the canvas.
Whiteboard's Improved Performance
To support these new capabilities the Whiteboard web app has been completely rebuilt and is now faster than ever. This new foundation will allow us to bring more capabilities to Teams and the web, like the ones offered today on Windows 10 and iOS. And you can use the Whiteboard web app on any of your devices including PCs, Macs, Android and iOS devices by visiting http://whiteboard.microsoft.com.
Now let's put it all together and go through some use cases across school and work:
Educational Institutions: Real-time visual collaboration in online classes, with control over when students can add to the Whiteboard
Visual collaboration tools can make meetings and teaching environments more effective and inclusive. Our updated Whiteboard features in Teams enable students who don't have access to a touch or pen device to participate in whiteboarding sessions during Teams meetings. Plus, educators will also have the option to present the digital whiteboard without students having access to drawing on the board during class.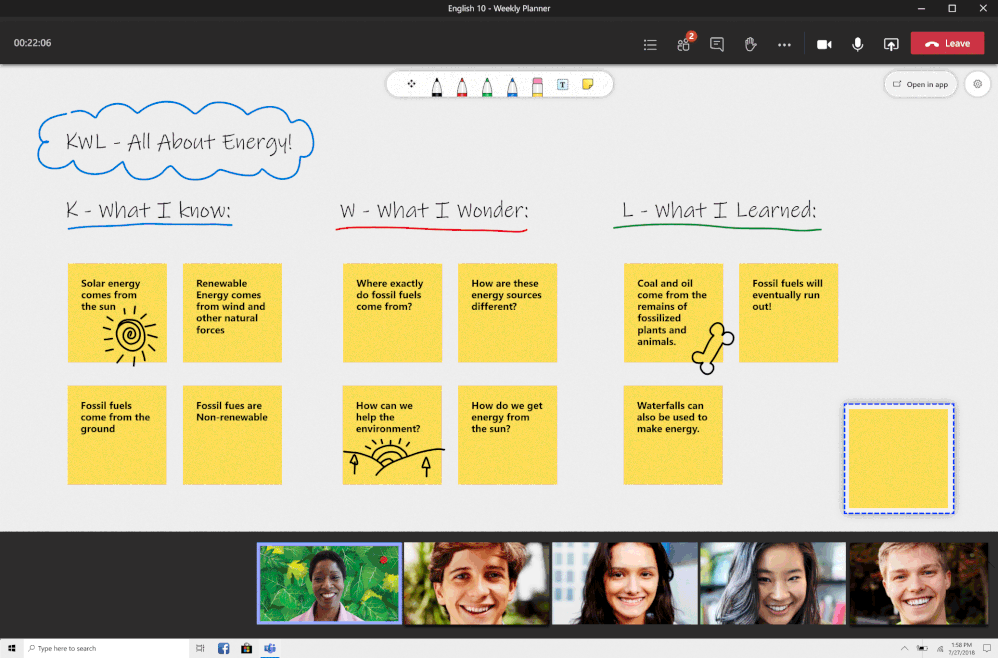 Enterprise Use Cases: Inclusive collaboration in the hybrid workplace
We are all in a new norm of working in a hybrid workplace. Though teams are not physically in person these days, there is still a need to be inclusive and collaborate via brainstorming and creative thinking sessions. We all have been in a meeting where we are using a dry erase board, adding sticky notes to a wall, and taking pictures of the material we write, draw, and discuss. We have brought the physical board to you via Whiteboard in Teams.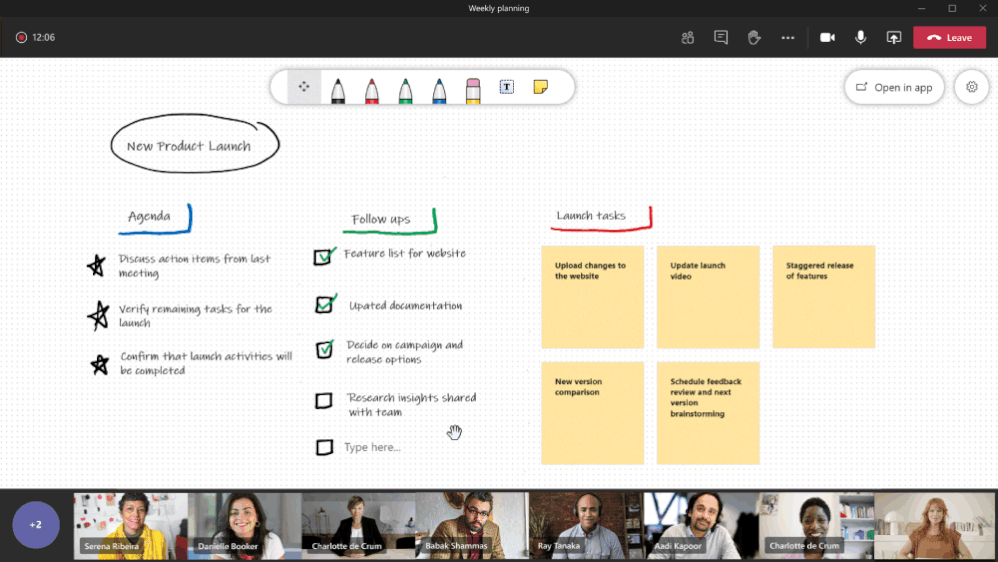 Additional Capabilities:
We are excited for you to start collaborating on Teams and Whiteboard on the Web! For more information on additional capabilities we have coming to Whiteboard, please see our Microsoft 365 Roadmap.
Please remember – you can continue to access all of Whiteboard's feature-rich experiences – such as templates and hyperlinks – on the Windows 10 app and iOS app.
Brought to you by Dr. Ware, Microsoft Office 365 Silver Partner, Charleston SC.