This article is contributed. See the original author and article here.
How do organizations today balance risk, cost, and capabilities—while continuing to deliver business value? The cloud can address all of these issues, and it has transformed the way businesses solve their technology challenges. Microsoft Azure solutions architects are the key to implementing cloud architecture, using resources efficiently, and maintaining security—whether migrating an existing system to the cloud or building a new one.
The Azure Solutions Architect Expert certification validates that you have what it takes to design and implement solutions that run on Azure, including aspects like compute, network, storage, and security. You earn this certification by passing Exam AZ-303: Microsoft Azure Architect Technologies and Exam AZ-304: Microsoft Azure Architect Design.
If your responsibilities include advising stakeholders and translating business requirements into secure, scalable, and reliable cloud solutions—especially if you partner with cloud administrators, cloud database administrators, and clients to implement solutions—this could be the certification for you.
What kind of knowledge and experience should you have?
As a candidate for this expert-level certification, an Azure solutions architect has the skills to design end-to-end solutions for Azure, considering infrastructure, apps, data, security, and more. Since it's the most comprehensive certification, it's suitable for IT pros, developers, and data professionals. If your experience is on the infrastructure side, you might need to reinforce your apps and data design and architecture skills. If you're coming from the developer side, be sure to reinforce your Azure administration skills. And all candidates need to be experts in DevOps processes.
When you're skilled up and confident in your administration and developer foundations, combine them with your advanced experience and knowledge of IT operations. These include networking, virtualization, identity, security, business continuity, disaster recovery, data platform, budgeting, and governance. And you should know how to manage the way that decisions in each area affect an overall solution.
How can you get ready?
To help you plan your journey, check out our infographic, The journey to Microsoft Certified: Azure Solutions Architect Expert. You can also find it in the resources section on the certification and exam pages, which contains other valuable help for Azure solutions architects.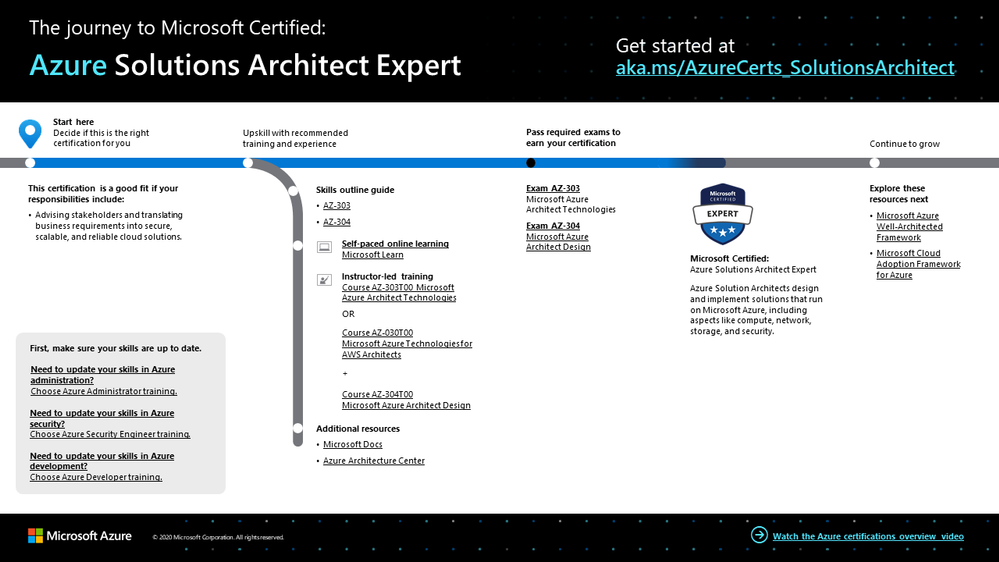 The journey to Azure Solutions Architect Expert
To map out your journey, follow the sequence in the infographic. First, decide whether this is the right certification for you, and then make sure your administration and development skills are up to date. To understand what you'll be measured on when taking Exam AZ-303 and Exam AZ-304, review the skills outline guides for Exam AZ-303 and Exam AZ-304 on the exam pages.
Sign up for training that fits your learning style and experience:
Then take a trial run with the Microsoft Official Practice Test for AZ-303: Microsoft Azure Architect Technologies and the Microsoft Official Practice Test for AZ-304: Microsoft Azure Architect Design. All objectives of the exams are covered in depth, so you'll find what you need to be ready for any question.
Complement your training with additional resources, like Microsoft Docs or the Azure Architecture Center.
After you pass the exam and earn your certification, check out the many other certification opportunities. Want to add to your Azure knowledge? Explore the Microsoft Azure Well-Architected Framework.
Note: Remember that Microsoft Certifications assess how well you apply what you know to solve real business challenges. Our training resources are useful for reinforcing your knowledge, but you'll always need experience in the role and with the platform.
Celebrate your Azure talents with the world
When you earn a certification or learn a new skill, it's an accomplishment worth celebrating with your network. It often takes less than a minute to update your LinkedIn profile and share your achievements, highlight your skills, and help boost your career potential. Here's how:


If you've earned a certification already, follow the instructions in the congratulations email you received. Or find your badge on your Certification Dashboard, and follow the instructions there to share it. (You'll be transferred to the Acclaim website.)


To add specific skills, visit your LinkedIn profile and update the Skills and endorsements section. Tip: We recommend that you choose skills listed in the skills outline guide for your certification.


Keep your certification up to date
If you've already earned your Azure Solutions Architect Expert certification, but it's expiring in the near future, we've got good news. You'll soon be able to renew your current certifications by passing a free renewal assessment on Microsoft Learn—anytime within six months before your certification expires. For more details, please read our blog post, Stay current with in-demand skills through free certification renewals.
It's time to level up!
Your Microsoft Certification can help validate that you have the skills to stay ahead with today's technology. It can also help empower you with a boost in confidence and job satisfaction—and maybe even a salary increase. Want to know more? In our blog post, Need another reason to earn a Microsoft Certification?, we offer 10 good reasons to earn your certification.
In modern business, the cloud is definitely here to stay. Be future-ready! Validate your skills and experience as an Azure solutions architect expert by earning your certification. Then apply key principles and best practices to your cloud solutions to meet your organization's needs. Prove your worth to your team and company by designing, building, and continuously improving secure, reliable, efficient, and scalable architecture on Azure—today and in the future.
Related announcements
Understanding Microsoft Azure certifications
Finding the right Microsoft Azure certification for you
Master the basics of Microsoft Azure—cloud, data, and AI
Brought to you by Dr. Ware, Microsoft Office 365 Silver Partner, Charleston SC.