This article is contributed. See the original author and article here.
This article was written by Business Applications MVP Paul Soliman as part of the Humans of IT Guest Bloggers series. This month, the Humans of IT blog will spotlight the career journeys and mentorship experiences of our community members. In today's story, Paul shares about his non-traditional tech background, and how Business Applications helped transform his career.
10 years ago, I was just living in Pampanga (province in the Philippines) and just playing with my band. I was a nobody, didn't have any solid dreams and didn't really take college seriously. In fact, I did not even attend my own graduation because I really hated school then.
Then, everything changed. I was so blessed when I started my internship/ part-time job at Starbucks Philippines, where I was first trained and immersed in Business Applications.
This first job gave me an opportunity to explore Business Applications. I learned to understand the business processes within my organization, and our team was starting to translate it systematically. I remember being so amazed to see how these business apps help connect people, processes and technology.
Although school didn't teach me about what an ERP system was, through Business Applications, I was able to adapt and learn accounting, warehousing, customer management and other real-world applications of business-driven tech. It was eye-opening, and frankly even life-changing.
After 4 years since I had my first consulting role, I was able to see great budding tech talents coming from both public and private schools in the Philippines. These fresh graduates were clearly able to excel in their environment. Being from the Philippines, I realized that Filipinos can really be world class in the Business Apps implementation space, too. It was a proud moment for me.
Fast forward to 2019, Microsoft is doing a good job in democratizing complex technologies via Power Platform. I've seen numerous students create solutions for critical business pain points via a five-hour hackathon, and later on developing them into complete end-to-end systems. It's amazing, and I've seen this happen so many times over. These students were able to understand complex business tasks when we guided them on how to scope, envision solutions and do project management. Their ideas and potentials were unlocked, and the technology made it possible for them to create a tangible solution.
Because of this insight and aspiration, we've decided to create a community in the Philippines to unite Business Apps practitioners and help encourage fresh graduates, students and other people that want to extend or make a career shift into tech. When we saw that these democratized applications through Power Platform were helping non-developers (aka Citizen Developers) create applications using low-code to no-code framework, we thought that we can really make an impact by teaching this technology to other people and helping them accelerate their own careers, too.
The community that we have created was the first Dynamics 365 and Power Platform driven community in the Philippines.
We started from just two members in last July 2019, and today we have 400+ active members already and being managed through our Facebook page: https://www.facebook.com/groups/BizAppsPH/
We are so happy that Microsoft APAC and PH are supporting us in this journey. Monthly events were conducted in the Microsoft PH's office and right now with our COVID-19 situation here in the Philippines, not only we did not stop, but we even brought the learning via Microsoft Teams to our members and other people who are interested to make a career shift in tech.
Here are some photos from our local community events here in the Philippines:
HackED – Power Platform Hackathon for Students
Global Power Platform Bootcamp 2020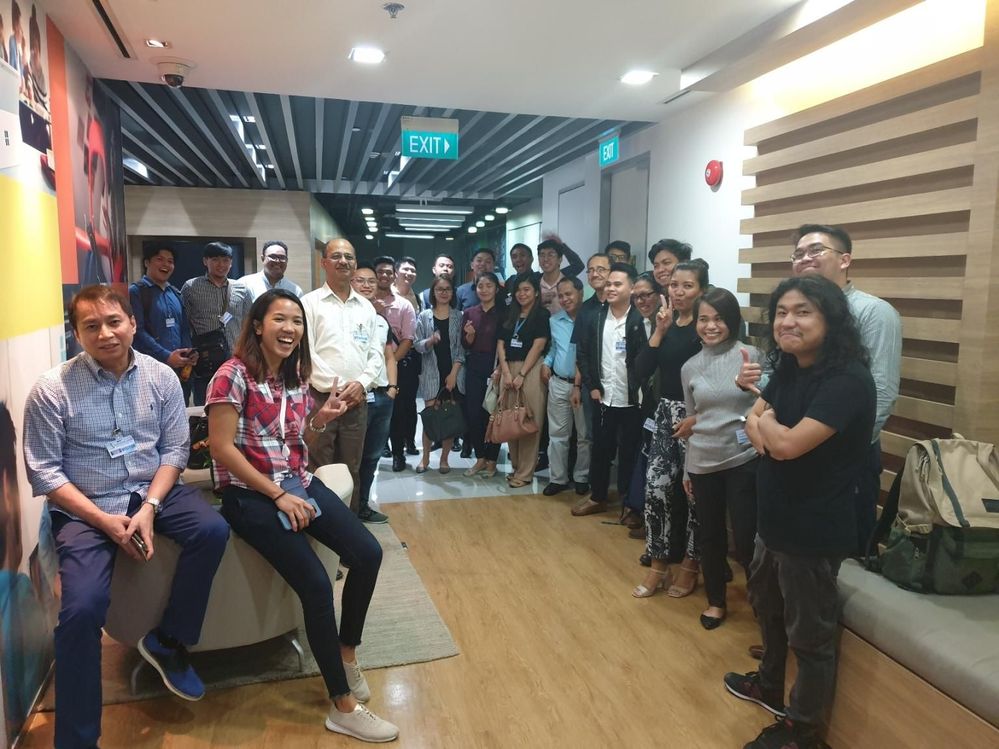 BizApps PH Power Dynamics 365 and Power Platform Community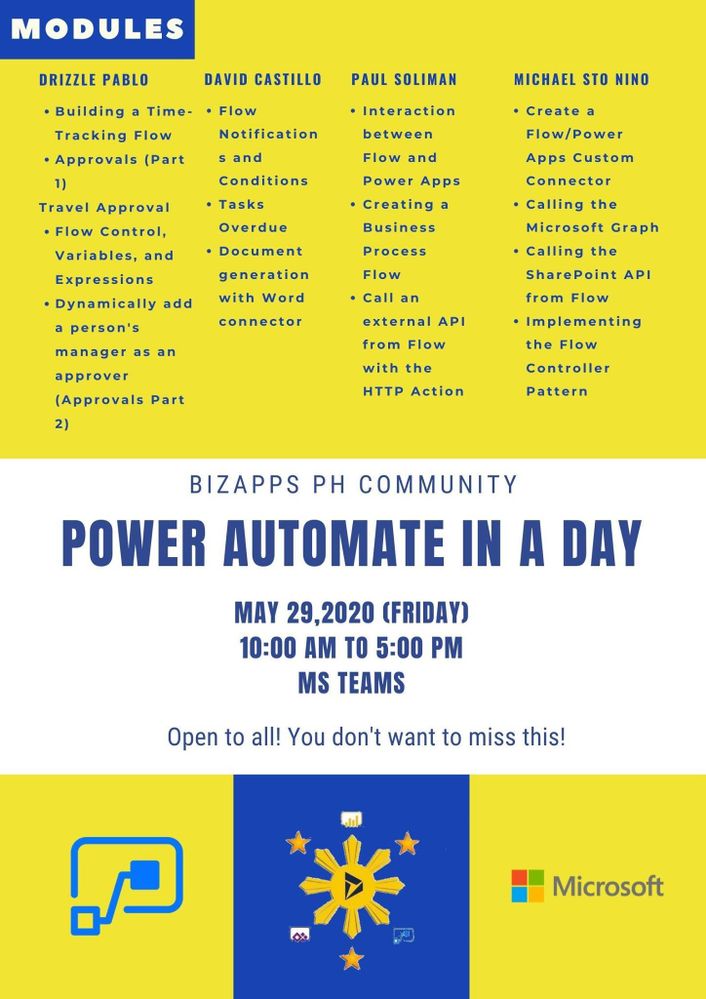 Power Automate in a Day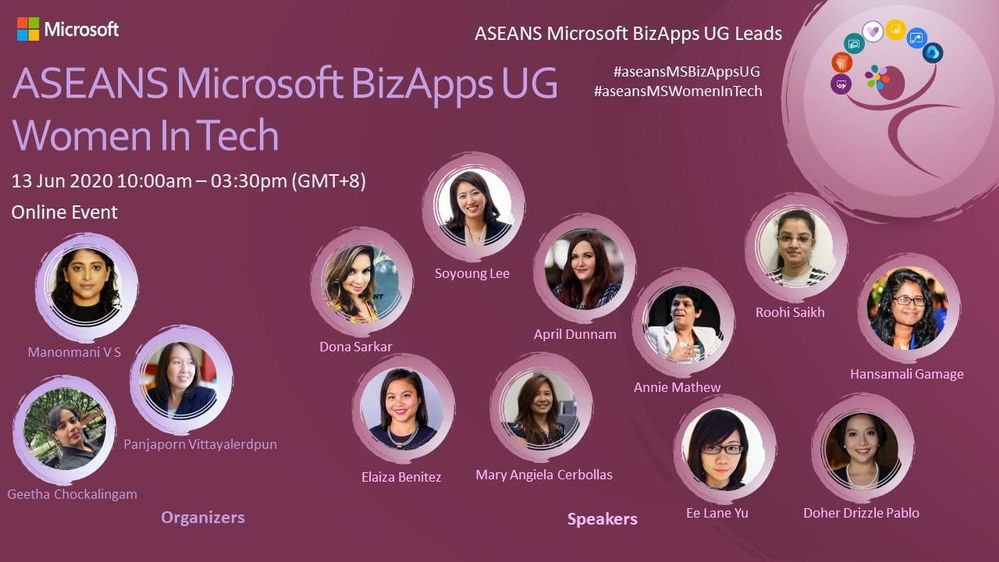 Women in Tech
These face-to-face and online events gave our community and non-community members a new perspective and fresh insight about whatdemocratized technology like Power Apps can do to help their lives and careers. It has been incredible to witness how our community members appreciated and changed their mindset towards business apps-driven career, especially when they realized that you don't even need a Bachelor's degree and or any background in programming to create solutions that will help solve organizational issues. It's truly a gamechanger!
In my opinion, the first step to accelerate lives and careers of Filipinos has already been achieved by founding this community, but personally I will not stop here. Remember what I wrote in first part of this blog, when I was just a simple, unknown, rockstar-wannabe in our humble province? Everything changed when I was given an opportunity to learn and have passion for what I am doing especially tech in general. Now, I want to share THAT life-changing opportunity to my people too.
Fast forward till July 2020: I am now running two of my own startup companies in the PH that were built on top of Microsoft Azure, Power Platform and Dynamics 365. Even in my wildest dreams, I did not see this coming. Since 2009, I have done Business Apps-related work and businesses. I have a family now and thanks to tech, I am now able to provide for them. I am so thankful that I was able to find my passion in tech, especially in Microsoft Business Applications.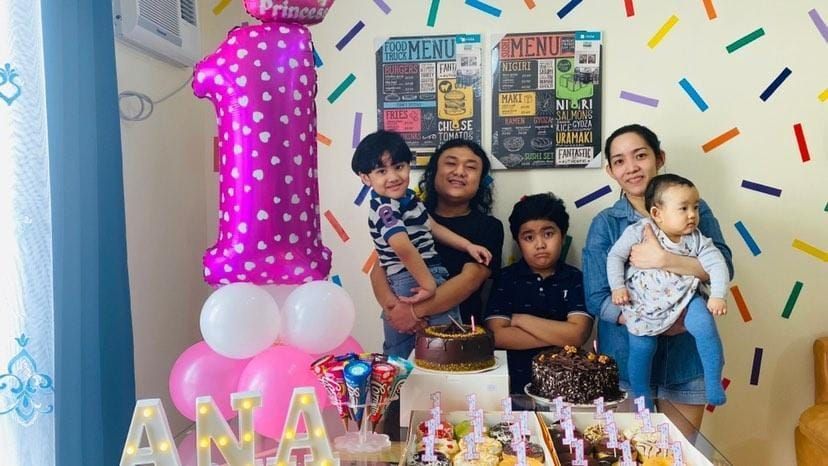 Latest family pic
The second part of my life's mission is to give OPPORTUNITIES to my people to help them also find their passion and career in Business Apps. Without an opportunity, great talents and passion will not be unlocked. There is so much potential talent just waiting to be realized, and we cannot simply let them slip by.
Here in the Philippines, we are launching Citizen Developer Vision 2022, a program that will help K12 students, fresh graduates and other people who want to be immersed and discover careers in the Business Apps space. We are currently having ongoing discussions with schools and subsequently, we will also meet with the local Department of Education to roll out this program nationwide.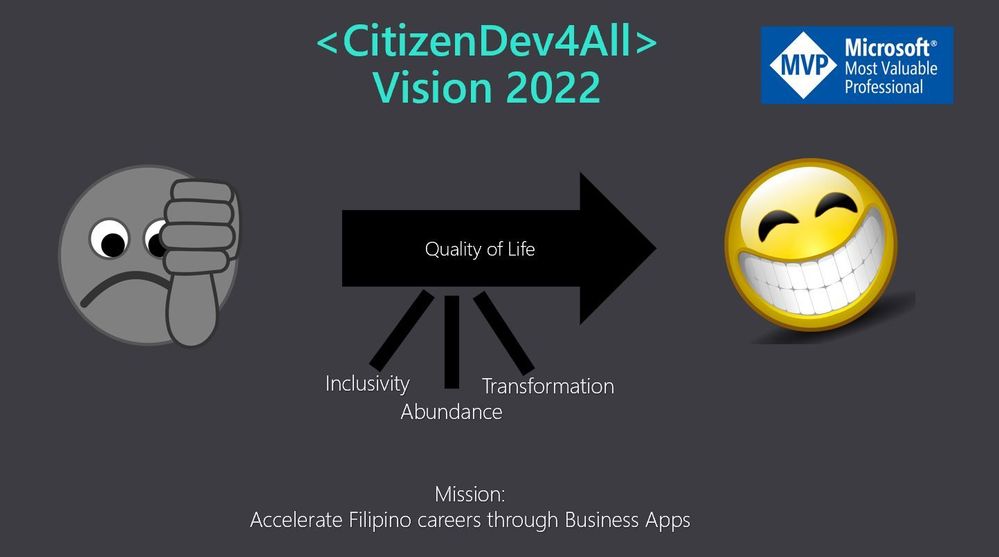 I hope this will inspire you to also embrace technology and help unlock opportunities for your local community. After all, everyone should be given the opportunity to pursue a fulfilling and abundant life, no matter where you are in this world.
About Paul:
Paul Soliman is the CEO of Hacktiv Colab Inc and the CTO, Raven Global Inc. He is also the first Microsoft MVP for Business Apps in the Philippines – an honor that he is extremely proud of, and hopes will inspire many others in the Philippines and the greater Asia Pacific region to also follow in his path and discover their own tech superpowers.
Connect with Paul Soliman:
Twitter: @heypaulroots
LinkedIn: https://www.linkedin.com/in/paulsoliman/
MVP profile: https://mvp.microsoft.com/en-us/PublicProfile/5003685?fullName=Paul%20%20Soliman
#HumansofIT
#TechforGood
#LessCodeMorePower
Brought to you by Dr. Ware, Microsoft Office 365 Silver Partner, Charleston SC.