This article is contributed. See the original author and article here.
Did you manage to participate and tune into the Humans of IT track @ Microsoft Ignite this year? We hope you had a great experience! If you missed the sessions being played live, fret not as we've got you covered with this recap. Read on to all get caught up!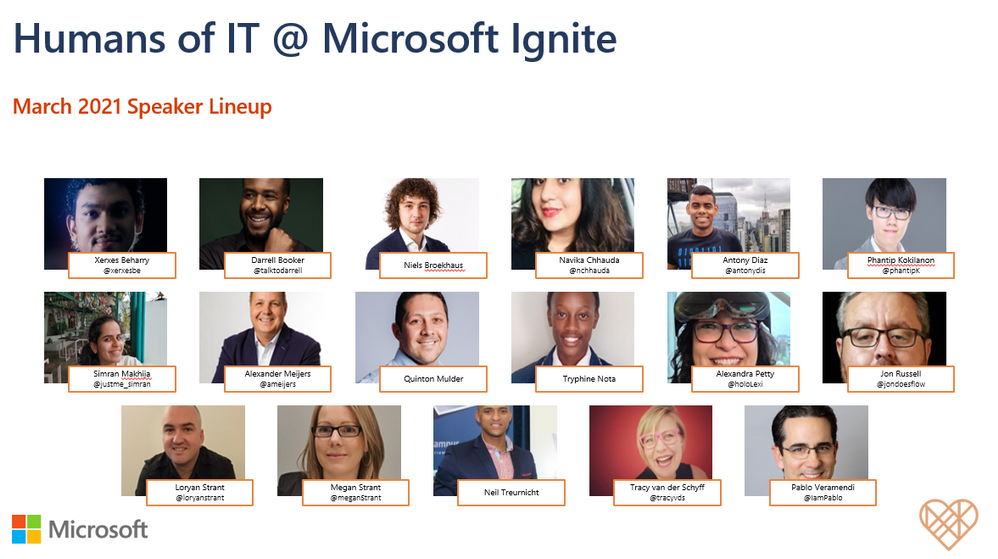 Over 150,000 technology leaders came together virtually for a 48-hour event that was jam packed with topics such as driving innovation from the cloud, evolving into a new reality with mixed reality, adapting to hybrid work world, and more. Microsoft used the all-digital event as the stage to announce several updates for Teams, Outlook, and other Microsoft 365 apps and services, and even announced Mesh, a brand new social mixed reality platform.
Want to hear what attendees have to say about Humans of IT at Microsoft Ignite? Check out all the tweets on Twitter via the #HumansofIT hashtag!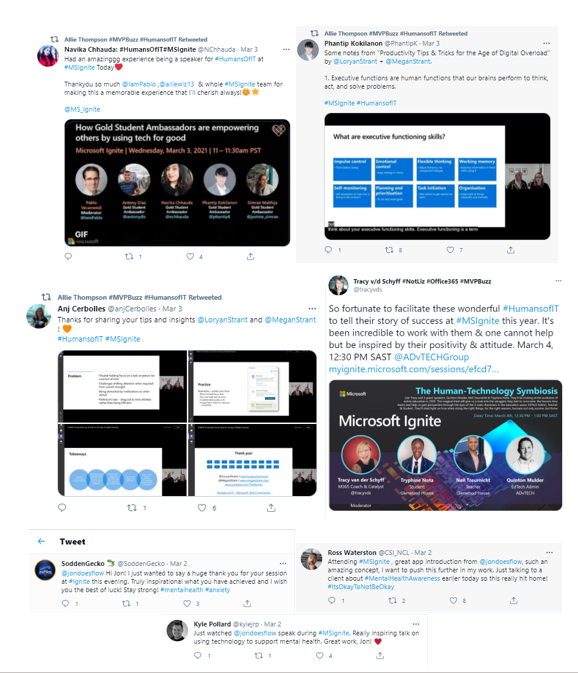 Microsoft Ignite: Day 1 (Tuesday, March 2)
The Humans of IT kicked off on an inspiring note with an empowering session, Mental Health Check in Power App: Using Tech to Manage Anxiety and Build Community, hosted by Jon Russell, a Power Platform consultant at Quantiq, a dad, husband, and anxiety sufferer who is passionate about mental health awareness, power platform and community. He shares how the blend of the three have changed his life.
Here were a few highlights:


Through self awareness, community, Power Platform, and support from loved ones, Jon speaks with openness on how he's been able to transform his anxiety and well-being


Through his Passion for Community, John was able to use Power Platform to help with COVID volunteering, coordinating 250 volunteers covering 320 streets of Berkhamsted, UK. He also helped 500 people with an 18-week long surveys.


As a visual learner, Jon expresses his passion for Power Automate and Power Virtual Agents. Inspired from last year's Humans of IT sessions, Jon Russell decided to build an app to help people check in on their mental health journey. He shares live demo of canvas app.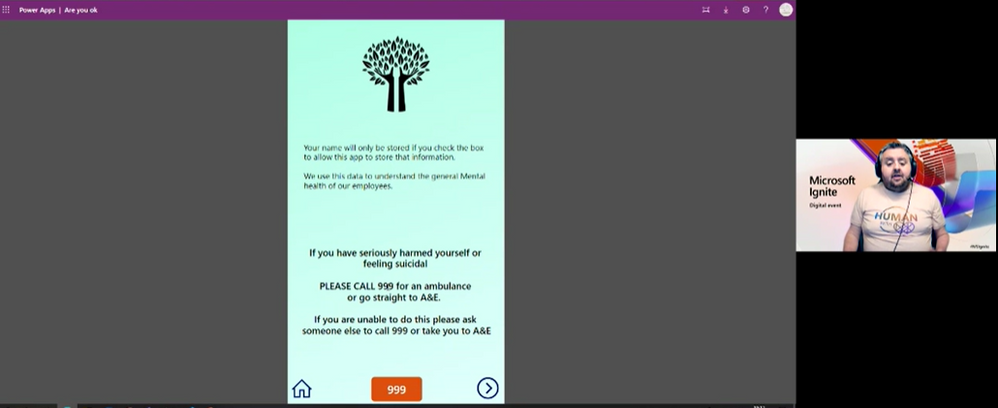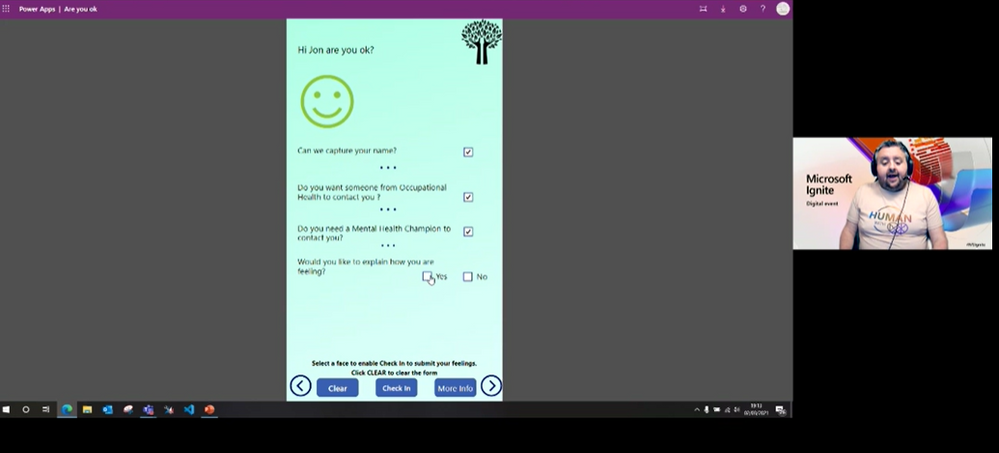 Later in the evening, we were thrilled to hear from Xerxes Beharry, Niel Broekhaus, Alexander Meijers, and moderator Alexander Petty in the Blending Worlds: Empowering Humans through Mixed Reality. These speakers captivated the audience by explaining the power and potential of mixed reality changing the world. They share how they are leveraging mixed reality to solve complex problems, create positive social impact and empower humans.
Key highlights included:



Each individual took a "leap of faith" on Mixed Reality. Each speaker took a risk by stepping into the Mixed Reality. For example, Niels Broekhaus started his career as a Nurse, inspired by working in Healthcare. He had his first experience with HoloLens, saw many opportunities, and began to find ways to innovate the healthcare market to be more sustainable, contemporary and efficient.



They also shared their community resources and how to get started in Mixed Reality. Xerxes recommended inclusive design resources and expresses the importance of accessibility to all humans. He recommends Microsoft's Inclusive Design toolkit. Alexander recommends MRTK for Unity as a quick developer tool, an open-source, cross-platform development kit for mixed reality applications.


The speakers also spoke about how to bring awareness to Mixed Reality and how important it is to engage future innovators and students. Alexandra Petty speaks about a student project group on Dynamics 365 Remote Assist with 5 students that will step into the world of MR. Alexander Meijers presents a challenge in the current gap around using HoloLens and how essential it is to the future of MR.



Lastly, they share their human experiences with MR/HoloLens and what was so memorable about sharing the experience with others.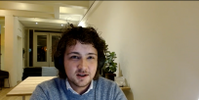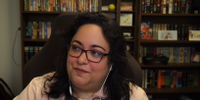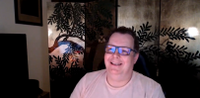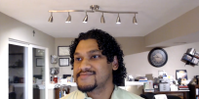 Microsoft Ignite: Day 2 (Wednesday, March 3)
Day 2 of Microsoft Ignite Humans of IT sessions included our future generation using tech for good, community transformation, productivity tips and tricks, and online education. Humans of IT started the day with the lovely Gold Student Ambassadors, who discussed their work in equality in education, renewable energies and building student communities on both a local and global level.
Pablo Veramendi, the director of Microsoft Learn Student Ambassadors, led the conversation with poise, showcasing the value of the MS Learn Student Ambassador program, introducing Simran Makhija, Navika Chhauda, Phanti Kokilanon, and Antony Diaz.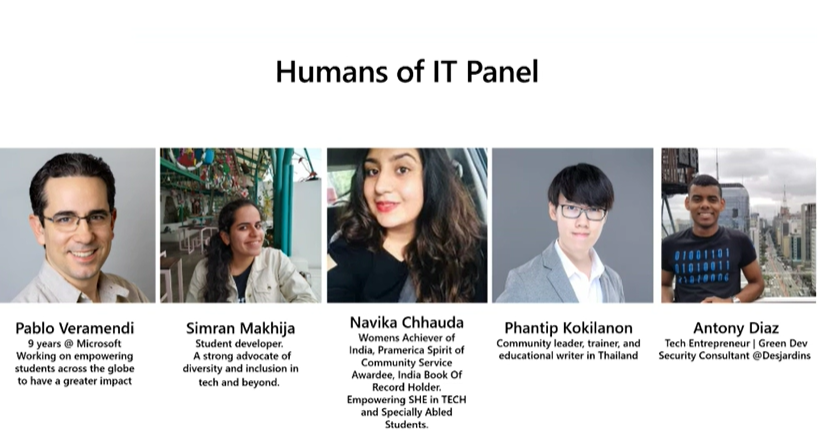 Each student ambassador shared their experiences using tech for good. Some example stories included:


Simran mentions the Imagine Cup Tech for Good Hackathon. She created a solution that enables low-access communities to take pictures of codes with no need for computers or applications. This solution helps everyone to learn to code, ultimately impacting 250 learners who did not have access to computers.


Navika shares her passion for women's rights and enabling women better access to professional opportunities. She conducts local events to encourage marginalized women to be involved in STEM, in addition to performing outreach to women in rural areas.


Phantip is passionate about sharing and helping. He writes tutorials to help people understand how to use technology, while also playing a role of a community leader and educational writer in Thailand, ensuring that tools are available in native Thai language.


Anthony believes in learning, sharing, and making. He started with learning and sharing as a student ambassador, with an aim to connect to Latin America and North America student ambassadors on both a personal and professional level. He was able to assemble more than 2,000 students to learn how to use technologies and solve problems. These student stories were truly inspiring!


The inspiration continued with Transforming communities and nonprofit organizations through digital access, skilling, and support. The speaker, Darrell Booker, leads Microsoft's Nonprofit Tech Acceleration (NTA) for Black and African American Communities program and is at the forefront of this work to combat the digital divide and empower nonprofits to have even more impact through access to and adoption of technology.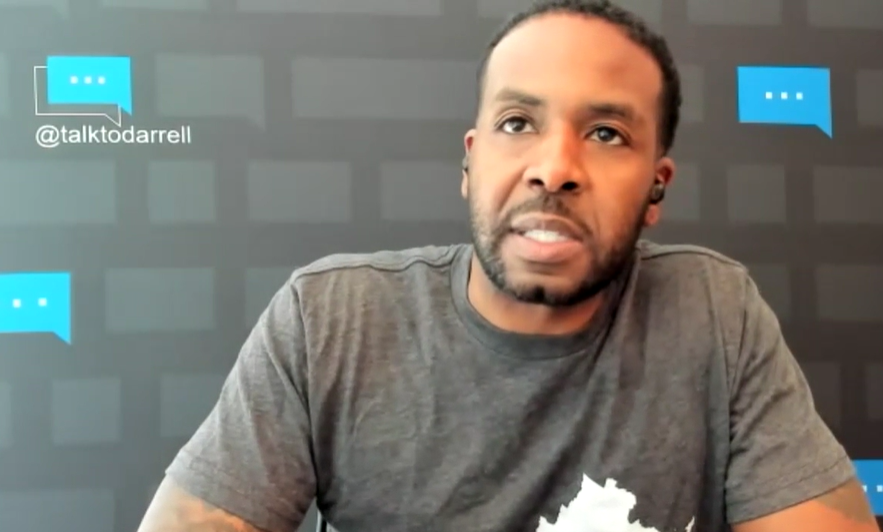 A few main core takeaways from Darrell's session:


The names and experiences of inspiring Black and African owned NGOs. such as a GiveBlck, an organization that exists to elevate all Black organizations in the United States and create an easy-to-use, comprehensive database to advance racial equity in giving.


Transforming community starts with strengthening community. Microsoft has started a lot of initiatives such as hiring practices, diversifying suppliers, and providing capital to minority owned banks, providing necessary digital skills to the youth.


Non-profits need help with their data and digital transformation to the cloud. For example, Microsoft worked with American Cancer Society to help them move to Azure Cloud to keep the organization running during remote work.


Non-profits can sign up for the Nonprofit Tech Acceleration for Black and African American Communities program, that can match an organization with the technical software and services that will help increase the impact of their mission.


Day 2 continues with Productivity Tips & Tricks for the Age of Digital Overload, with Loryan and Megan Strant, M365 consultants who are married living with neurodiversity, juggling with Asperger's, ADHD, personal and work lives. They share how M365 solutions have helped them be more productive.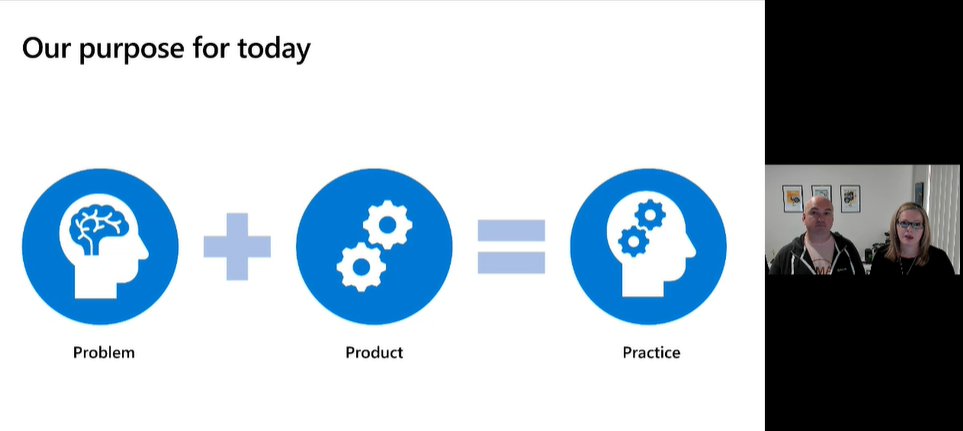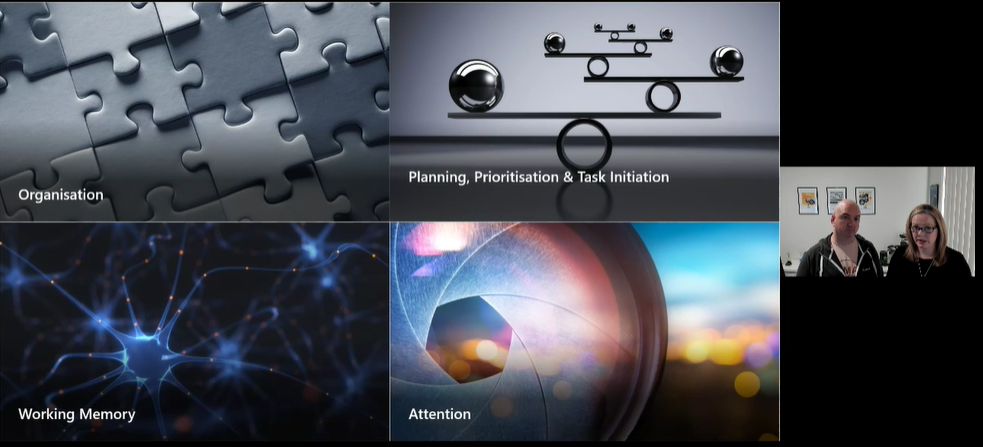 They hone in on four core areas of executive functioning: organization, working memory, attention, and planning, prioritization, and task initiative. They encourage the audience to think about their daily challenges and restructuring the day or work different, while exploring habits that individuals may not realize are impacting productivity.
Here were a few M365 tools they recommend:
To wrap up the event, Humans of IT ended with the Human-Technology Symbiosis: An EDU Success Story with speakers Tracy van der Schyff, Neil Treurnicht, Quinton Mulder, Tryphine Nota. They share the evolution of online education in 2020 and the struggles they had to overcome, lessons learned, and helped the audience gain perspective through the eyes of the main roles in the education space: EdTech Admin, Teach & Student.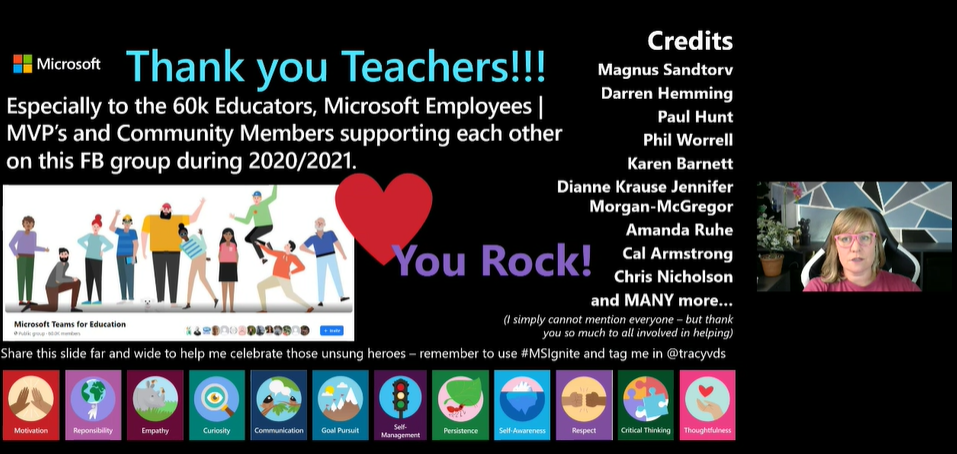 We are truly grateful to have been able to share the voices of so many amazing speakers and (virtually) encouraged and inspired thousands of attendees this year on a global scale in a deeply meaningful, human way.
We hope you enjoyed the Humans of IT track @ Microsoft Ignite as much as we did, and we'll see you next year!
Missed a session and want to catch up? Or perhaps you want to rewatch them all over again?


Access all of the Humans of IT session recordings here.








Share your Microsoft Ignite experience with us:


What were your favorite Humans of IT session? Why?


What do you hope to see from Humans of IT at the next virtual conference?


We want to hear from you in the comments below. Thank you for being a part of the community and this MS Ignite experience.
See you next time!
#HumansofIT
#MSIgnite
#CommunityRocks
#ConnectionZone
Brought to you by Dr. Ware, Microsoft Office 365 Silver Partner, Charleston SC.