This article is contributed. See the original author and article here.
We are thrilled to celebrate our mentors that have truly made a positive and lasting impact in the lives of other #HumansofIT. Now, we're ready to wrap up FY20 with the announcement of our Q4 winner!
FY20 Q4 Most Valuable Mentor Award
The Q4 Most Valuable Mentor award goes to……
Microsoft Enterprise Mobility MVP Tim Hermie! Congratulations, Tim!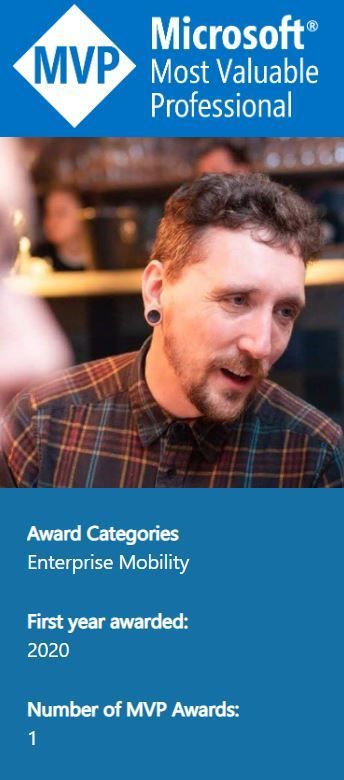 FY20 Q4 Most Valuable Mentor award winner – Tim Hermie
Here's a bit about Tim:
A newly-awarded MVP in 2020, Tim is no stranger to the mentoring space. He also previously received two digital badgers ("Community Hero" and "Mentor") in March for his contributions to the Microsoft Azure Heroes program. As a Senior Modern Workplace Architect at Synergics, a Cloud Change agent in Belgium, Tim has 8 years of experience in the workplace management segment and is deeply focusing on the Microsoft Enterprise Mobility and Security stack. Tasks include lifting customers from their on-premises infrastructure towards Microsoft 365, providing architecture and security advice and delivering hands-on deployments are his main task. Additionally, Tim is a passionate Microsoft Certified Trainer (MCT) since 2019. He is a Founding Board Member of the Microsoft Cloud and Client Management Community in Belgium and a frequent blogger at https://www.cloud-boy.be/.
Here are heartfelt words of praise from Tim's mentee – who calls himself Tim's padawan! – Berkant Kucuksolak (shared with permission):
"When I started my internship I didn't know anything about Microsoft solutions. Tim Hermie was there to give me basic training on Azure for the first few weeks. He was very friendly and certainly did not put too much pressure on my shoulders. He often gave me tips on how best to configure things and if I had questions I could bother him without any problem. We often have calls about a project I received from him where I need to migrate from an on-premise environment to the Cloud with Microsoft solutions. It is not always easy, but I learnt a lot from it. In addition, during our calls he shows me new ways of working that I had never used before. I hope we can learn a lot from each other and work together in the future. It is nice to see that Tim puts so much time into his work and passion. He also has a blog where he shares all his experiences with the rest. It motivates me to try something new every day and get better. Tim, you have motivated me to give my best every day to only get better by learning from my mistakes. In this short time I have learned more than I would have ever thought. You always made it more fun and interesting for me, thank you for that."
Has your mentor positively impacted your life and empowered you to #AchieveMore when participating in the Community Mentors Program? Do you want to give your mentor kudos and well-deserved recognition for their efforts? Join the program now and start changing lives!
Cheers to all of you for your contributions to the program thus far, and keep those Most Valuable Mentor nominations coming in at https://aka.ms/nominatemymentor.
Let's keep learning, growing and celebrating our awesome mentors who make the tech community a better place!
#HumansofIT
#CommunityMentors
Brought to you by Dr. Ware, Microsoft Office 365 Silver Partner, Charleston SC.