This article is contributed. See the original author and article here.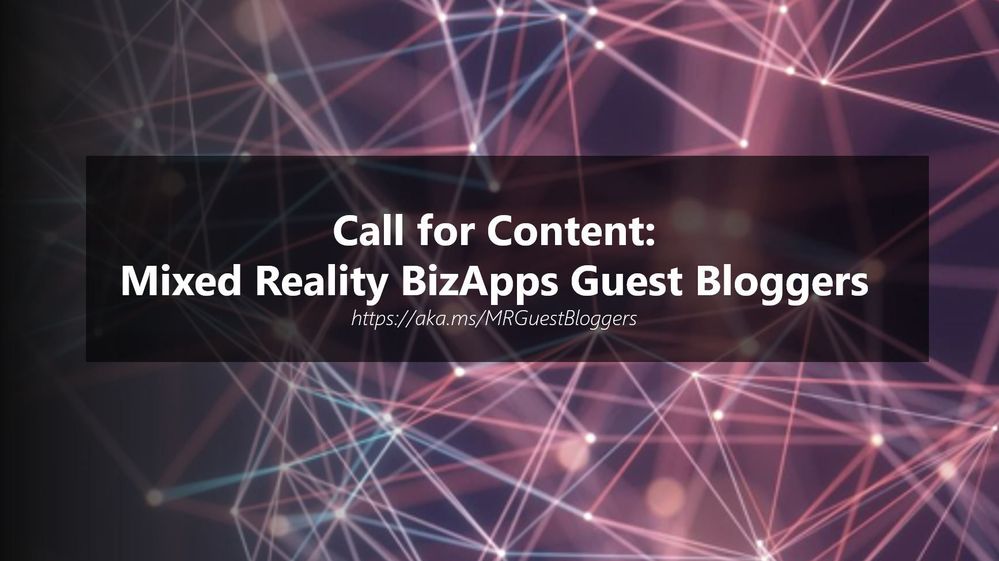 Call for Content: Mixed Reality BizApps Guest Bloggers
Happy new year, Mixed Reality Community!
If your 2021 new year resolution is to become a published guest blogger, here's your chance! We're looking for community guest bloggers to contribute exciting and inspiring stories about how you use Mixed Reality Business Applications like Dynamics 365 Remote Assist and/or Guides on HoloLens in your organization (or even personal life!).
Here are some starter questions that you can incorporate into your story:


How did you get into the mixed reality space? (i.e did you have role models, did the community help you fit in etc)


What is it about mixed reality that excites you?


What do you think is the biggest misconception people have about mixed reality?


How do you think mixed reality business apps can help positively impact the world and/or help solve key world issues?


What advice would you give to someone aspiring to join this space? Any resources you can share?


Benefits of becoming a Mixed Reality Community guest blogger:


Have your blog posts/stories count as community contribution towards MVP status


Raise your profile within the Mixed Reality industry (and meet awesome peers in the process!)


The best stories might even net you a speaking gig at our flagship/community events


Watch this space for upcoming special raffles for you to have a chance at scoring some goodies!


Ready to dig in? Submit your story pitch at https://aka.ms/MRGuestBloggers today!
#MixedReality #GuestBloggers
Brought to you by Dr. Ware, Microsoft Office 365 Silver Partner, Charleston SC.