This article is contributed. See the original author and article here.
Looking to find easier ways to connect and deepen meaningful mentoring relationships? Has remote work impacted the way you've connected with other technologists in your community?
Good news! We've just released a plethora of new features on the Microsoft Humans of IT Community Mentors App to enhance your mentorship experience, and help you connect more effectively with other Humans of IT on our mentorship platform.
NOTE: You will need to install latest Version 3.0 of the app to gain access to these new features.
Here are some of the newly-released features that are now available on v3.0:
1. Featured stories

We're thrilled to introduce Featured Stories, a powerful way to discover your new connections. Featured stories will help highlight and share unique stories from different community members in your network. You will see the stories flagged as Featured Stories on the "Discovery" tab on the app.
How do I use this new feature?
Tap the Discovery tab on the bottom menu. As you swipe, you'll see profiles with a green badge at the bottom – this means they were recommended specifically for you!
Each time you login, you will see a new set of featured stories. Over time, the machine learning algorithm in the app will learn your preferences as you select your mentors, and will continue recommending new and interesting people for you to connect with.
2. Mentorship Enhancement: Offer Mentorship Option
Some of us are more introverted than others, and may have previously struggled to make the first move in requesting mentorship from others. If you're a mentor with skillsets to offer prospective mentees who may be too shy to ask, you can now offer mentorship to anyone in the app! Mentees will then get to decide if they want to accept your offer based on what they are looking to get out of the mentorship. This update also allows users looking to mentor others to actively connect with people they are inspired by and whom they think they could help as well.
Are you a mentor going through a particularly hectic season? We understand that life happens! Mentors can now also set more granular mentorship availability preferences to help balance work-life priorities, providing more flexibility over the time you can commit to mentoring others. Previously, the default was 5 open mentorship spots, but mentors now have an adjustable slider to determine how many mentees they can reasonably accommodate at any one point in time.
How?
See someone you might be able to help mentor? Simply click the Offer button on a user's profile — mentees will be notified of your offer and once they accept, the mentorship can begin!
Set how many people they can mentor at one time (between 0–5) via the adjustable slider that you can update anytime to help you cope with work-life demands
3. Reactions
Remember the days when you could only either read or comment on posts? Did you read a post that really resonated with you and wanted to express your support as well? With the new Reactions feature, you can! Let others know you support them by hitting the "Applaud" button. Mentees and mentors now also have the option to add a reaction when reading a reflection or community post. This lets you show your solidarity and support to others in the community, and build your network.
How?
When reading a community post that personally resonated with you, tap on the Applaud icon!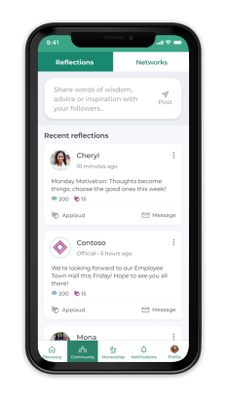 4. Notifications
We've now also added a holistic notifications center, replacing the existing Messages tab within the app. Never miss a notification or be left hanging again!
How?
This robust notification center will ensure users receive alerts for all important events, and create a place within the app for users to return to and see all recent notifications.

Alerts will be shared via push notifications, in-app notifications, and red dots (i.e. badges) that designate "to-dos" or unread notifications within the app.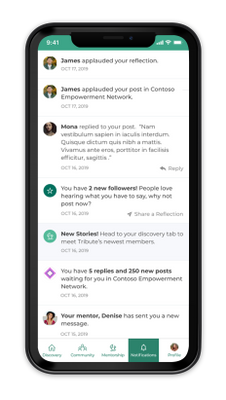 COMING SOON: Desktop version – due to popular demand, we will be launching the desktop version of our mentorship app very soon, so stay tuned!
Become a mentor/mentee on our Community Mentors app today!
Go to

https://aka.ms/communitymentors

and download our mentorship app.

Follow the steps to complete your registration.

Once you're in the app, explore new featured stories, mentorship enhancements, reactions, and notifications.
We hope that you enjoy exploring these new features!
Have ideas on new features you'd like to see, or experiences to add? Submit your ideas here, or feel free to drop us a note at msftcmp@microsoft.com.
#HumansofIT
#TechforGood
#CommunityMentors
Related
Brought to you by Dr. Ware, Microsoft Office 365 Silver Partner, Charleston SC.