This article is contributed. See the original author and article here.
This week, the Microsoft Azure Data Factory team is enabling Excel as a native connector and a data flow connector for data transformation using Delta Lake. The Delta connector is currently available as a public preview.
Now you can read data in ADF directly from your Excel spreadsheets using data factory datasets, or defining the properties and location of your spreadsheet directly in the data flows source and sink definition.
For example, you'll be able to point to your Excel file and grab ranges of cells from different sheets and convert those to any of the other ADF support file formats. When using Excel as a source in data flows, you'll be able to transform your Excel spreadsheets with data transformations and then store the results in the lake or database.
Here is a link to the online documentation for reading data directly from Excel spreadsheets in ADF.
The Delta connector enables data flows to read and write Delta files, allowing you to build powerful Data Lake based analytical solutions in ADF. You can now use data flows for ETL using Delta patterns that can transform data directly in the lake as well as perform database-style updates, deletes, inserts, upserts.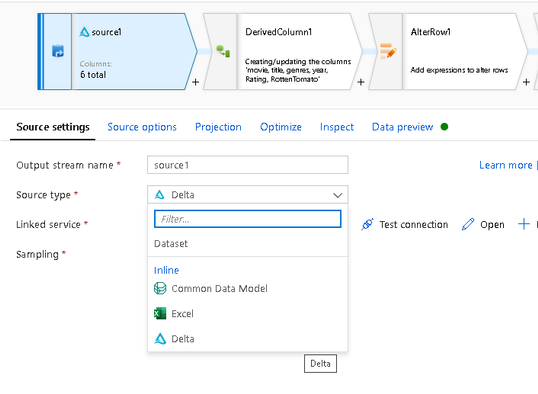 Delta is currently available in ADF as a public preview in data flows as an inline dataset. To learn how to use Delta in ADF and how ADF will manage the Spark Delta Lake parquet and log file environment for you, I've recorded this brief 15-minute walkthrough video:
The full online documentation of the ADF Delta connector is available here at this link.
Brought to you by Dr. Ware, Microsoft Office 365 Silver Partner, Charleston SC.