This article is contributed. See the original author and article here.
As technology advances, so do customer expectations. Whether a consumer or a buyer, it no longer matters as the respective lines between customer expectations have blurred, and, at the end of the day, the business-to-business (B2B) buyer is a consumer too. Hyper-personalized, self-driven, seamless interaction across any channel at any time is no longer a nice-to-have but a must-have as customers want to engage on their own terms and expect businesses to deliver even better experiences. At the same time, exacerbated by a turbulent economy, businesses need to reduce cost and complexity to innovate quickly and stay resilient so they can meet current customers' expectations and find new ways to engage them. Businesses that take the opportunity to optimize their processes to do more with less will stand out against the competition and be better positioned to drive loyalty, retain customers, and emerge stronger from these uncertain times.
We're excited to share the new capabilities coming in the 2022 release wave 2 for Microsoft Dynamics 365 Marketing and Microsoft Dynamics 365 Customer Insights, and, more importantly, how these new capabilities will help you deliver greater efficiency, empower marketers to be more productive, and provide value to customers in moments that matter. Ready? Let's get started!
1. Maximize the value of your data to understand your customers
The first step in driving impactful experiences is to grasp the needs and intent of each customer.
If you are a new Customer Insights user, you will be delighted by the first-run experience feature that helps you accelerate understanding your customers. To fuel your journeys, valuable insights are generated in a matter of minutes simply from a customer list, saving you time and avoiding advanced configurations.
2. Engage your customers in moments that matter with real-time marketing
To deliver unforgettable experiences, marketers need to send the right message on the right channel at the right time. To allow you to do just this, we have further developed our real-time engagement capabilities in Dynamics 365 Marketing.
Whether it's to catch your customer's attention to collect relevant details, or capture leads to nurture and strengthen the sales funnel, we've enhanced our capabilities so that marketers can effortlessly design customized forms with a few clicks. Through the modern drag-and-drop editor, marketers are guided step-by-step from creation to preview, test, and publish. Within seconds they can deliver compelling branded forms, on websites or landing pages, while directly tracking conversions.
To engage customers through their preferred channel, marketers can now easily build custom channels in real-time marketing. We've improved upon the model in outbound marketing by providing the ability to create a channel with all the power and flexibility that the box channels have. It enables marketers to extend their reach across bespoke text message providers, Viber, or direct mail, and activate these new channels in customer journeys using out-of-the-box modern templates, text message editor, and consent collection. In addition, marketers can natively track deliverability analytics to monitor the success of the custom channel activation.
Customers often qualify for multiple journeys and campaigns that run simultaneously. The frequency cap feature prevents message fatigue by setting limits on the number of messages that can be sent per channel per day, week, or month. At the same time, marketers can bypass the limit for the most important journeys, ensuring customers never miss an important message.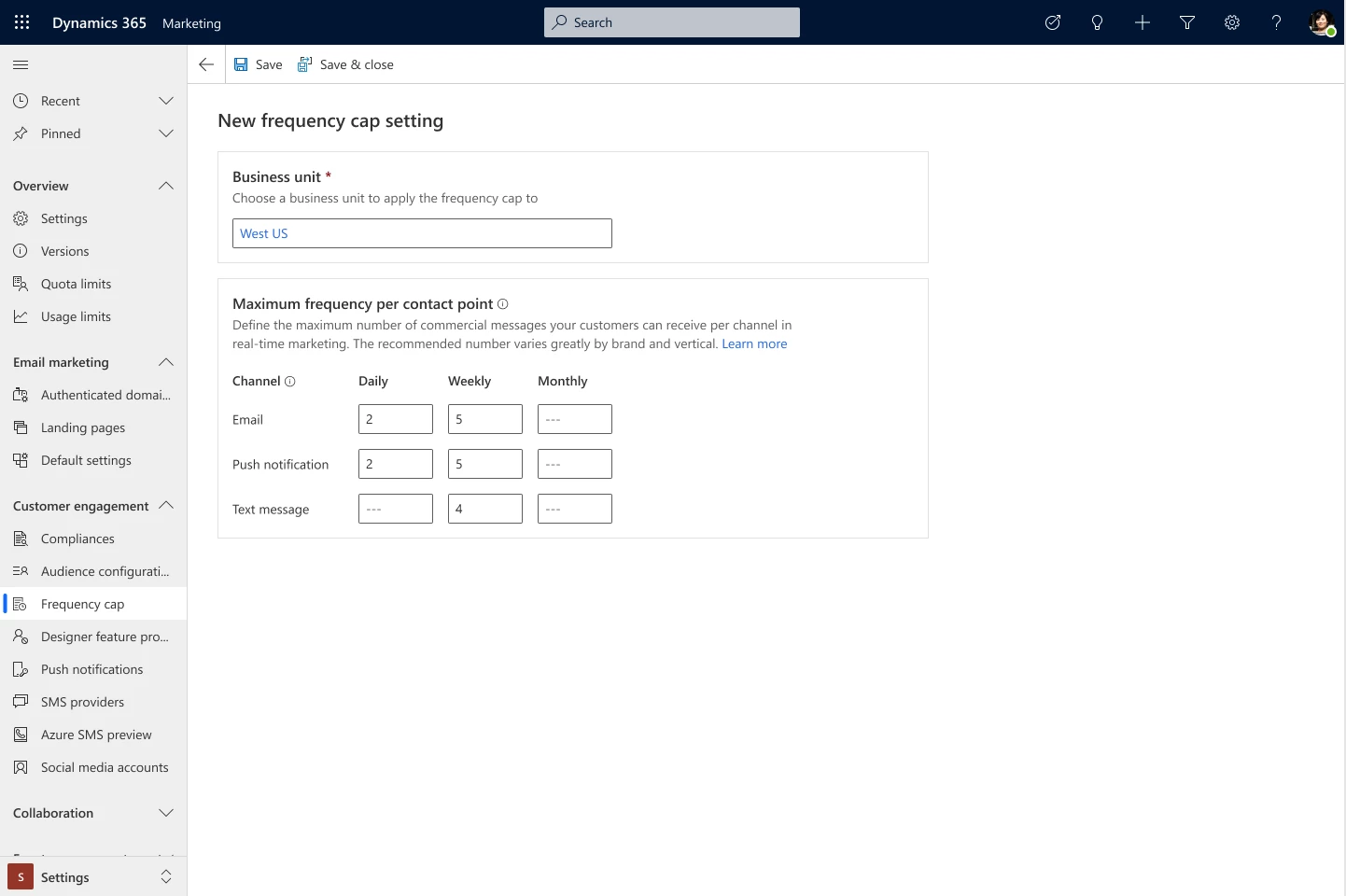 3. Personalize content to grow your audience engagement
Each customer is unique and driven by different incentives. To get noticed, businesses need to easily create personalized content that stands out and resonates to keep their brand top of mind.
Finding inspiration to create enthralling emails has never been so easy. Thanks to AI, marketers receive engaging content ideas, based on the key messaging points they want to convey. Marketers can also use feature-rich text links and QR codes for events and coupons within email campaignsto get more customers to engage, click, and convert.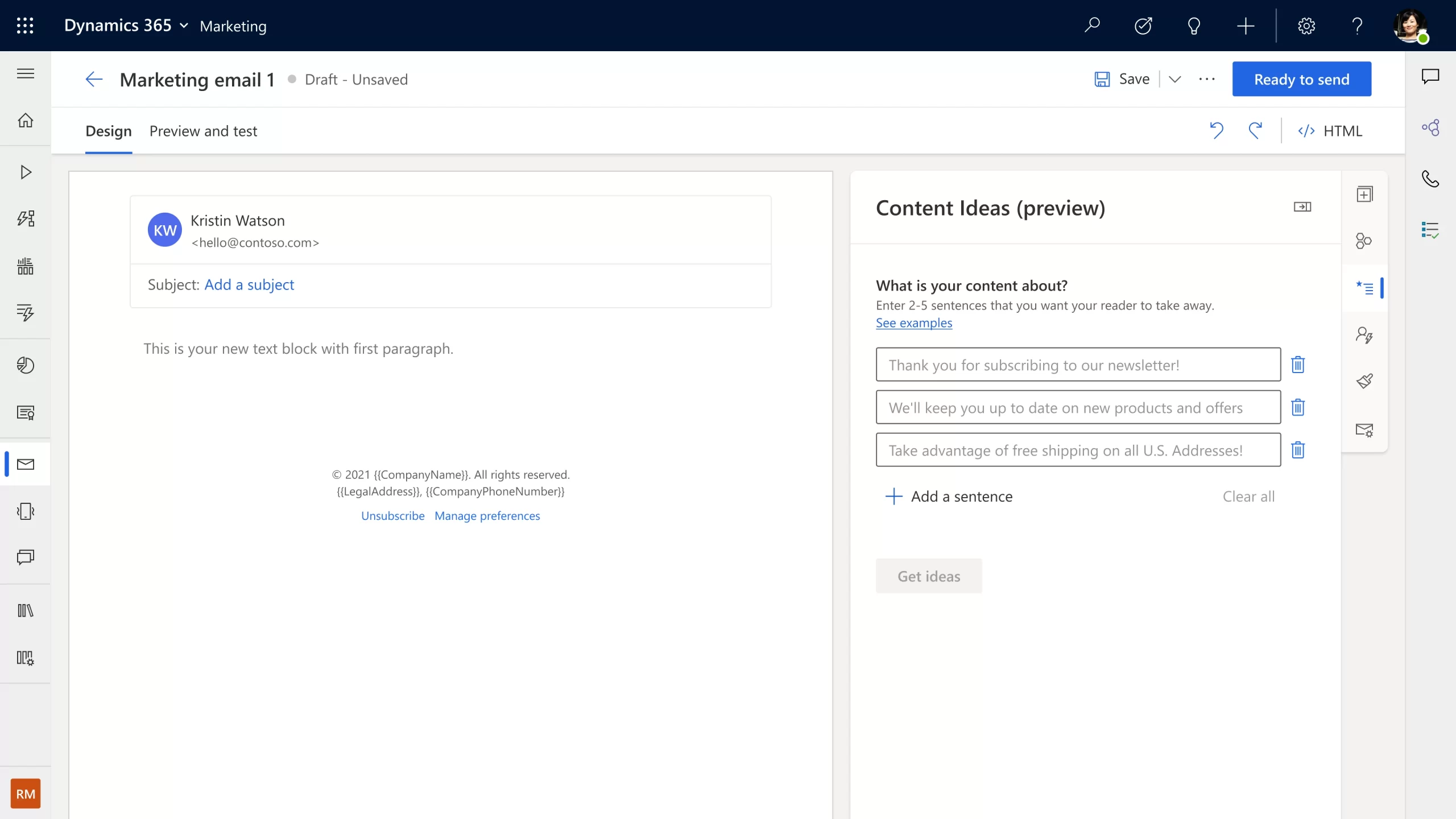 Managing multi-brand content is often demanding as marketers spend time customizing each email to comply with specific brand guidelines. The new brand profile functionality helps them to gain time and consistency, and reduce content-related errors by defining default senders for emails and social links, as well as custom values such as URLs or compliance messages, and easily switch these settings for the brand they are working on.
To ensure compliance and privacy of customer interactions across multiple brands or business units, marketers now have the ability to fully customize out-of-the-box preference centers to match their business needs, from tracking or isolating consent data to adhering to brand guidelines for logos, styles, and colors. Furthermore, marketers can create and manage topics that align with your brands and business for customers to opt-in to marketing subscriptions, for example: "Get cooking tips and tricks". Last but not least, consent is becoming entity agnostic and will work with customer profiles, contacts, leads, and custom entities.
Maximizing the impact of personalized content requires effectively targeting the right audiences. As part of our effort to improve marketers' efficiency, we have redesigned our segment builder. The workflow and UX have been enhanced, and we've set the foundation for supporting contacts, leads, and any entity, including custom, in the future. Segments can be created instantly using an intuitive and powerful logic builder that doesn't require specialized knowledge of complex data structures. Marketers are empowered by AI-assisted natural language capabilities, the ability to create a static snapshot of segment membership, as well as previewing segment members and size. This not only scales reach but improves marketing productivity.
4. Connect your sales and marketing to provide seamless experiences
By placing customer needs at the center of the organization, deep collaboration within and across departments unlocks significant business growth opportunities.
For instance, as marketers nurture leads with real-time journeys, signals from the lead might indicate an urgency to engage with the sales team. Marketers can directly trigger a sales sequence or assign a follow-up call from the journey to the sales team to ensure the lead gets individualized attention at the right time when they are most likely to engage. Marketers identify potential leads, and sales teams receive smart assistance to optimize their time and prioritize opportunities in the lead nurturing process.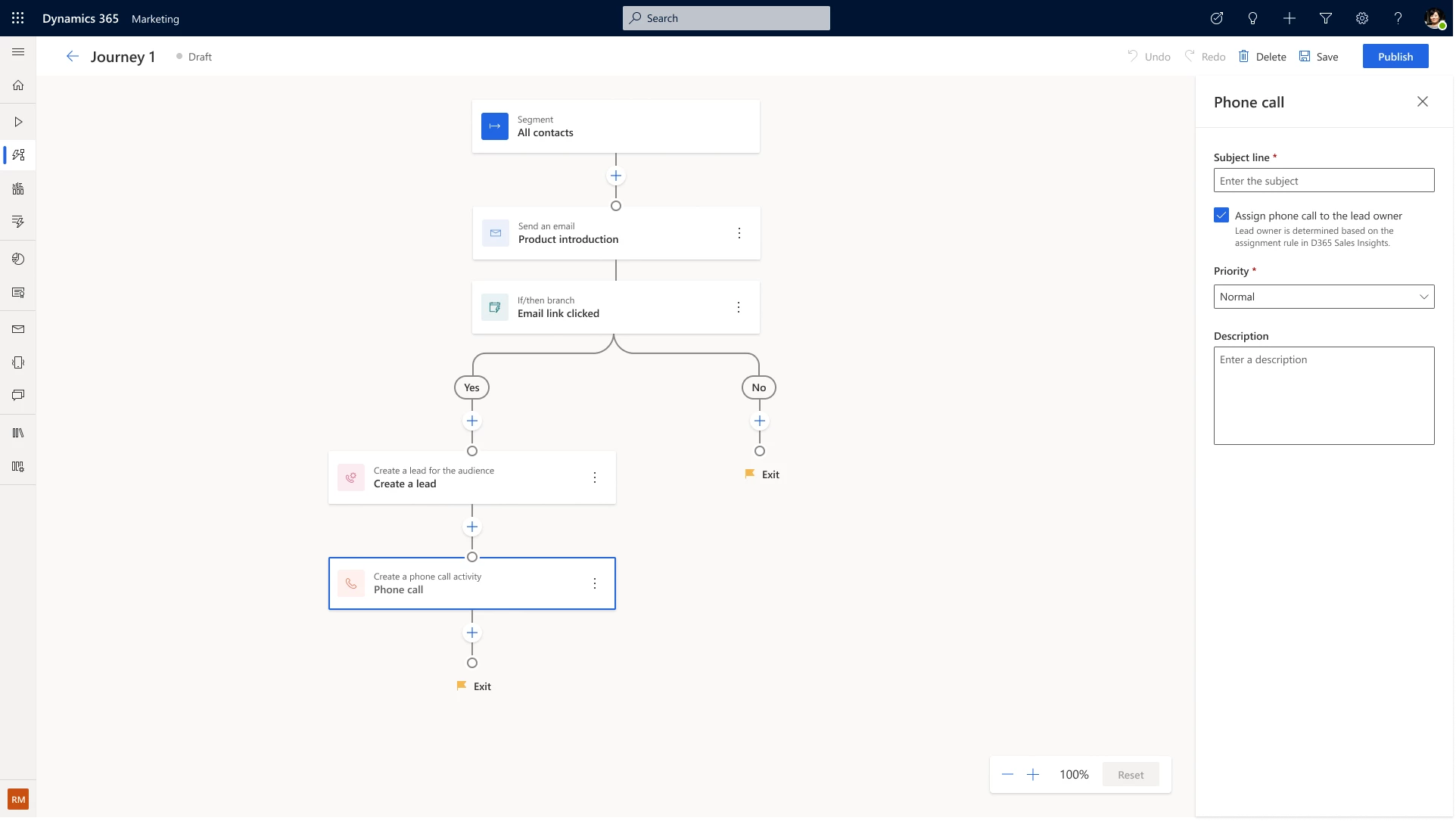 Businesses can capitalize on B2B contact unification in Customer Insights to create a complete view of accounts and contacts within the same environment. Typically, businesses engage with contacts, however, the context for engagement is based on the attributes of the organization in which the contact resides. Unified contacts provide the ability for marketers to now generate segments of contacts based on account attributes.
5. Use data and AI to optimize your campaigns and scale up your business
Harnessing the power of data and AI is key to marketing at scale and achieving higher levels of marketing maturity.
As businesses create a vast number of assets, they need to organize them according to their organizational structure to remain compliant and productive. They can now effortlessly organize their digital assets, content and journeys according to their business structure. Whether it's business data or customer data, it can be isolated by departments, regions, brands, business units, and product lines, reducing your compliance risk.
In the upcoming months, you will be able to increase your throughput to send up to 300 million messages per month. This added capacity empowers your team to deliver personalized experiences at scale and will help you grow your business, whether you are increasing your customer base in new markets, expanding geographies, promoting new products, or building your prospective customer pipeline to reach higher sales targets.
Use new features for Dynamics 365 Marketing and Customer Insights with the 2022 release wave 2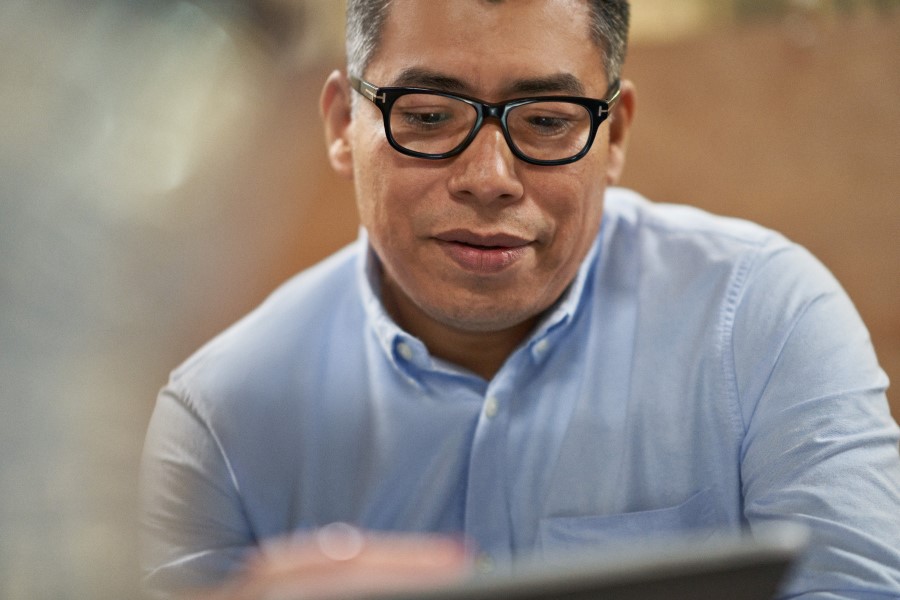 Dynamics 365 Marketing and Customer Insights
Stay up-to-date on the latest functionalities.
From leveraging AI to capitalize on your data, optimizing real-time interactions and personalization capabilities, to customizing tools to meet your unique business needs, or facilitating deeper collaboration between departments, we are thrilled to deliver solutions that are designed to make your job easier, more productive, and ultimately enable you to transform customer experiences.
The Dynamics 365 Marketing and Dynamics 365 Customer Insights functionalities highlighted above are planned to be released from October 2022 through March 2023 either as previews or generally available.
Note: The product visuals are only for illustrative purposes and might not reflect the general availability feature.
The post 5 steps for transforming customer experience with Dynamics 365 Marketing and Customer Insights updates appeared first on Microsoft Dynamics 365 Blog.
Brought to you by Dr. Ware, Microsoft Office 365 Silver Partner, Charleston SC.