This article is contributed. See the original author and article here.
Microsoft Certifications come together thanks to a dedicated team of subject matter experts. Liberty Munson joined Microsoft 13 years ago as the psychometrician for Microsoft's technical certification program. She makes sure the tools or processes used to evaluate people are measuring the right skills and abilities. In partnership, Sudarshan Krishnamurthi is responsible for the product management and product experience of the Microsoft Certification program. He helps optimize and modernize the certification program, enhancing the learner experience for anyone who wants to earn a Microsoft Certification by analyzing pain points, competitive offerings in market, and more.
From opposite sides of the country, both Munson and Krishnamurthi play major roles in making Microsoft Certifications valuable. That's why we went to them to dig deeper into how the certification exams are created, and why certifications matter for businesses and individuals today.
Creating Microsoft Certification exams
The Microsoft Certification program has evolved over the years, shifting away from product-based certifications to a focus on role-based certifications. Role-based training and certifications are created to help individuals develop necessary skills and experience to advance in an accelerated and increasingly cloud-based world.
So, how does a Microsoft Certification exam get created? Munson explains that the process begins with the job task analysis (JTA) – the foundation of a certification. A JTA is the process of identifying the core skills needed for success in the job role; most often, this is accomplished through a focus group with subject matter experts (SMEs) who know the job role. SMEs identify the core skills that are needed to be successful in that role. Using that information, Munson and her team give another larger and more diverse set of SMEs an opportunity to rate how important those skills are and how frequently they are performed. With this process, Munson can make data-driven decisions and prioritize 20-30 skills to measure on the exam. After that, she can figure out how many questions are needed for each skill. That 'blueprint' becomes the basis that SMEs use when writing the exam questions.
When creating questions, there are a few ways Munson coaches SMEs – experts in the job role who are external to Microsoft – to make exam questions as relevant as possible. First, she has them tap into their own experiences. She asks them to think about a time they had to do a certain task and then write a question around that. Then, she has them think about the most common mistakes made. Not only does this make for a great exam question, but mistakes are often a great basis for writing plausible distractors (incorrect answer choices). Plus, qualified test takers should be able to solve relevant problems without making common mistakes.
Write. Release. Update.
Munson also shared this interesting tidbit: The exam creation process, from the JTA to writing questions to releasing the beta exam, takes about 14-15 weeks. This process of developing exams faster than just about any certification program in the industry is extremely valuable given how quickly technology changes. Munson adds, "When we create exams, we have to move fast. We have to stay relevant by assessing the skills needed right now. If we took any longer, the skills could already be outdated."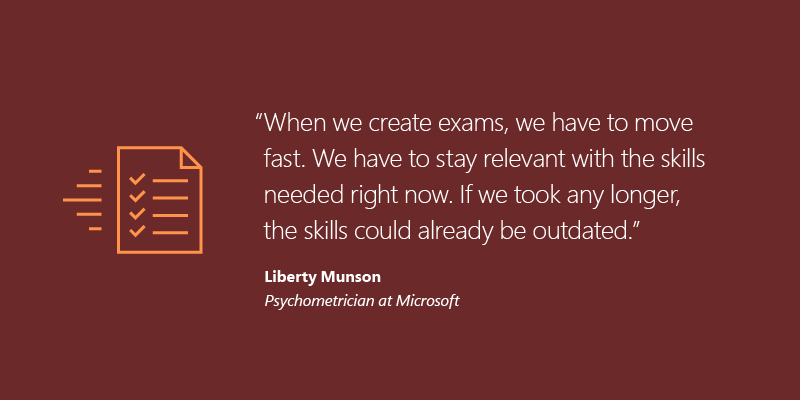 Once the exam goes live, the team updates each exam every two months. If there are updates, a minimum of a 30-day notice is provided on the exam details page where you can download the skills guide to see the changes being made to the exam as you prepare for it.
One piece of advice, and the best feedback to give
Did you know when you launch the exam, there's an introduction that tells you what your test experience will be like? You'll find out if you're getting labs or case studies or something else. As you move into different sections of the exam, you'll be presented with important instructions about what to expect. It may seem obvious, but Munson notes that many test takers miss this step and are surprised while taking the exam.
What if you have some feedback on a question? Mark it for comment and provide your feedback after your exam. Your comments help inform the team of possible issues with a question. While commenting on typos is common, what truly helps is feedback about the technical accuracy of a question. Here are some good examples:



There's more than one answer and here's what I think they are.




The question is technically inaccurate and here's why.




This question doesn't have a correct answer and here's why.



Why invest in Microsoft Certifications?
Now that we've taken you through the certification exam process, it's key to understand why being certified matters. Krishnamurthi explains that with every organization today trying to digitize their businesses, IT professionals play a pivotal role. Business leaders want to focus on driving business outcomes and they expect their technical employees to leverage the most optimal technical solutions available in the market to solve complex business problems. In order for IT pros to do this, they need to be abreast with all the new features that are being added on a regular basis. Technology is moving faster than ever before; what used to be a six-month or one-year shelf life is now reducing to a few months. So, it's crucial for businesses to focus on continuously keeping their workforce up-skilled and create a culture of continuous learning.
As for individuals, if you're looking for a new career or just starting out, Krishnamurthi says to look no further. There is high demand in the industry for many areas. He notes, for example, that data scientists are getting a 40% salary premium because that's a skill companies need and there aren't enough people with the capabilities. This means businesses are willing to pay more to find the right person for the job.
So, what should you do if you're fresh out of college or trying to make your resume stand out? Krishnamurthi suggests aligning your training plans to in-demand jobs and get a Microsoft Certification in that field. You can start with fundamentals training and certifications. Both help build and validate foundational understanding of mixed concepts and applied learning of Microsoft technologies, and are a springboard into deeper role-based learning paths and certifications. Krishnamurthi adds, "Microsoft has invested a lot of resources in skilling individuals to be successful, like Microsoft Learn – where people can consume learning nuggets and learn about new technologies and features. All at no cost and at their own pace and time."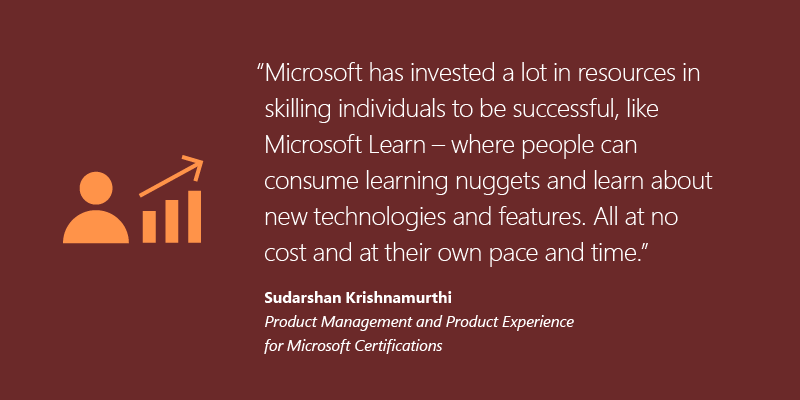 With Microsoft Learn, you can find learning paths to help you prepare for certifications. Content is updated over time so you can keep coming back and take the latest modules to make sure you're up to date with today's modern technology.
To learn more, check out all the learning paths and certifications at Microsoft Learn.
Related posts:
Brought to you by Dr. Ware, Microsoft Office 365 Silver Partner, Charleston SC.