This article is contributed. See the original author and article here.
Takeaways


Tietoevry created the Connect Academy, which reskills existing employees, including those whose current skills are based on legacy technologies.


Microsoft Learn content, particularly Azure instructor-led training and certifications, is at the core of the Connect Academy curriculum. Extensive resources, like hands-on labs, complement the experiential learning in the program.


A holistic process at Tietoevry integrates business strategy, resourcing needs, executive sponsorship, and individual career development.


The program plans for business needs and places employees immediately into their new roles—while still training—providing mentorship, on-the-job learning, and billable assignments.


Reskilling internal employees is more efficient than trying to secure new external resources with appropriate skills from the current highly competitive job market.


Employees are valued and retained, and they're able to plan the next phases of their careers, including ongoing learning and certification. They join approximately 2,500 employees company-wide who have already earned 3,600 Azure certifications as part of the overall Tietoevry skilling goal.


Finnish company Tietoevry is the largest IT services provider in the Nordics, with 24,000 employees worldwide serving customers in 90 countries and regions. As the company's customers move to the cloud, the skills required of Tietoevry teams are changing accordingly. Hiring new talent is difficult and expensive—current IT skills are in demand everywhere. At the same time, the company has a base of great employees with years of productive experience in legacy technologies.
Many organizations face similar situations, but Tietoevry created an extraordinarily holistic plan for reskilling that serves the company's needs, valuing and retaining its employees, and building robust teams to serve its customers. To address the challenge, in 2021, Tietoevry created its Connect Academy—a comprehensive program that focuses on reskilling internal employees on Microsoft technologies, with simultaneous new job placement within the company.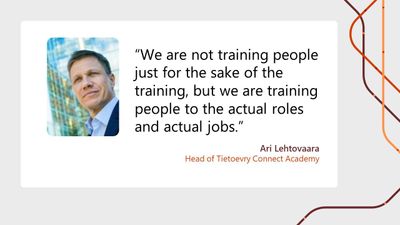 A 'Keep Learning' culture
One of the pillars of the Tietoevry culture is "Keep Learning," which means that the company and its employees seek to continue developing their skills—now and in the future—and to stay curious and relevant. "Our employees do value learning very highly, and that's why we want to support them in this," says Lelde Saleniece, Tietoevry's People Development Consultant. "The [Connect] Academy is one great example of how we do that, how we support them—not just in upskilling but in reskilling, as well. We care for them and their knowledge, and we want them to stay here."
The Connect Academy begins with an analysis of business needs and the resources required to meet them. After the analysis, the candidate selection phase starts and everyone can apply. Line managers nominate candidates, and then, in the "handshake" step, candidates go through a career-planning stage, join their new teams, and begin training—including job shadowing and assignments. Microsoft Learn training resources are key, notes Lelde. "Microsoft has been very helpful, and definitely, without the support and collaboration, this wouldn't be as good a program as it is."
Microsoft Learn resources are at the core of the experiential learning journey, reports Lead Cloud Advisor Bjørn Sigurd Hove, who is a mentor for learners in the program. The certifications that learners earn demonstrate mastery, he observes, "But in my view, the road to that certification is maybe more important." In addition to instructor-led training, he explains, "I stressed that they should use the study guides, which have links to resources on each and every subject." Bjørn also points learners to the Microsoft Learn labs for hands-on experience. "The certification is just the end goal of this journey, but the journey is most important."
The training component is intense—two months of dedicated time for classwork, labs, exam preparation, and certification exams. Raja Ali, a Tietoevry employee who completed the Connect Academy, used all the offered Microsoft Learn self-study resources. "The real deal was when you were sitting down and working on Microsoft Learn," he recalls. "The coolest thing was the sandbox experience you get in Microsoft Learn, when you're reading something and they ask you to actually do the activity right there."
The many benefits of this process start with meeting the business needs, ensuring that "we are not training people just for the sake of the training, but we are training people to the actual roles and actual jobs," notes Ari Lehtovaara, Head of the Connect Academy. "The main idea is to give them basic knowledge so that they can fit into the team and start working."
Tietoevry Line Manager Niklas Klasén welcomes reskilled employees onto his team. He points out that selecting candidates for the academy is important, given how hard it is to recruit suitable talent from outside the company. Their background is important. "For me," Niklas emphasizes, "being able to combine the skills that people already have from their long IT careers with the new cloud experience, that has been a very valuable concept for us."
At every step of the two-month program, the Connect Academy assists employees and supports them in their new roles. They join their new teams immediately when training starts, with a line manager and mentor to help them.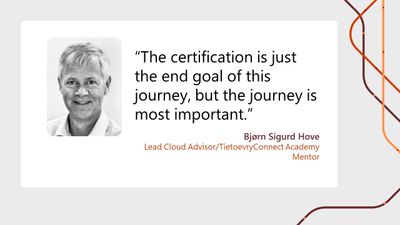 Partnering to build skills and careers in the cloud space
Legacy skills can be helpful to the team, Niklas explains. "Let's say, for example, they worked with networking on-prem or in our own datacenters. They are now subject matter experts when it comes to connecting that datacenter to the cloud and are a key resource when it comes to migrating from the datacenter, as well."
With Microsoft Learn partnering to provide technical product knowledge at core of the Connect Academy, Tietoevry has created a thoughtfully strategic way forward for the company—and, most of all, for its employees. As Bjørn points out, "That program gives our colleagues a new career in the cloud space, and I'm really proud of that."
For more details on Tietoevry's learning journey, check out the following Microsoft Customer Tech Talks episode.
Brought to you by Dr. Ware, Microsoft Office 365 Silver Partner, Charleston SC.