This article is contributed. See the original author and article here.
On March 15, Synaptiq and Microsoft issued a press release announcing a new Machine Vision pilot program for hospitals. In collaboration with Microsoft, Synaptiq built a demo solution to proactively inform care teams of potential Central Line dressing compliance issues.
The pilot program is designed to help reduce preventable injuries from hospital-borne Central Line-Associated Bloodstream Infections (CLABSIs) and improve speed of care and patient outcomes. It also helps providers standardize care for new and existing staff, identify education opportunities, and decrease documentation time.
According to the NIH, CLABSIs are largely preventable infections that occur in more than 400,000 patients annually in the United States alone, resulting in over 28,000 deaths and costing U.S. hospitals $2 billion. A key piece of preventing CLABSIs is maintaining Central Line dressings as clean and intact as possible.
Machine vision is a type of artificial intelligence (AI) that enables computers to derive information from visual inputs. It is able to collect more precise visual data than human vision ever could, and uses processing power to analyze the visual data faster and more thoroughly than the human mind.
Because visual cues play such a vital role in ensuring patient safety and preventing CLABSIs, machine vision has the potential to exponentially enhance care teams' ability to recognize and respond to possible infections – before the human eye can even detect a problem is present.
I am truly excited to provide our Voices of Healthcare viewers with a first-look at this incredibly important pilot. I had the opportunity to assist in building the demo solution alongside Synaptiq and cannot wait to see how it helps save many, many lives in the years to come.
For this session on May 11, 2022, Synaptiq's CEO Stephen Sklarew and Mariana Gattegno, Quality and Patient Safety consultant at Volpini Solutions LLC, will discuss the current status of Central Line dressing maintenance in hospitals today, review the pilot program details, and demo the solution. They will also answer questions and discuss how hospitals joining this effort will benefit.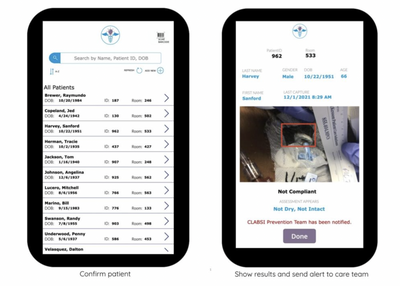 Synaptiq's solution to assess Central Line dressings using Microsoft Technologies
Synaptiq's Machine Vision Pilot Program for Central Line Dressing Maintenance is an example of how Microsoft Cloud for Healthcare can rapidly deliver a machine vision application that works seamlessly with care teams to help provide superior patient experiences.
We see many benefits, such as:


Hospitals in the pilot program will have an exclusive early adopter opportunity to test the solution first-hand, and their care teams will be able to help design the future solution that best meets their needs.


It is powered by Microsoft Cloud for Healthcare and leverages many Microsoft technologies that are already licensed by most major hospital systems in the United States.


There are three applications that are part of the solution that support this process: The Central Line Assessment app (Microsoft PowerApps); CLABSI Prevention Team (Microsoft Teams); and Central Line Maintenance dashboard (Microsoft Power BI)


The Central Line Assessment app runs on a smartphone for convenient bedside access and is used to capture and analyze photos of patients' dressings. If a potential compliance issue is identified, the care team is alerted to take action. Over time, data from the provider's electronic medical record (EMR) system accumulates information from the Central Line Assessment app and the patient's medical record, and the Central Line Maintenance dashboard provides canned reports and ad hoc analysis capabilities to identify trends.


Most importantly, Synaptiq's Pilot Program for this solution is an example of how Microsoft Cloud for Healthcare can rapidly deliver a machine vision application that works seamlessly with care teams to help provide superior patient experience – and help save lives.


Come join us to hear how this hospital pilot program will work and how your organization can get involved.
This session will be on May 11th at 11:00 PT / 12:00 MT/ 1:00 CT / 2:00 ET
Please click here to join or download the calendar invite here
As always, we will record the session and post the recording afterward for future consumption. We have a new landing page for this series, so favorite or follow https://aka.ms/VoicesofHealthcareCloud to make sure you never miss a future session.
Please follow the aka.ms/HLSBlog for all this great content.
Brought to you by Dr. Ware, Microsoft Office 365 Silver Partner, Charleston SC.