This article is contributed. See the original author and article here.
Summer has always been a well-deserved break, but none more so than this year. To all teachers and educators who've been supporting our students—thank you. You deserve this chance to recharge. While you might not know if you'll be teaching in classrooms or adopting a hybrid model, here are some quick ways that Microsoft Edge can help you save time and stay organized for the new school year.
Ready to try these out? Download the new Microsoft Edge and read on.
Keep teaching and personal browsing separate by creating your own teacher profile
Crafting a lesson on plants for your students and looking up how to make the perfect sourdough bread are two vastly different activities. Why mix the two in your browser? Keep your tabs, passwords, favorites, and extensions separate by creating a teacher profile for school and a personal profile for the rest of your day-to-day life. That way, you won't mix (or lose) tabs as you go from exploring photosynthesis to learning how to bake bread.
How to set up profiles:
Step 1: Click the profile icon to the right of the address bar.
Step 2: From the flyout menu, click "add a new profile".
Step 3: Enter your school email and password.
Step 4: Create a personal profile by repeating the previous steps but with your personal email and password.
Step 5: To switch between profiles, click on the profile icon and select the profile you want to use.
Access your files and lessons faster as you work from the browser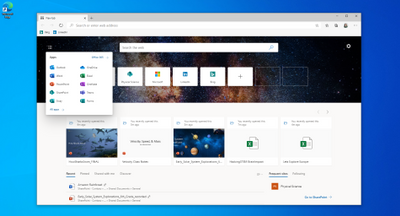 Remote teaching has meant going all-digital and keeping track of that content isn't easy. In the new Microsoft Edge, you can set up an easy-to-use Office 3651 dashboard so every time you open a new tab you can quickly find the files you need. You can customize this dashboard to pin files and websites you always use, or you can launch an Office 365 app from the app menu. By connecting Office 365 to Microsoft Edge, you get a fast, intelligent way to access your files that will save you time.
How to set up the new tab page:
Step 1: Sign-in to Office 365 using your teacher account and profile.
Step 2: Open a new tab in the browser.
Step 3: Click on the gear icon in the top right corner of the frame (under where you see your profile picture).
Step 4: Select "Office 365" under Page Content.
Step 5: Chose which page layout you like by trying out Focused, Informational, or Inspirational.
Step 6: Explore the page to see what's available!
Easily build a lesson plan (or collect anything) using Collections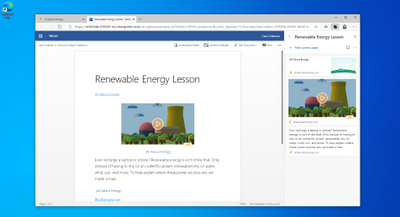 The best lessons use great content but finding and organizing that content can be time-consuming. In the past, this has meant a lot of open tabs and a lot of copying and pasting from the web. With Collections, we hope to make lesson planning a little bit easier! Now you can easily grab the web content that you need and save it in one place without leaving the browser. You can save a link to an entire page or simply highlight pictures or text and drag them into your collection. Now, all your resources are in one, convenient location.
How to use Collections:
Step 1: Click on the
icon next to your profile icon to open the Collections pane.
Step 2: Click the blue + sign to start a new collection.
Step 3: Start adding content! Find a web page with something you want to save and click "Add current page".
Step 4: Just want something specific on the page? Highlight text or pictures you want and drag it over to the pane to add it to the collection.
Step 5: Save your collection to a Word doc so you can share it with your students by clicking the
menu and then "Send to Word". Voila!
We hope you found these tips helpful—we truly can't thank you enough. If you found them useful, share them with your fellow teachers so they can save time and stay organized too!
Want to become even more familiar with the new Microsoft Edge? Check out our How To Get Started User Guide!
1 Azure Active Directory (AAD) and Office 365 subscription required.
Brought to you by Dr. Ware, Microsoft Office 365 Silver Partner, Charleston SC.