This article is contributed. See the original author and article here.
In the customer experience (CX) game, the last best experience sets the bar for the next. Businesses that are successful at meeting and exceeding their customers' expectations are hearing glowing testimonials like:
"This brand makes valuable information directly available." "The salesperson recommended the perfect solution." "How did the brand know exactly what I was looking for!" "This brand perfectly understands our business goals." "I received a discount exactly when I needed it." "Rep x is my trusted advisor." "This was an amazing service from A to Z." "This is my favorite brand."
Excellent CX encourages your customers to purchase your products, be repeat customers, and recommend your brand. It keeps your brand prominent, helps maintain ongoing relationships, and fuels emotional connections, which is especially important in between purchases. So how do we live up to these customers' expectations? Let's start by understanding the customer and learning how Microsoft Dynamics 365 Customer Insights, Microsoft Dynamics 365 Marketing, and Microsoft Dynamics 365 Sales can help.
Understanding today's customer
Triggered by the boom of connectivity and the accelerated shift to digital during COVID-19, customers' expectations have changedand they are rightfully asking for more. This also applies to business-to-business (B2B) customers, who have adopted the same purchasing behaviors as they have in their personal lives. They want modern, consumer-like experiences that allow them to engage on their own terms.
Customers are seeking more autonomy as they engage with brands. They call for digital first, immediate, self-service solutions. According to Trust Radius, virtually 100 percent of buyers want self-service options for at least part of the buying process, up 13 percent from 2021.1 Once customers make the decision to engage with a salesperson, they expect the person to know their intentions.
To add to this, buying journeys are no longer linear. Customers no longer follow a sequential top-down path across marketing and sales. They go back and forth between content and online and offline channels. However, expectations remain the same for seamless, friction-free interactions that are personalized regardless of the touchpoint.
They tune out one-size-fits-all interactions that make them feel like they're just another number, especially when businesses could make use of the data collected from their past interactions to anticipate their needs and ultimately deliver better-personalized experiences.
Customer experience and the sales landscape
The sales process has become even more complex. As buyers are faced with economic pressures, customer experience is even more important than ever. This is causing brands to interpret more signals, due to the variety of stakeholders and their indecisiveness in the purchasing process.
And buyers are allowing themselves to be inconsistent as they reconcile decision-making with practical realities. As they engage with a myriad of business stakeholders, their decisions can seem contradictory. This is causing businesses to miss opportunities to simplify the process and deliver relevant experiences across shifting influences.
Customers feel the disconnect and ask questions, such as: "Why do I still see ads for a product I already bought?", "How could the seller not know about my past order?", "Why are the promotional messages I've seen differ from the vendors' pitch?".
Though a small number of businesses can deliver congruous experiences, the truth is that most are failing to connect the dots. Technology, people, and data siloed within different departments are preventing businesses from working as one. Creating a holistic continuum of engagement from customer insights to identifying intent and actioning that information with the right buyer at the right time is a challenge.
Finally, departments such as sales and marketing are misaligned. The businesses' organizational structures are preventing effective collaboration, and they share different goals, metrics, and key performance indicators (KPIs), too often not oriented toward achieving revenue optimization. In the long run, those inconsistencies in the experiences affect the overall perception of the brand and, most importantly, customers' satisfaction.
What the research is telling us
Yet CX is where businesses are and will increasingly compete. Most professionals who engage in or lead CX for their businesses or department expect to compete on the basis of CX.
LinkedIn found that for 85 percent of sales and marketing leaders, alignment is the largest opportunity for improving business performance today.2 Marketing needs to orchestrate engagement whenever it's appropriateincluding prompting sales with intent signals and digital buyer behaviors that indicate that sales engagement would be valuable or welcomed. Sales must consistently use marketing-provided content and technology to improve effectiveness and efficiency. This allows sellers to engage with buyers further down the funnel, increasing the effectiveness of sellers through higher qualified leads.
This is driving the transformation of CX where businesses streamline and automate processes to enhance customers' interactions with their brand. The goal is to continuously refine CX at every touchpoint to grow and foster an ongoing relationship. "This brand perfectly understands our expectations."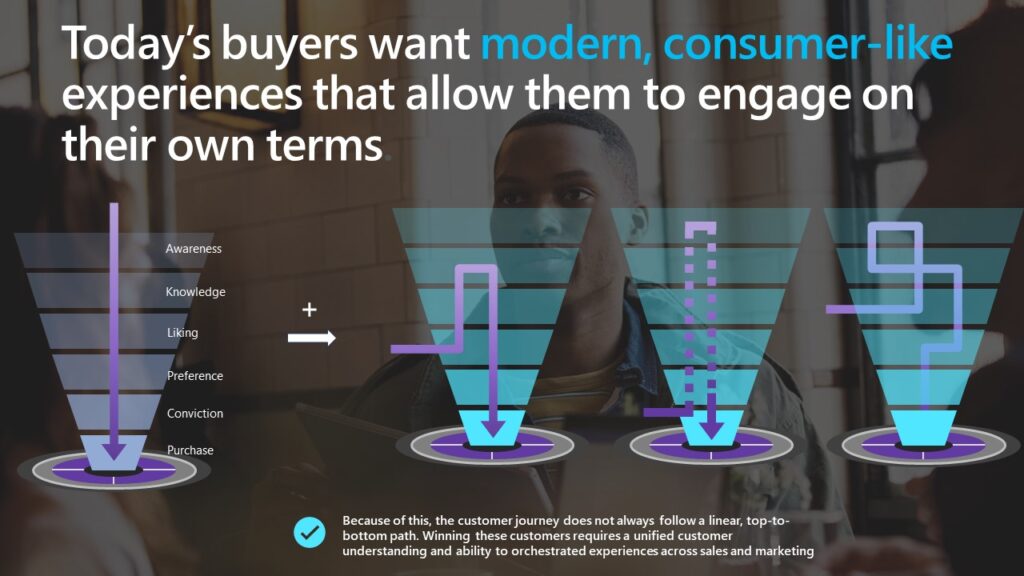 As an example, Northrup & Johnson, a luxury yacht broker and charter service provider, has seen a shift in the expectations of its buyers, who are increasingly self-exploring digitally throughout their buying processcomparing different models, taking virtual tours, and comparing with competitors. They expect a highly personalized experience both digitally and with the sales team. They want to lead their sales process and not have it dictated to them. Northrup & Johnson engages its customers on all channels with content specific to the yacht models they've expressed interest in or the tours they've taken. As its customer's propensity to buy increases, it routes them to a seller at the right moments, such as reaching out after they had a great boat charter experience. Leveraging a unified customer understanding creates self-service experiences that then empower sellers with knowledge of affinities, intent, and lifetime value.
Our approach
So how do you prepare your organization to transform CX and deliver frictionless, outstanding experiences to maintain a competitive edge? One thing is clear: doing things the "old way" is no longer an option.
Companies that require a customer to fill out a web form or start with a phone call will rapidly become irrelevant. Instead, they need to provide consumer-like experiences and be comfortable with unknown visitors to their digital properties. With control ceded to the buyer, they are no longer being forced through a one size fits all funnel and may enter in the middle of the funnel with a preference, then pop up the funnel to assess their options. They could start by buying and then seek knowledge about their purchase, or anything in between. The customer journey needs to flow seamlessly between sales and marketing as a result.
Enabling these experiences starts with data. Instead of customer understanding being limited to that which a seller is willing to manually enter into their customer relationship management (CRM) system, all the interactions, purchases, and multitudes of different data sources can come together to shine a light on the buyer journey. By unifying data, organizations can gain a full understanding of their customers.
Combined with AI capabilities, they can curate a timeline of individual customer interactions, identify relevant behavioral signals in the buying process, and through automated predictive analytics, understand key factors influencing actions and KPIs, such as churn, customer lifetime value (CLTV), net promoter score (NPS), and customer sentiment. Based on those insights, marketing and sales teams can craft real-time single or multi-step personalized journeys that automate the best experiences for each buyer. They can be orchestrated to quickly advance the buyer to the next step of the journey and accelerate the pipeline through marketing-led lead identification that seamlessly notifies sales to contact the buyer at exactly the right time, in the right channel, and with the right offer. "I received a discount exactly when I needed it."
Through automated lead scoring and AI-powered next-best-action recommendations, these once tedious tasks no longer prohibit sellers from focusing on building relationships and delivering value in every interaction. Based on similar account interactions, sellers can also recommend relevant products to customers ("the salesperson recommended the perfect solution") and in the long run through repeated on-point exchanges transform relationships ("rep x is my trusted advisor").
Sellers and marketers can create self-service consumer-like experiences and provide content that contributes to lead generation to meet buyers where they are. "This brand makes valuable information directly available." They can empower customers to engage on their terms, the conversations are no longer seller-led but guided by the customers' choice and timing. Customers experiencing self-driven paths are likely to buy more than initially planned.
A key to this is analyzing the effectiveness and pipeline through a common lens and using data to optimize journeys, and personalized content to accelerate the pipeline, improve close rates and increase customer retention.
Bringing these capabilities to the forefront illustrates how CX is driving the need to build sales and marketing alignment. It allows companies to automate empathy and relationship building beyond the sales cycle based not just on who the buyer is, but on the moments that matter to keep the company top of mind, relevant, and the buyer happy. "This was an amazing service from A to Z."
Transforming customer experience with Dynamics 365 Sales, Dynamics 365 Marketing, and Dynamics 365 Customer Insights
To guide each B2B and business-to-consumer (B2C) business in their CX transformation and accelerate their growth, we provide unrivaled connected sales and marketing capabilities through Dynamics 365 Sales, Marketing, and Customer Insights applications.
Dynamics 365 Customer Insights respects privacy when unifying fragmented data, sometimes from hundreds of data sources across the organizationincluding data from Dynamics 365 Sales, Dynamics 365 Customer Service, Dynamics 365 Supply Chain Management, and Dynamics 365 Marketingto create a unified profile that can be enriched with first- and third-party data sources and used to generate AI-powered insights that identify churn risk and drops in customer sentiment and suggest the next best action to satisfy customers.
These insights about the customer can be activated in real time within Dynamics 365 Marketing to identify segments and preferred channels, trigger flawless journeys, create self-service content, and deliver hyper-personalized experiences not just based on who the customer is, but also in real time based on what they are doing. For example, Biologische Heilmittel Heel, one of the largest pharmaceutical manufacturers of homeopathic remedies worldwide, is using Dynamics 365 to provide its buyersdoctors, pharmacists, and veterinarianswith self-service curated content. Due to the nature of this industry and its complexity across buyers, the message and approach have to be personalized from one customer to the next. This also makes it difficult to support customers throughout their journey with the company. Dynamics 365 has enabled seamless data sharing across the organization, enabling it to understand the customer and orchestrate real-time consumer-like experiences that span sales and marketing while putting the buyer in control.
Through Dynamics 365 Sales, sellers can continue to build seamlessly on marketing efforts. Marketers orchestrate handoffs by identifying prospects showing purchase intent across their buying journey and automatically pass marketing-qualified leads (MQLs) at exactly the right time to optimize sales engagement. With AI-driving sales force automation, sales teams can jumpstart digital selling and meet buyers where they are using sales accelerator sequencing and predictive scoring. Through personalized work lists and AI-optimized next-best-action recommendations, they know exactly what customer and activity to focus on to accelerate sales and increase wins. All these capabilities, along with embedded collaboration and real-time conversation intelligence, boost seller productivity and enable them to read customer signals to know if their engagements and the buyer experience are effective.
Connected, these applications unlock unique opportunities to create individualized experiences that meet customers' expectations whether they are one-time empathetic interactions or lifetime emotional connections.
Microsoft's solutions empower your teams to transform CX so that your customer base refers to your organization as "my favorite brand."
Next steps
Learn how Dynamics 365 Customer Insights, Dynamics 365 Marketing, and Dynamics 365 Sales can meet your customers' expectations.
---
Footnotes
2LinkedIn.
The post Transforming customer experiences with connected sales and marketing appeared first on Microsoft Dynamics 365 Blog.
Brought to you by Dr. Ware, Microsoft Office 365 Silver Partner, Charleston SC.