This article is contributed. See the original author and article here.
We are pleased to announce General Availability of one of the most requested features for Teams in Education. This new IT Admin meeting polic experience will prevent students from joining a meeting un-attended, when the educator is not in the meeting. Additionally, students will only be able to chat when a teacher is present in the meeting.
This feature is based on the Meeting Policy – "Only people who can create a meeting can start a meeting"
This feature, in combination with 'end the meeting' will allow instructors to ensure that students do not continue or re-start existing meetings. A huge thank you to educators everywhere for your patience as our engineers worked around the clock to make sure this solution was enabled with all of your feedback in mind!
Separately, as announced last week, the additional feature of "Students must wait in lobby" feature is coming soon and will be rolling out in July. This feature will be controlled by the educator in Meeting Options.
Two things for IT Admins to keep in mind when testing this new functionality for your Teams meeting policies:
Applying new meeting policies to student accounts can take up to 24 hours to fully process.
Teams Desktop clients must be updated to the latest version.
Moving forward, students will not be able to join a meeting if the Teacher has not yet started the meeting.
In addition, students will only be able to chat when a teacher is present in the meeting.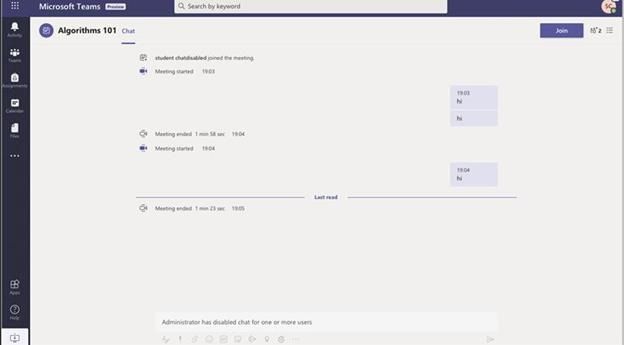 Documentation on our support sites has been updated, feel free to access those updates at the links below:
Mike Tholfsen
Microsoft Education Product Manager
Brought to you by Dr. Ware, Microsoft Office 365 Silver Partner, Charleston SC.