This article is contributed. See the original author and article here.
Over the last few years, organizations have increasingly adopted cloud-native SaaS applications to meet changing agility and productivity needs. While the growth of SaaS apps has enabled cost savings and other gains for organizations, it has also raised a significant challenge for security teams. Ensuring a secure way to use essential productivity-enhancing tools has become a critical strategic priority for security teams. Today, we are thrilled to announce the public preview of SaaS Security Posture Management capabilities in Microsoft Defender for Cloud Apps that will enable you to view, identify, and remediate misconfigurations across your applications to improve your organizational security.
Lack of visibility, misconfigurations, and sophisticated attacks are some of the common threats that put your sensitive data and users of SaaS apps at risk. In today's threat landscape, customers need a new approach to:


Proactively strengthen the security posture of SaaS apps enabled in your enterprise.


Detect any breach/attack on these applications and respond quickly.


Prevent any sensitive data leakage even in the case of an attack.


Microsoft Defender for Cloud Apps is designed to help secure your SaaS applications and protect sensitive data in your organization against evolving threats. Empower your security teams with enhanced visibility and assessment tools to identify usage patterns, assess risk and business levels, and manage more than 31,000 SaaS applications to defend against threats.
For each application, you have visibility into its users, their IPs, and their traffic volumes to detect anomalous behavior. Further, you can view the security, compliance, and legal risk levels (e.g. SOC2, ISO27001, GPDR, encryption protocol, etc.) of every application in your organization. After approving specific apps, access deeper protections to ones containing sensitive information with tools to detect attack attempts, suspicious behaviors, and potential data leakages.
New integrated SaaS security posture management with Microsoft Secure Score
It's not enough to only know which SaaS apps are being run in your environment – for security teams, understanding best practices and managing the configurations across your organization's SaaS apps are of equal importance. Microsoft Defender for Cloud Apps not only helps you discover all the SaaS apps in your environment but with new security posture management (SSPM) capabilities, you can also get deeper visibility and automatically identify misconfigurations and gaps in each app. Today, you can access security posture insights across Office 365, Salesforce (preview), and ServiceNow (preview), with additional SaaS apps to be added in the coming months. This experience is integrated into the Microsoft 365 Defender dashboard to enable security teams to see their holistic security posture across the enterprise with Microsoft Secure Score.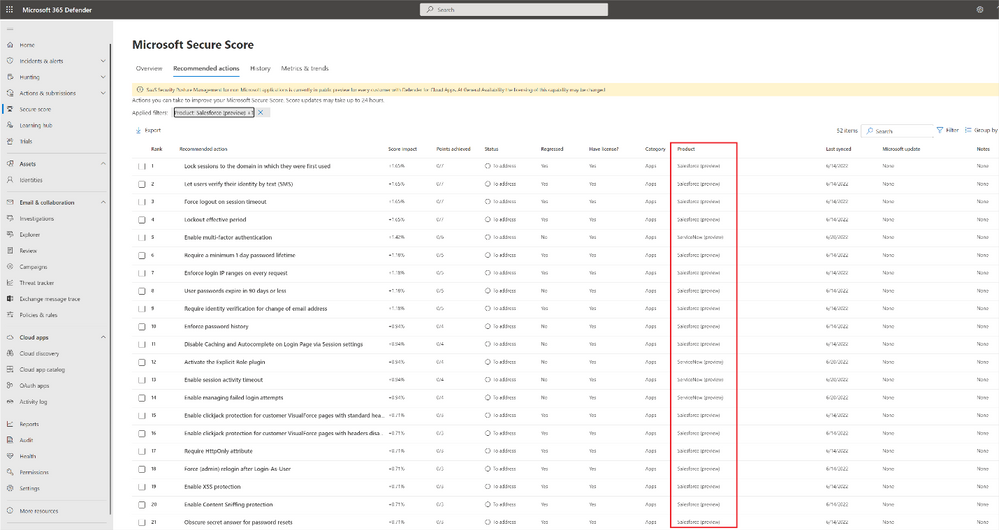 Figure 1 Microsoft Defender for Cloud apps enables you to manage your security posture of apps such as Salesforce directly within Microsoft Secure Score.
Within the Microsoft Secure Score blade, your security teams can identify misconfigurations and get a step-by-step remediation guide for every risky security configuration in your environment for the related SaaS apps.
Start today
Defender for Cloud Apps helps you gain visibility of your cloud apps, discover shadow IT, protect sensitive information anywhere in the cloud, enable protection against cyber threats, assess compliance, and manage your security posture across cloud apps. In addition to Azure and Office 365 applications, Microsoft Defender for Cloud Apps enables you to protect your assets across the use of many applications including Atlassian, Box, Dropbox, Google Workspace, OneLogin, Okta, Cisco WebEx, Salesforce, Slack, ServiceNow, DocuSign, NetDocuments, GitHub, Zoom (preview), Workplace by Meta (preview), Egnyte (Preview), and more. With Defender for Cloud Apps' extensive coverage, gain the right visibility tools to detect and prevent attacks and data leakages.
If you are already using Defender for Cloud Apps, you can start using the new SSPM security posture management capabilities by connecting Salesforce or connecting ServiceNow (if you already have an existing connector to Salesforce or ServiceNow, you can immediately use the new capabilities). Security assessments and recommendations will be shown automatically in Microsoft 365 Defender portal under security recommendations.
To learn more about Defender for Cloud Apps, read our documentation and start a trial here.
Brought to you by Dr. Ware, Microsoft Office 365 Silver Partner, Charleston SC.