This article is contributed. See the original author and article here.
In the fast-changing world of remote work, having up-to-date technical skills that align with what's in-demand is more crucial than ever for productivity, innovation, and growth. Last year, we observed two years of digital transformation take place across the globe in just a couple of months. From schools to corporations, governments, and small businesses, digital transformation suddenly became a matter of business continuation. That put an instant premium on necessary skills to support it, and having the right skills makes a measurable difference. An IDC study showed that trained and certified teams responsible for core IT activities are almost 20% more productive than less proficient staff.1 While a different study shared that IT professionals who have achieved a relevant role-based technical certification perform on average 26% better than their uncertified colleagues.2
Effective training can result in measurable benefits in three critical areas3:


Timeliness: Well-trained cloud migration teams meet nearly 90% of their business and project milestones.


Insight: 90% of the organizations with well-trained teams are satisfied or very satisfied with their ability to monitor, forecast, and optimize server, storage, and network resources.


Business impact: 80% of the organizations with teams well-trained in automation and orchestration tools report being satisfied or very satisfied with the business impact of moving to the cloud.


The bottom line: Ensure you have the right skills for successful digital transformation. Microsoft Learn offers robust resources to deliver targeted training you need, including instructor-led training offered by Microsoft Learning Partners. Let's take a look at these opportunities as well as how to get a quick training boost with Microsoft Virtual Training Days.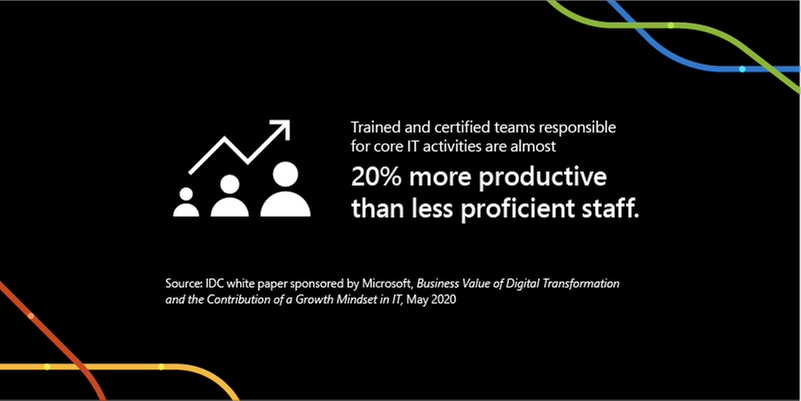 Everyone learns differently – at different paces, using different media, and with emphasis on different topics. At Microsoft, we take these variations into account to help you learn in a style that fits you best. In addition to free and interactive self-paced learning paths discoverable on Microsoft Learn, instructor-led training delivers in-depth, structured training to match your needs. Microsoft instructor-led training courses are delivered by Microsoft Certified Trainers, giving you flexibility to customize your training agenda and dedicated personal attention from technical subject matter experts who are available to help in real-time. They also provide local market expertise and language – an efficient way to advance your skills.
Microsoft Learning Partners: Make training relevant, personal, and timely
As you consider your instructor-led training options, one of your most valuable training resources will be Microsoft Learning Partners. They can help customize your training to meet your learning needs with the right blend of in-person, hands-on, and online experiences that can take place in a classroom, virtually, or at your company's location.
Learning Partners can assess your level of knowledge and deliver a customized training plan to quickly advance your technical expertise. They'll help you:


Define your path to hone in on the technical skills that are right for you to achieve career or business goals.


Tailor your training plan to match your requirements and deliver training that levels up your skills to meet your specific objectives and project needs.


Ensure steady progress with individual and team-level reporting, skills assessments, and knowledge checks to inform any adjustments to your learning plan.


Microsoft Virtual Training Days: Digital training events to skill up
Microsoft Virtual Training Days are a great place to initiate and explore your training journey. They offer free, in-depth, virtual training on opportunities for career and organizational impact, and are available weekly. You'll find digital training events to match every level and grow your technical skills for the fast-changing future. Virtual Training Days cover a wide variety of Microsoft technical skills including Microsoft Azure, Microsoft 365, Dynamics 365, and Power Platform.
The benefits of role-specific training go beyond performance and productivity boosts. It's worth exploring instructor-led training, Microsoft Learning Partners, and Virtual Training Days to increase job satisfaction, team culture, and talent retention.
To discover more about these offerings, along with the wide range of other empowering, educational opportunities check out Microsoft Learn.
Related posts:
1IDC white paper sponsored by Microsoft, Business Value of Digital Transformation and the Contribution of a Growth Mindset in IT, May 2020
2IDC white paper sponsored by Microsoft, Benefits of Role-Based Certifications, June 2020
3IDC white paper sponsored by Microsoft, Leveraging Microsoft Learning Partners for Innovation and Impact, January 2021
Brought to you by Dr. Ware, Microsoft Office 365 Silver Partner, Charleston SC.