This article is contributed. See the original author and article here.
This month brought some nice SharePoint, Teams, Lists and more features that don't disappoint, in fact it was a personal, insightful, recovery kinda month – tech'nically speaking.
November 2020 brought some great new offerings: SharePoint site performance page, 'My Feed' web part, Lists undo and redo, at-a-glance and key points in sharing emails, an updated SharePoint tab app in Teams, new Microsoft Graph connectors, and more. Details and screenshots below, including our audible companion: The Intrazone Roadmap Pitstop: November 2020 podcast episode – all to help answer, "What's rolling out now for SharePoint and related technologies into Microsoft 365?"
https://html5-player.libsyn.com/embed/episode/id/16978505/height/90/theme/custom/thumbnail/yes/direction/backward/render-playlist/no/custom-color/247bc1/
In the podcast episode, I chat with Dag Eidesen (LinkedIn), principal program manager on the Microsoft Search team who recently focused on designing and delivering the new SharePoint "My Feed" web part.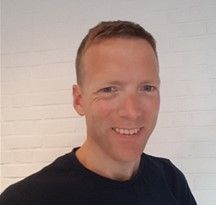 Dag Eidesen, principal program manager (Microsoft Search) [Intrazone guest]
All features listed below began rolling out to Targeted Release customers in Microsoft 365 as of November 2020 (possibly early December 2020).
Inform and engage with dynamic employee experiences
Build your intelligent intranet on SharePoint in Microsoft 365 and get the benefits of investing in business outcomes – reducing IT and development costs, increasing business speed and agility, and up-leveling the dynamic, personalized, and welcoming nature of your intranet.
SharePoint Site performance page
This new page helps site owners and editors make high-impact page improvements to increase page health and overall site performance. Page health measures page performance which impacts the viewing experience and the page's ability to engage viewers and serve its purpose.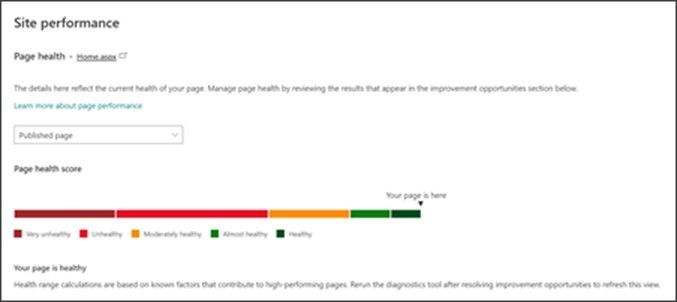 Improve page health and performance by addressing high and medium impact improvements.
You'll get actionable feedback on things like how certain page or site assets would benefit from a content delivery network (CDN), what web parts and their usage might be impact page load times, any images that are too large, amount of requests going to the back end, and the like.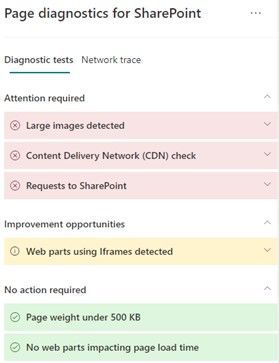 The Diagnostic tests tab displays the analysis results in three categories; No action required, Improvement opportunities and Attention required.
Each test result displays specific test details, and then provides guidance on how to resolve the issue.


Roadmap ID: 66196


Learn more:




My Feed web part
This web part shows a mix of content from across Microsoft 365, based on what's likely to be most relevant to the current user at any given time. The feed is personal. Different users will see different content.

Make your site more dynamic by adding the My feed web part to show a mix of content from across Microsoft 365: videos, documents, meetings, chats, news and more.
Please note that only content that the user has permission to access will be shown.


Roadmap: 67148


Learn more:




Teamwork updates across SharePoint team sites, OneDrive, and Microsoft Teams
Microsoft 365 is designed to be a universal toolkit for teamwork – to give you the right tools for the right task, along with common services to help you seamlessly work across applications. SharePoint is the intelligent content service that powers teamwork – to better collaborate on proposals, projects, and campaigns throughout your organization – with integration across Microsoft Teams, OneDrive, Yammer, Stream, Planner and much more.
Microsoft Lists: Undo / Redo
Oops is no longer a four-letter word. It is simply a state you can recover from. As you work across rows and columns within Microsoft Lists, mistakes will happen, and we're making it easy to recover your information with a brand-new Undo button. The same is true in reverse if there was something in a field previously that you in fact liked – just bring it back by clicking Redo.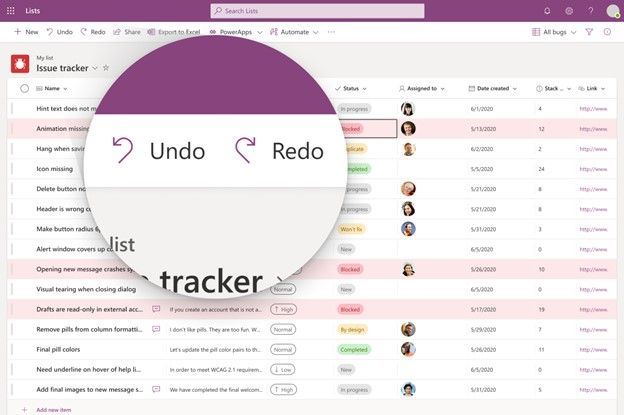 Click Undo or Redo to revert changes or remove mistakes within Microsoft Lists.
You be able to retract any unwanted changes or bring back previously entered information, up to 100 actions in an individual edit session.
Simply click the undo or redo buttons when in edit mode, or if you like quick keyboard shortcuts and good accessibility:


For Windows: Ctrl + Z will undo and Ctrl + Y will redo


For Mac OS: Command + Z for undo and Command + Shift + Z for redo


At-a-glance and key points in sharing emails
When users share Word files, the sharing e-mail will include information about the estimated time it will take a user to read the document as well as a list of the key points in the document. People will now see a short three-bullet point summary of the document, helping them quickly determine if the file is relevant to them.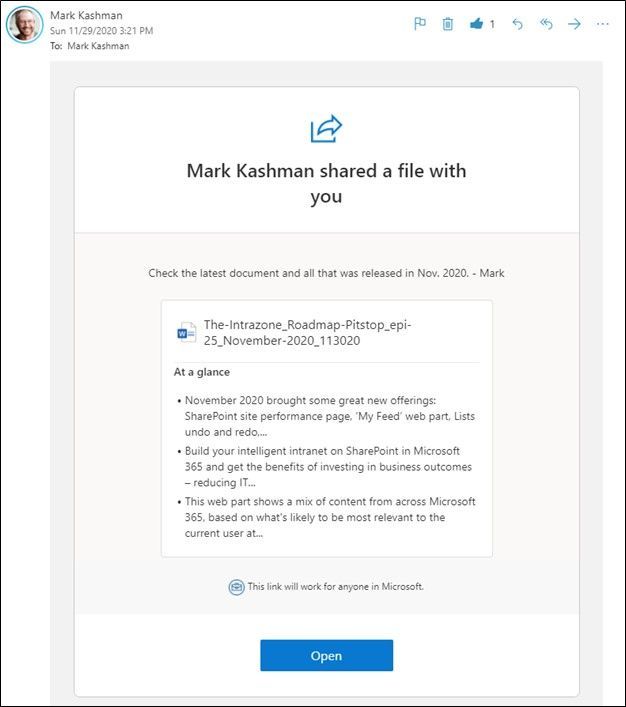 A meta-moment for the SharePoint Roadmap Pitstop – this sharing email summarizes this blog post draft for November 2020 shared as a link via Microsoft Word.
These insights can save you a lot of time during email triage or when you're looking for that one particular document – it's an instant reminder "at a glance." Thank you artificial intelligence for the summary cliff notes.
Note that files that have been marked as sensitive by Data Loss Prevention (DLP) will not include this information.
Updated SharePoint tab app in Microsoft Teams
We have improved the SharePoint tab experience when adding pages, lists or document libraries to a channel in Teams. It's easy to select multiple content types from the connected team site, or by providing a link to any other page, list or library to which the user has access.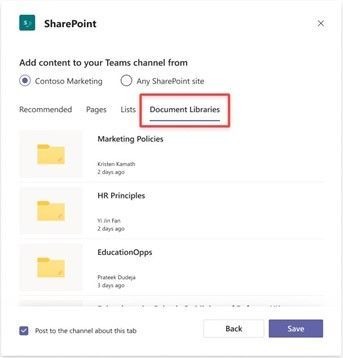 The updated SharePoint tab experience when adding pages, lists or document libraries to a channel in Teams.
We have also added a new "Recommended" section in the SharePoint tab to help user easily find the most relevant content from their site to pin in their channels. It's a one-stop shop for adding various types of existing content that began in SharePoint.
Note: this tab app does live alongside other SharePoint-based tab apps for the individual content types – aka, there is a Lists app, a Pages app and a document library. This is an area of investment to ensure you can easily connect content stored in SharePoint in Teams channels.
Related technology
New Microsoft Graph connectors for Microsoft Search
Microsoft Search indexes all your Microsoft 365 data to make it searchable for users. With Microsoft Graph connectors, your organization can also index third-party data so that it appears in Microsoft Search results.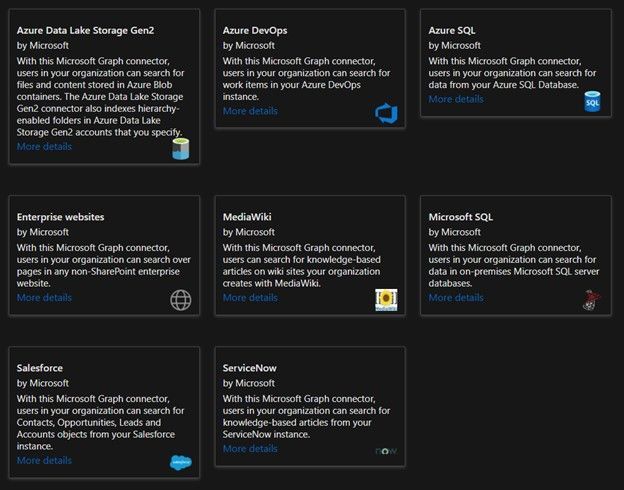 Microsoft Graph connectors help your organization index third-party data to appear in Microsoft Search results.
The following Microsoft-built connectors will be available within the Microsoft 365 admin center:


Azure Data Lake Storage Gen2


Azure DevOps


Azure SQL


Enterprise websites


MediaWiki


Microsoft SQL Server


Salesforce (preview)


ServiceNow


File share


In addition, more than 100 connectors are available for preview from our 3rd-party ecosystem partners.
This area of investment from Microsoft and it's partners will help you make you're company search results more and more inclusive of content you want your organization to have – with content and repository permissions intact.
Create shared library in OneDrive
We're updating the existing experience of creating new Shared Libraries from OneDrive on the web. The end goal being a simpler and easier way to create collaborative spaces for your shared files and folders for team members to access and collaborate on files from anywhere on any device.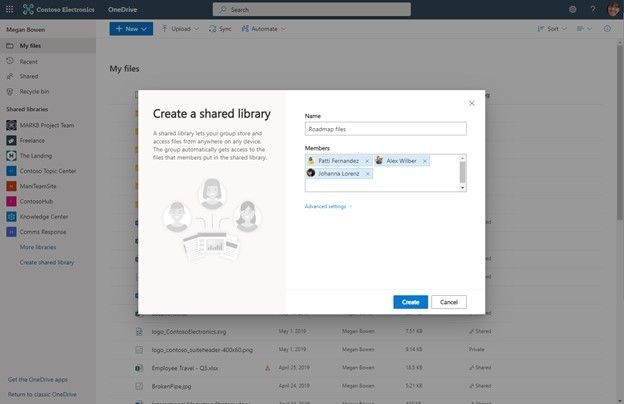 The new Create shared library experience is more streamlined within OneDrive, fewer clicks with greater clarity, while leaving the structure of the underlying team site intact.
Note: Shared Libraries are backed by Microsoft 365 Groups, so the group automatically gets access to the files that members put in the shared library.
Microsoft Forms power polling for Microsoft Teams meetings
We are creating a new way for meeting presenters to poll attendees. Any meeting presenter can add the Forms app as a tab in the Teams meeting. Before the meeting, the presenter can create draft polls. During the meeting, the presenter can create and launch polls that any attendee can view and answer. All attendees will be able to see the results in real time, and respondents can respond to a poll after the meeting if the poll has not been closed; an important notion to ensure all attendee voices are heard.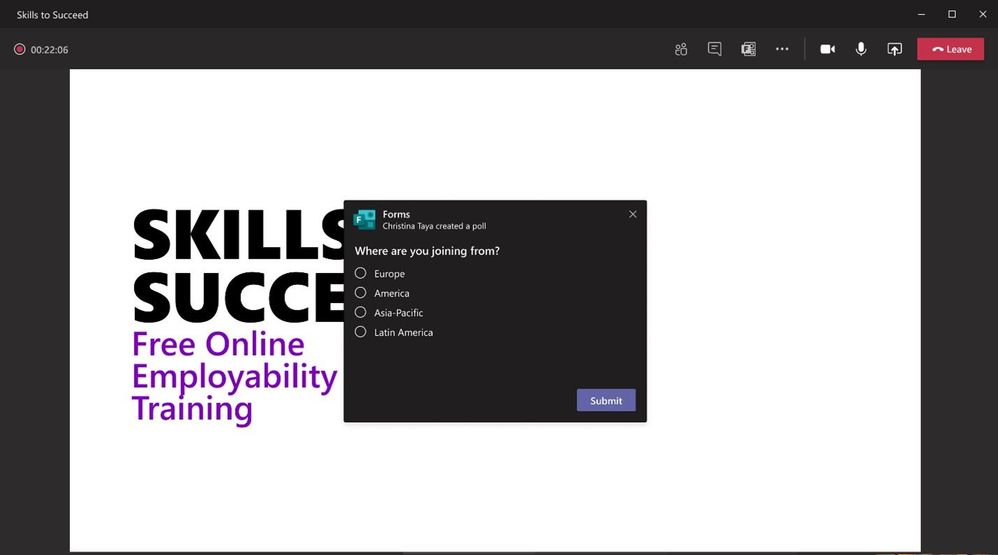 Add Forms-based polling into your Microsoft Teams meetings.
December 2020 teasers
Psst, still here? Still scrolling the page looking for more roadmap goodness? If so, here is a few teasers of what's to come to production next month…


Teaser #1: SharePoint Portal Launch Scheduler [Roadmap ID: 66162]


Teaser #2: Microsoft Lists: Rules [Roadmap ID: 64163]


… shhh, tell everyone.
Helpful, ongoing change management resources


Follow me to catch news and interesting SharePoint things: @mkashman; warning, occasional bad puns may fly in a tweet or two here and there.


Thanks for tuning in and/or reading this episode/blog of the Intrazone Roadmap Pitstop – November 2020 (blog/podcast). We are open to your feedback in comments below to hear how both the Roadmap Pitstop podcast episodes and blogs can be improved over time.
Engage with us. Ask those questions that haunt you. Push us where you want and need to get the best information and insights. We are here to put both our and your best change management foot forward.
Stay safe out there on the ghostly road'map, and thanks for listening and reading.
Thanks for your time,
Mark Kashman – senior product manager (SharePoint/Lists) | Microsoft)
The Intrazone Roadmap Pitstop – November 2020 graphic showing some of the highlighted release features.
Subscribe to The Intrazone at aka.ms/TheIntrazone, or where you get your podcasts (direct links to The Intrazone on various podcast platforms:
And listen and subscribe to other Microsoft podcasts: aka.ms/microsoft/podcasts

The Intrzone, a show about the Microsoft 365 intelligent intranet: https://aka.ms/TheIntrazone.
Brought to you by Dr. Ware, Microsoft Office 365 Silver Partner, Charleston SC.