This article was originally posted by the FTC. See the original article here.
More than a year into the pandemic, and months after the first rollout of COVID-19 vaccines, people are eager to get back to their regular activities. But some activities might require you to show that you've been vaccinated or had a recent negative COVID-19 test. How you do that may depend on the activity and where you live.
Right now, there's no standard way to prove you've been vaccinated or tested negative. Sure, there are those CDC COVID-19 vaccination cards people get when they get their vaccine. But they were never designed to prove your vaccination status and they may not be enough. Some states, companies, colleges, and other organizations are creating their own verification products and services, including apps and digital passports or certificates. Some connect to state immunization databases while others rely on individual self-report. The patchwork approach gives scammers an opportunity to cash in on the confusion.
Besides not sharing your COVID-19 vaccination card online because of the risk for identity theft, here are a few other ways to help stay ahead of the scammers.
Be skeptical of anyone contacting you from the federal government. Right now, there are no official plans to create a national vaccine verification app or certificate or passport. If you get a call, email, or text from someone saying they're from the federal government, and asking you for personal information or money to get a national vaccine certificate or passport, that's a scam.
Check with airlines, cruise lines, and event venues about their requirements. Don't rely on information from someone who calls, texts, or emails you out of the blue.
Contact your state government about its vaccine verification plans and requirements.
Don't share your information with just anyone. Scammers often set up real-looking websites to sell fake goods and services, so why not vaccine verification certificates or passports? Before you share any information online, check out who's asking for it. Search online for the company or organization's name with words like "scam," "review," or "complaint." Think long and hard before you share personal information, like your Social Security, Medicare, credit card, or bank account numbers. Scammers can steal your information to commit fraud and identity theft.
Please share these tips with others, and stay connected to stay informed. Subscribe to consumer alerts from the FTC to get updates delivered right to your email inbox.
If you know about a COVID-19 vaccine scam, tell the FTC about it at ReportFraud.ftc.gov. Or, file a complaint with your state or territory attorney general at consumerresources.org, the consumer website of the National Association of Attorneys General.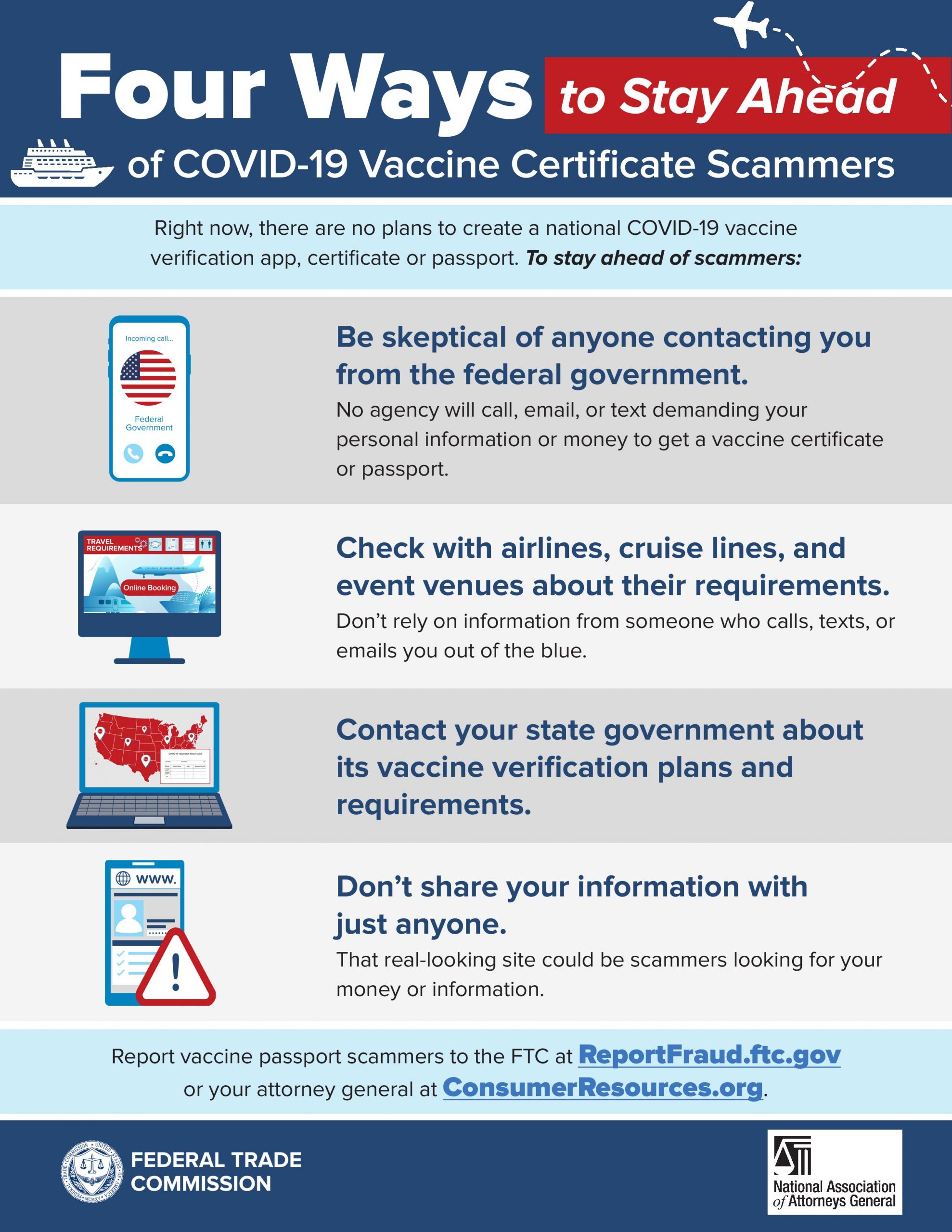 Brought to you by Dr. Ware, Microsoft Office 365 Silver Partner, Charleston SC.