This article is contributed. See the original author and article here.
System Center Operations Manager Management Pack for Azure SQL Managed Instance is now available. If you have a hybrid data environment and SCOM is your preferred monitoring solution, you can now use it to monitor your Azure SQL Managed Instances in addition to on premises SQL Servers, SQL VMs, and Azure SQL DBs.
Please download at:
Microsoft System Center Management Pack for Azure SQL Managed Instance
We released public and private preview versions earlier but this management pack is a complete overhaul to reflect the changes in both SQL MP family and managed instances. This version cannot be installed as an update to the previous versions. Please uninstall them before installing this version.
Here are some important features you should know about:
This release provides an option to keep all deployments of Managed Instances monitored with no manual configuration. Called Automatic Discovery, this option requires you to configure the monitoring just once, instead of constantly adding new instances and removing those getting retired.
Supported tiers

General Purpose
Business Critical (monitoring of Read-Scale Replicas is not supported yet)

This release provides much wider coverage of Azure SQL Database Managed Instance features and configurations than its predecessors. Here's a list of Managed Instance features that the management pack covers with monitoring:

Database Engine
Database, including DB Space monitoring
Agent and Jobs
Memory-Optimized Data (In-Memory OLTP)
Failover Groups, a high availability feature of Managed Instance, including monitoring of secondary replicas
Authentication Mode – both SQL Server Authentication and Azure AD Authentication are supported.
Instance level dashboard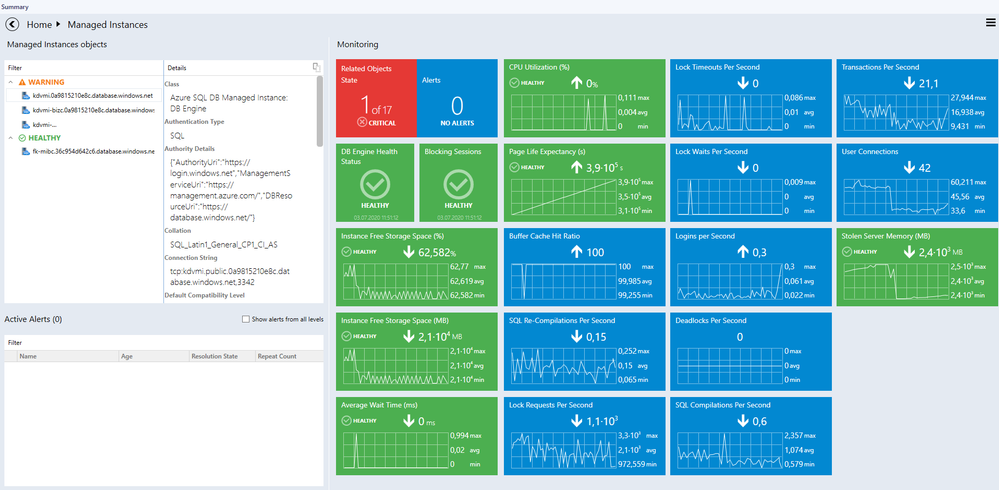 Database level dashboard
Here is a list of changes since the April public preview (7.0.21.0)
What's New:
Updated monitor "Securables Configuration Status"
Updated monitor "Job Duration" to add current job run's duration to its alert description
Updated UI of wizard "Automatic Discovery"
Updated alerting rules to avoid gathering SQL Log events that happened during maintenance mode
Updated dashboards
Updated display strings
Bug Fixes:
Fixed: Self-diagnostic alerting rules fire alerts for SQL Server MP log events
Brought to you by Dr. Ware, Microsoft Office 365 Silver Partner, Charleston SC.