This article is contributed. See the original author and article here.
Today, companies are harnessing IoT for real-time visibility into all parts of their businesses, from factory floors to energy generation and distribution, smart buildings, agriculture operations, and thousands of other environments. Companies are using this visibility to optimize productivity, gain efficiencies, increase uptime, meet sustainability and carbon reduction goals, and so much more.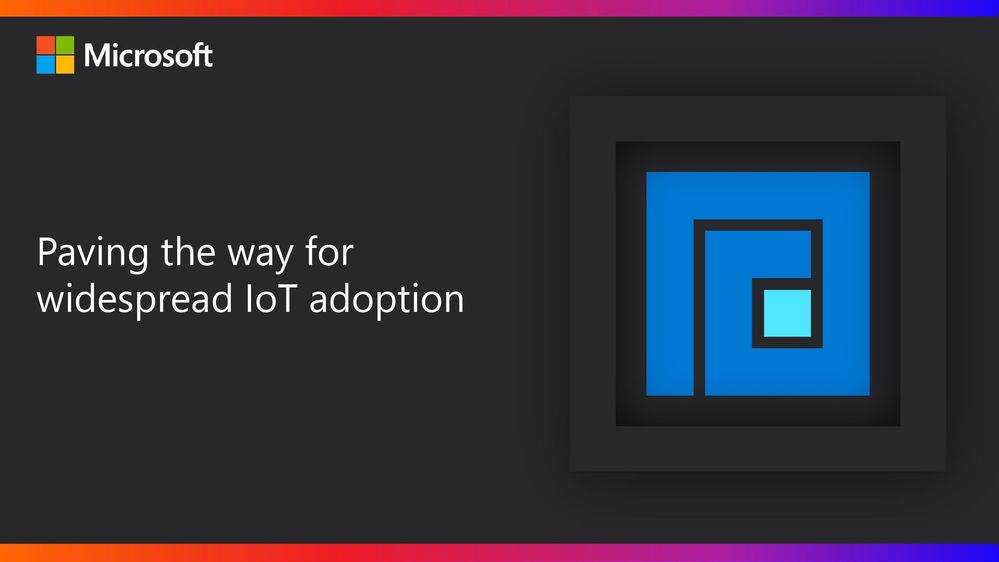 This is the power of the intelligent edge: making daily life easier, enabling businesses to transform and thrive, ensuring safer working and living conditions, and addressing some of the world's most pressing challenges. Now is the time for organizations to harness the benefits of adopting Internet of Things (IoT) solutions. But for every company that moves forward with IoT, another struggles with obstacles ranging from security and compliance to implementation complexities to the lack of technical expertise on their teams.
The mission of Azure IoT is to simplify IoT for mainstream adoption, and we have made some great progress. At Microsoft Ignite (March 2-4), we announced the next set of industry-leading capabilities to make it even easier for companies to benefit from IoT.
Reducing technical complexity for device lifecycle management
As more organizations connect IoT devices at the edge of their networks, they increase real-time insights, optimize asset use, and improve business processes. But with the growing number of diverse connected devices comes the question of how to connect, manage, and secure them at scale. There's also the question of how to integrate AI into edge scenarios in a straightforward, simple way.
Introducing Microsoft Azure Percept: Edge intelligence from silicon to service
Announced by Microsoft at Ignite is Azure Percept, now in preview. With this comprehensive and easy-to-use platform, you can create edge AI solutions for tackling use cases like object detection, shelf analytics, or anomaly detection. Azure Percept includes hardware accelerators that integrate seamlessly with Azure AI and IoT services, as well as a library of pre-built AI models to get you started prototyping in minutes. Azure Percept helps safeguards your sensitive data and high-value models.
Device Update for IoT Hub simplifies device management at scale
We also announced the preview of Device Update for IoT Hub, which takes everything we learned from Windows Update and makes those capabilities available to any IoT device, regardless of the operating system. Companies can now use it to publish, distribute, and manage over-the-air updates at scale—always remaining in control of the updating process—while keeping devices and applications secured and up to date. And as the name implies, Device Update for IoT Hub seamlessly works with Azure IoT Hub, providing updates over the secure and trusted connection between Azure IoT Hub and IoT devices.
Last year we introduced Azure IoT Edge Nested Edge capabilities, and I'm thrilled to announce that Device Update for IoT Hub also supports these Nested Edge configurations. It's never been easier to manage the firmware, operating system, and software on IoT devices than with Device Update for IoT Hub.
IoT Plug and Play enables low-code, device-to-cloud integration
IoT Plug and Play is an open approach that uses Digital Twin Definition Language (DTDL) to allow IoT devices to declare their capabilities to cloud solutions, enabling seamless device-to-cloud integration and saving prolonged and costly integration between IoT devices and IoT solutions.
IoT Plug and Play also supports edge modules, making it easier and faster to connect existing sensors and legacy devices without reprogramming. Similarly, IoT Plug and Play bridge is generally available. This open-source application connects existing sensors and devices attached to a Windows or Linux gateway as IoT Plug and Play devices—all with little to no code. IoT Plug and Play bridge can be run as an edge module or natively.
Companies can find an increasing selection of IoT Plug and Play devices from the Azure Certified Device catalog. Furthermore, with the added support of IoT Plug and Play in Azure IoT Central, organizations can create IoT solutions without writing new code on the cloud or in the device.
Enabling a seamless IoT integration experience with leading MCUs
Azure RTOS is based on our Express Logic acquisition and is already running on over six billion devices. We're strengthening our partnership with leading semiconductors STMicroelectronics, NXP, Renesas, and Microchip by making Azure RTOS a seamless part of their offerings. And now, we're expanding on this with new integrations between Azure RTOS and our IoT services, including Device Update for IoT Hub, IoT Plug and Play, Azure IoT Central, Azure Defender for IoT, and Azure IoT Edge.
We are partnering with these semiconductor leaders on building seamless integrations across Azure IoT to connect, monitor, and manage a global fleet of IoT devices. As part of this effort, we are collaborating on outreach through training resources, upcoming workshops, and virtual events for embedded developers.
Streamlining security for new and existing devices
Security is paramount in IoT—cited as a top concern in our IoT Signals survey—and with the recent general availability of Azure Defender for IoT, organizations receive comprehensive security for IoT and OT environments, including asset discovery, vulnerability management, and continuous threat detection for both new and existing legacy devices. Azure Defender for IoT works seamlessly with Azure IoT Hub as well, so companies can both detect security events and now remediate them with Device Update for IoT.
From global manufacturers to energy utilities and government agencies, Azure Defender for IoT technology is already helping secure some of the world's most complex industrial and critical infrastructure environments. Its network-layer monitoring means it's agentless and can be rapidly deployed (often in less than a day) for unmanaged devices—including legacy Windows systems and proprietary OT devices such as PLCs—plus it offers deployment options that include on-premises, Azure-connected, and hybrid.
Additionally, for organizations looking to accelerate the development and deployment of secure, scalable IoT solutions, Edge Secured-core certification is now available. Finally, it's worth noting that NXP has announced additional details about their forthcoming i.MX 8ULP series Azure Sphere-certified SoC, as well as their plans for an i.MX 9 series offer.
Helping organizations build expertise and fluency with IoT technology
As IoT technology evolves, the technical knowledge gap remains. In fact, 47% of IoT adopters say there are not enough skilled workers. The good news is there's never been a better time to grow your expertise.
Microsoft Learn is the place to start, with free online, self-paced courses, including the Azure IoT Developer Specialty certification (AZ-220). This certification is ideal for developers and covers everything from device management to security to deploying cloud workloads. Register for our six-part virtual workshop series in March: Building End to End IoT Solutions.
The Internet of Things Event Learning Path on GitHub video series also explores topics like device connectivity, AI at the edge, and data processing considerations. Our Internet of Things Show is yet another way to stay current on all things IoT. No matter where your IoT journey takes you, Microsoft is here to help your teams build IoT expertise.
Learn more about innovation at the edge during Microsoft Ignite
If you haven't already, join us for the final days of Microsoft Ignite (March 2-4) and Embedded World (March 1-5) as we share how these investments are solving common challenges and empowering organizations to succeed with IoT.
Brought to you by Dr. Ware, Microsoft Office 365 Silver Partner, Charleston SC.