This article is contributed. See the original author and article here.
The way you work is complex and the streams of information keep increasing, constantly demanding your attention. Your projects, your team's projects, and the information you need to do your work are stored across multiple applications, forcing you to constantly switch between them and then re-focus and regain context. That constant switching and the inevitable distractions add up quickly – and your productivity plummets.
Keeping things organized is one step to being productive. Having everything in one place will save you time and being able to quickly find what you need will make you more effective. Imagine a dresser, with unlimited drawers, and each drawer with unlimited organizers in them.
To help you achieve that, we are introducing Project Moca in Outlook on the Web. With Project Moca, you can simplify your workflow so you can focus on what matters. Add tasks, goals, notes, files from OneDrive and other cloud storage providers, links, contacts, and even emails and events, all into one dynamic space. Each space has a flexible canvas so you can customize and view your content your way.
Space in Project Moca
Find Project Moca in the module switcher in Outlook on the web. If you can't see it, click on the overflow "…" menu.

Access Project Moca from the module switcher
You can start a space from scratch or you can use one of the templates provided; either way you can organize, customize, and move things around to meet your way of working.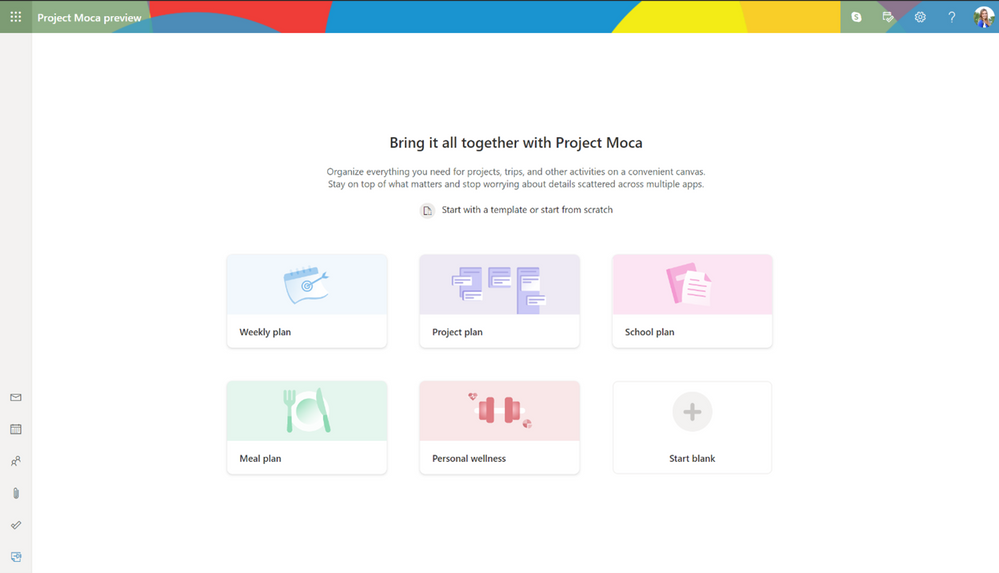 Create a new space from scratch or from a template
Once in there, click on "Bucket" to create one of those "drawer organizers" and then start adding content to it.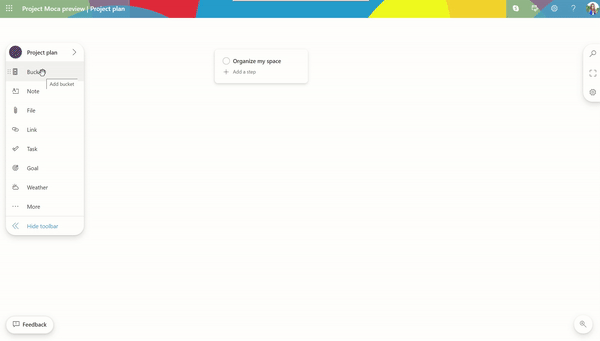 Create a bucket
Keep track of specific goals or set due dates on any kind of content in your space to get reminded about the things that matter. Your goals will also show up on your Outlook calendar.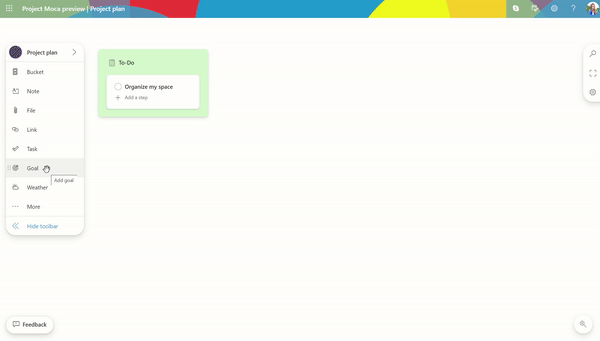 Create a goal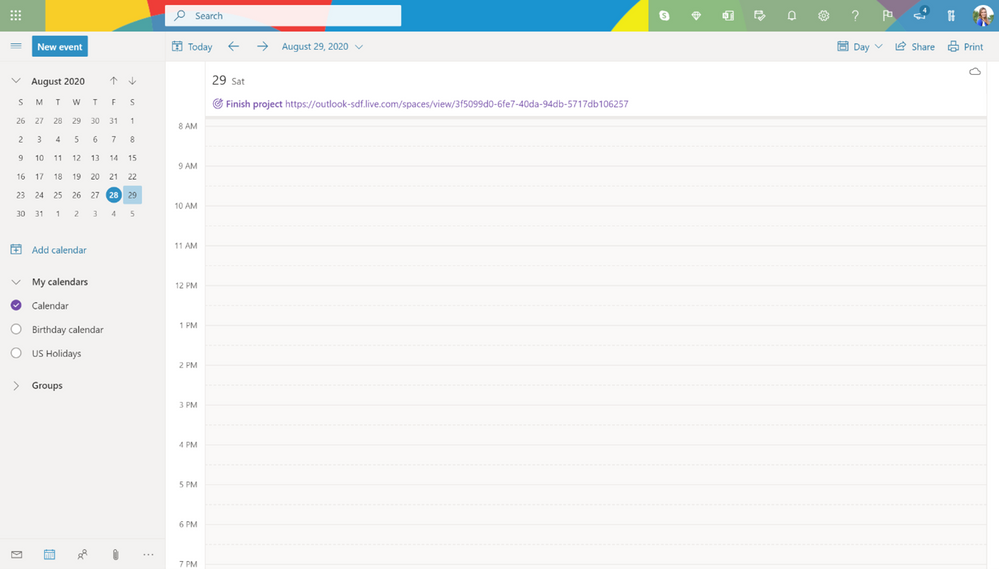 View your goals on your calendar
Create tasks to track your progress and they will sync automatically across Microsoft 365. See and manage them in Outlook, Microsoft To Do, or Teams.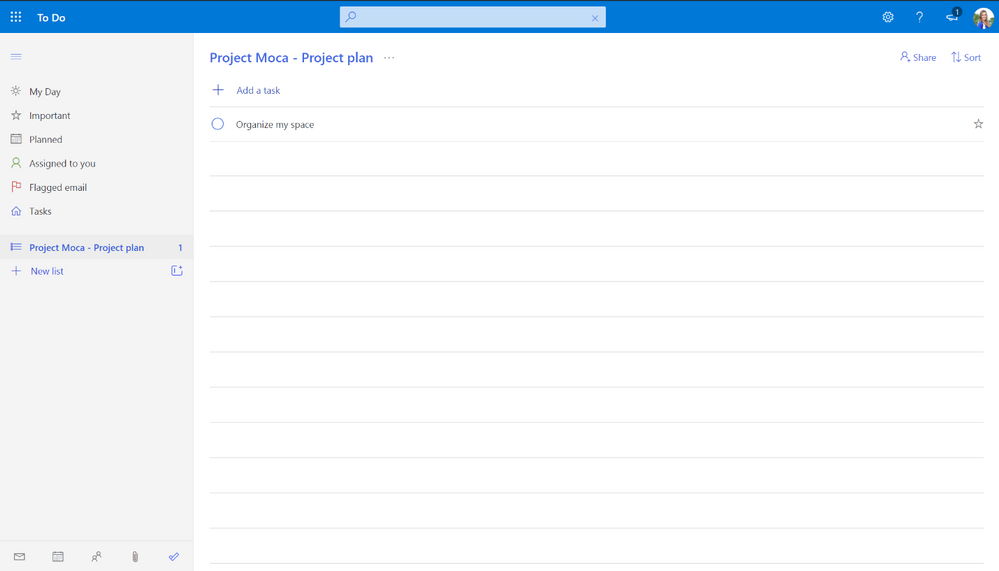 View your tasks in Microsoft To Do
Need to keep track of several documents? No problem. Bring in all your PowerPoint decks, Word documents, and Excel spreadsheets from OneDrive.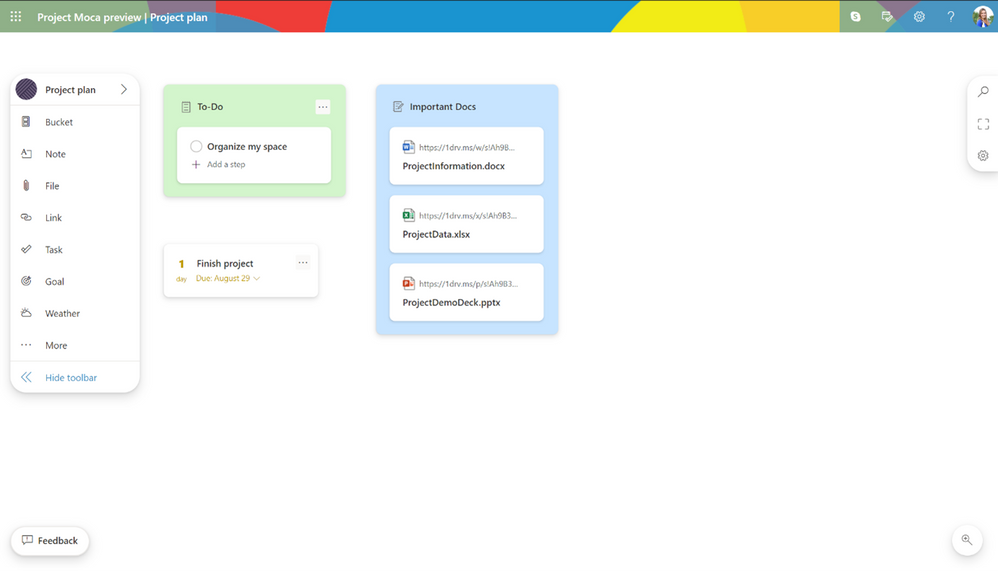 Add files from OneDrive
Write a quick note and see it sync as a Sticky Note.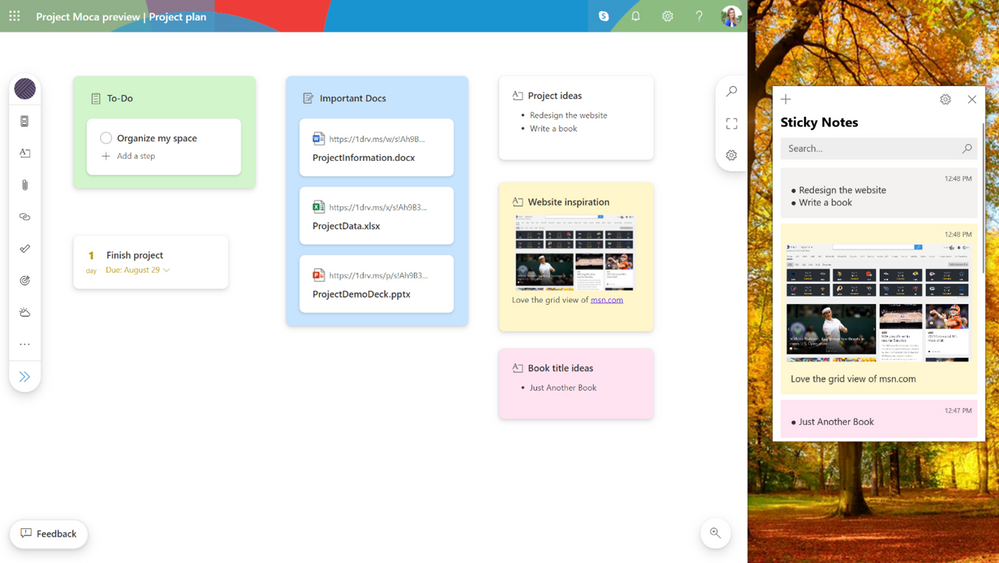 Notes in Project Moca are saved as Sticky Notes
Add emails to a space directly from your Inbox in Outlook.
.
Add an email to a space via the ellipsis menu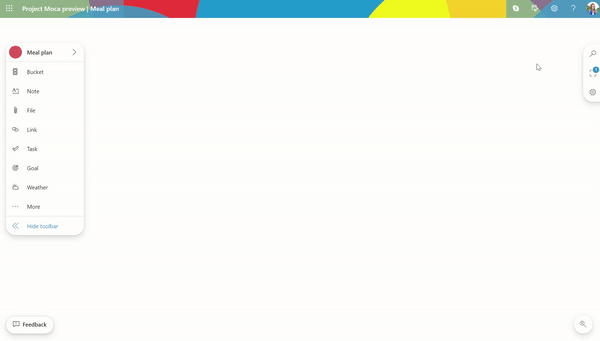 Add the email you added from your Inbox into your space
You can also add emails and events within Project Moca via the Activity Pane.
Add emails and events from the Activity Pane
Planning a trip? Add location and weather cards to your space.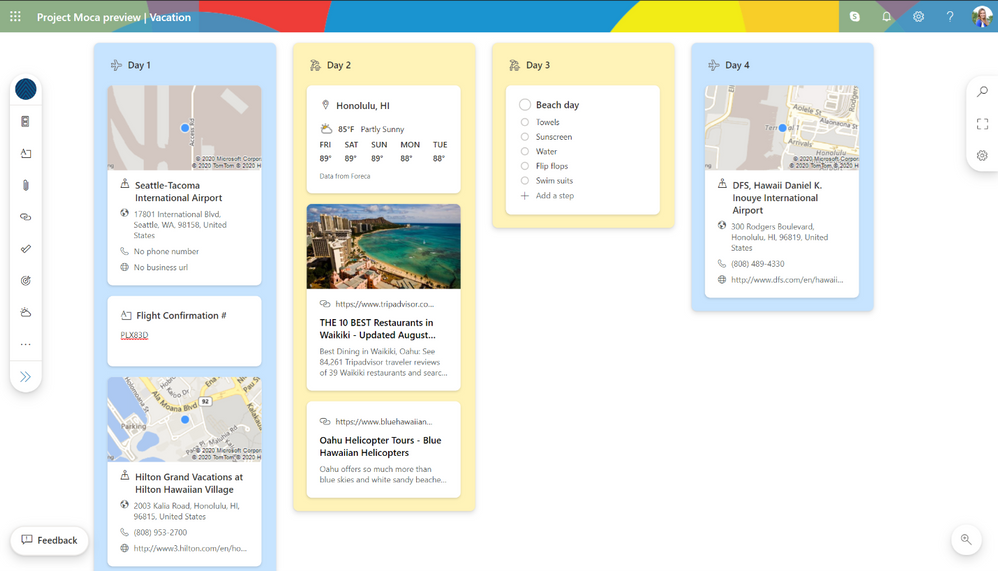 With Project Moca, you can keep things organized, simplify your workflow, and find what you need quickly without worrying about details scattered across multiple apps – so you can stay focused on what matters.
Project Moca is available for Microsoft 365 consumer subscribers, EDU customers, and select commercial customers and is shipped off-by-default. Admins can enable it through PowerShell with the Set-OwaMailboxPolicy OwaMailboxPolicy-Default -ProjectMocaEnabled $true parameter. You can learn more about PowerShell cmdlets at: https://docs.microsoft.com/powershell/module/exchange/set-owamailboxpolicy.
We hope you try it and share your thoughts with us. Please send us feedback through the feedback button in each space to let us know how we can improve!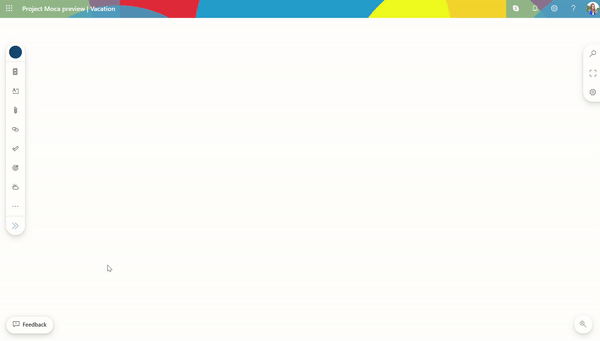 Give feedback via the feedback button in the bottom left corner
Thanks,
Lydia and the Project Moca team
Brought to you by Dr. Ware, Microsoft Office 365 Silver Partner, Charleston SC.