This article is contributed. See the original author and article here.
The OneDrive team is excited to share all the recent OneDrive updates and feature releases we've released between April and June 2022. We're continuing to do everything we can to provide you with a seamless experience for accessing and sharing files with your teammates and external colleagues, to keep you productive in this new world of hybrid work.
Here are the OneDrive features we've released in full or in preview in Q2 of 2022:
April 2022
Easily navigate to all your Teams files from OneDrive (88912)
In OneDrive, we are adding a "Your Teams" section to the "More Places" page to allow you to easily find and work with all your files in Teams.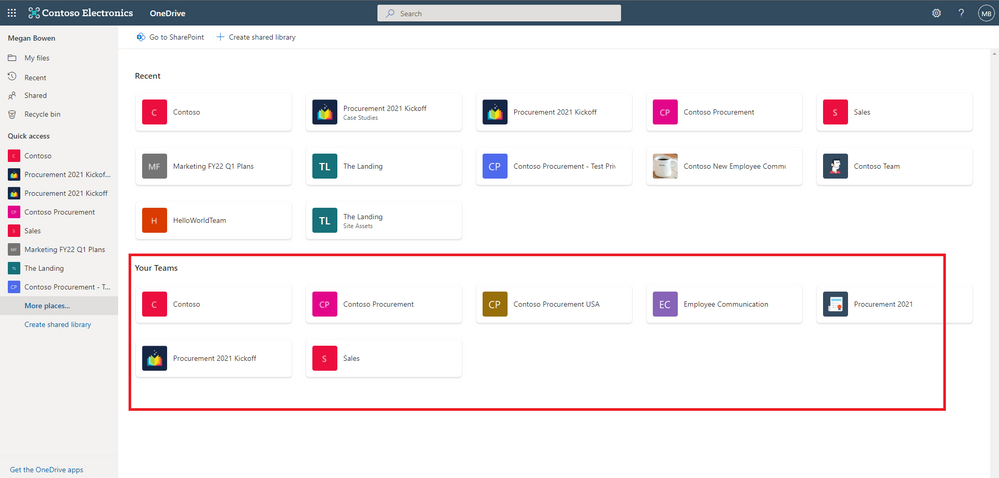 Deleting large folders (88979)
To help you keep your workspace uncluttered, we've added the ability for you to delete large folders (with up to 10,000 items) at one time. This means that when you're finished with a project, you can quickly remove all the files you no longer need from your OneDrive and SharePoint libraries.
Microsoft Stream: Comment on a video or audio file in SharePoint and OneDrive (88521 )
Now, users with view permissions can leave comments in video or audio files. This can be helpful when collaborating on files to share with a larger audience, or for addressing questions of people who were unable to attend a call or meeting.
May 2022
Shift between work and personal files in OneDrive
We've made it simpler for you to switch between your professional and personal OneDrive accounts, or even between separate professional accounts you might maintain for multiple clients if you're a consultant or freelancer. By selecting your profile picture at the top right of the OneDrive page, you'll see a list of all your Microsoft accounts, or the option to add a new one.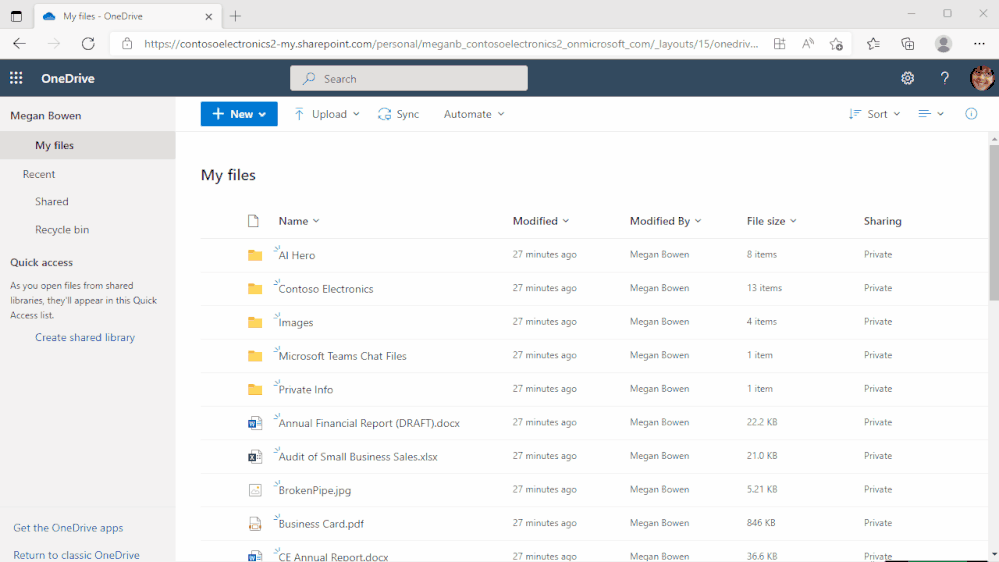 Quickly switch between document libraries
We've added a dropdown to OneDrive and SharePoint that lets you easily switch between multiple document libraries associated with a Teams team or a SharePoint Site. You can easily select the Dropdown library icon to switch between document libraries.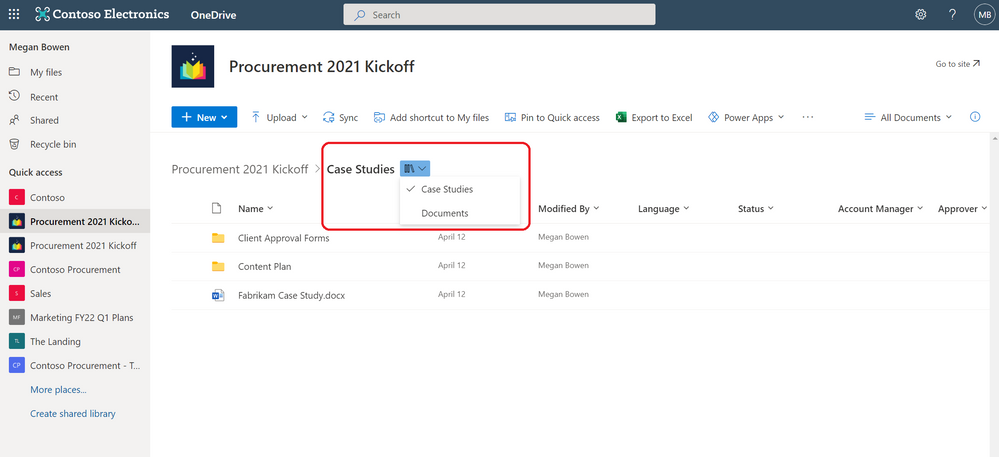 Pin important files to Quick Access
To easily find and access the places where you regularly work, you can pin shared libraries to the Quick Access section in the left nav of OneDrive. Pinning a document library adds it to the top of the Quick Access section. You can also un-pin document libraries from the Quick Access section.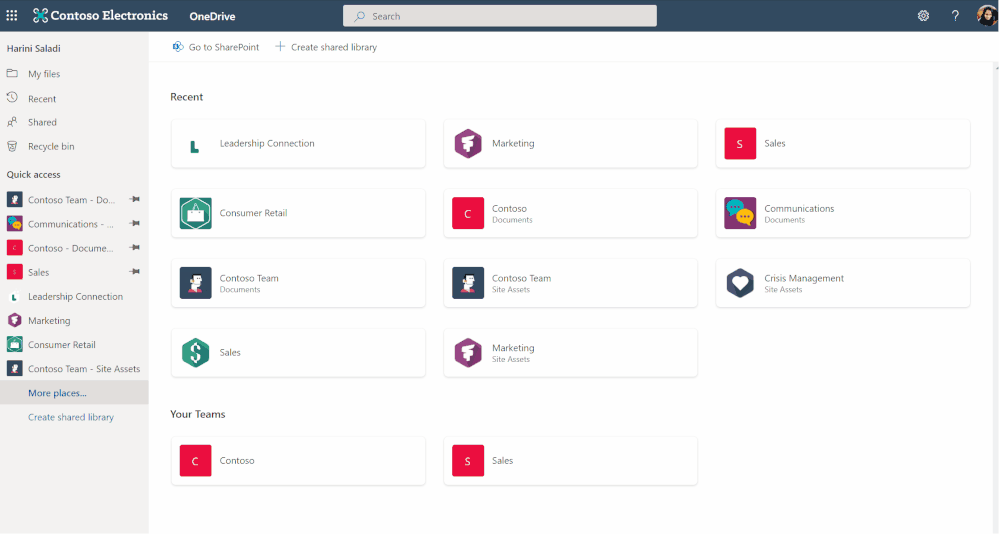 June 2022
File browsing in Teams
Now when you browse to a Teams channel and click the Files tab at the top, this experience will be powered by OneDrive. For example, you'll be able to leverage familiar controls to easily move or copy your file to another library within Microsoft Teams.
You can also switch between document libraries associated with specific Teams channels (standard or private) directly in Microsoft Teams and access your files as you would directly in OneDrive and SharePoint.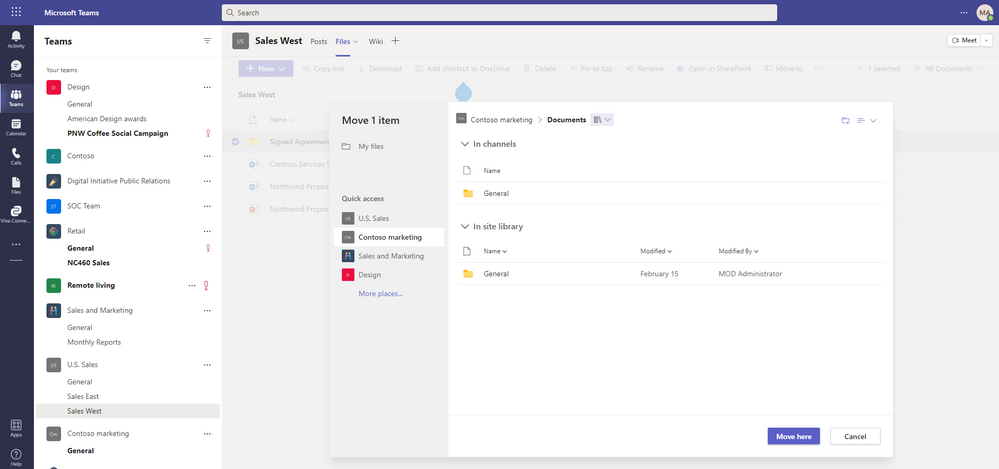 Add to OneDrive in Teams
You can now use Add shortcut to OneDrive in Teams to give yourself quick access in OneDrive to the Teams files you work with most frequently. Any changes that occur in Teams are also synced, so your files are also up to date. This feature helps you keep all your files organized in one place, no matter where they are stored.
OneDrive and SharePoint: Access your Teams standard and private channel files (88911)
When you navigate to a site in SharePoint or OneDrive, you'll be able to access the files stored in the Teams standard and private channels associated with that site.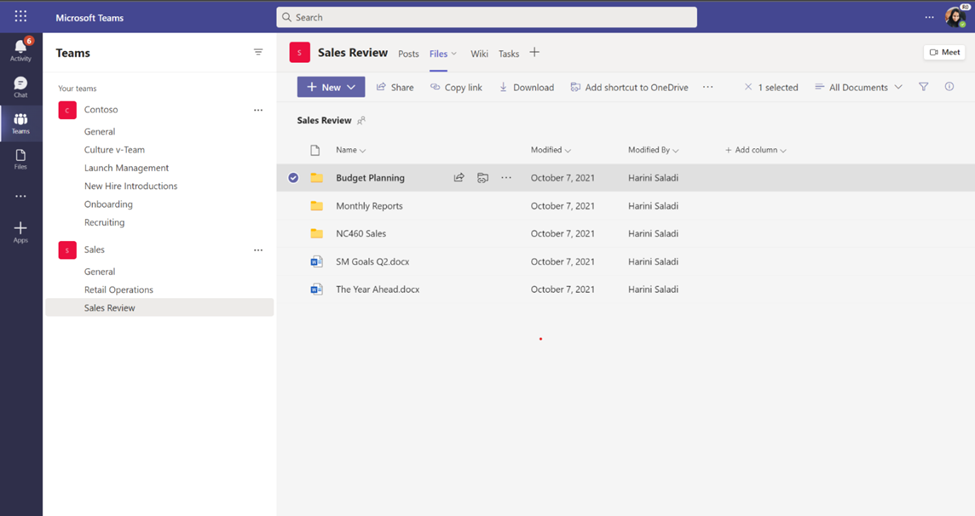 OneDrive Sync Admin reports for macOS in Public Preview (81982)
OneDrive Sync Admin Reports for macOS give you more visibility into who in your organization is running the OneDrive Sync client on macOS and any errors they might be experiencing. When you open the OneDrive Sync health dashboard, you'll see an executive summary of what's going on with OneDrive Sync in your organization. On the left, you can see how many devices have at least one sync error. In the middle, you can see at a glance what percentage of the devices in your organization have known folders OneDrive is helping to protect. You can see what percentage of devices have the Desktop and Documents folders syncing with OneDrive, which have only one and which have not opted in to sync those folders at all, meaning if something were to happen to those devices, all the contents of those folders would be lost. On the right, you can see how many devices are running on the current version of OneDrive, meaning they have all the latest and greatest fixes and features from Microsoft.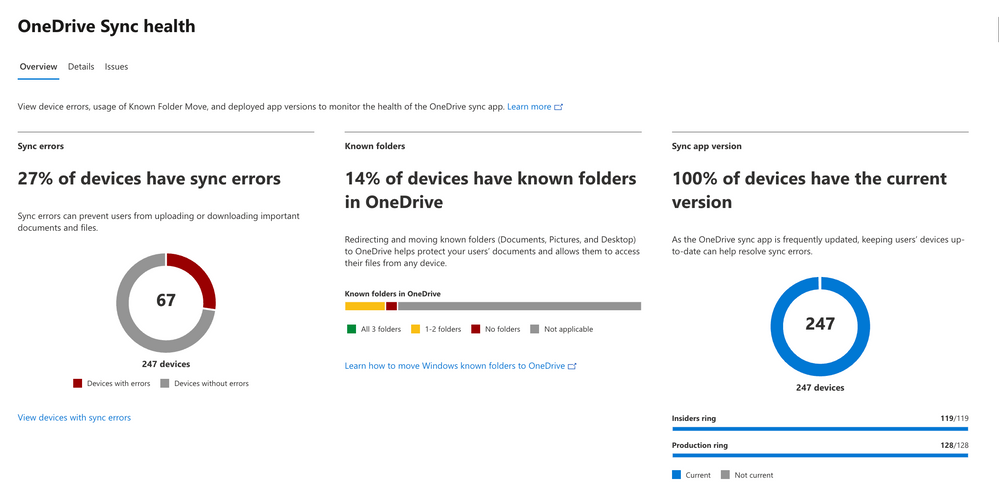 Sync health dashboard
Rename shortcuts (93279)
We've added the ability to rename shortcuts you've added using the "Add to OneDrive" feature within OneDrive web.
Access your Teams standard and private channel files (88911)
When you navigate to a site in SharePoint or OneDrive, you'll be able to access the files stored in the Teams standard and private channels associated with that site.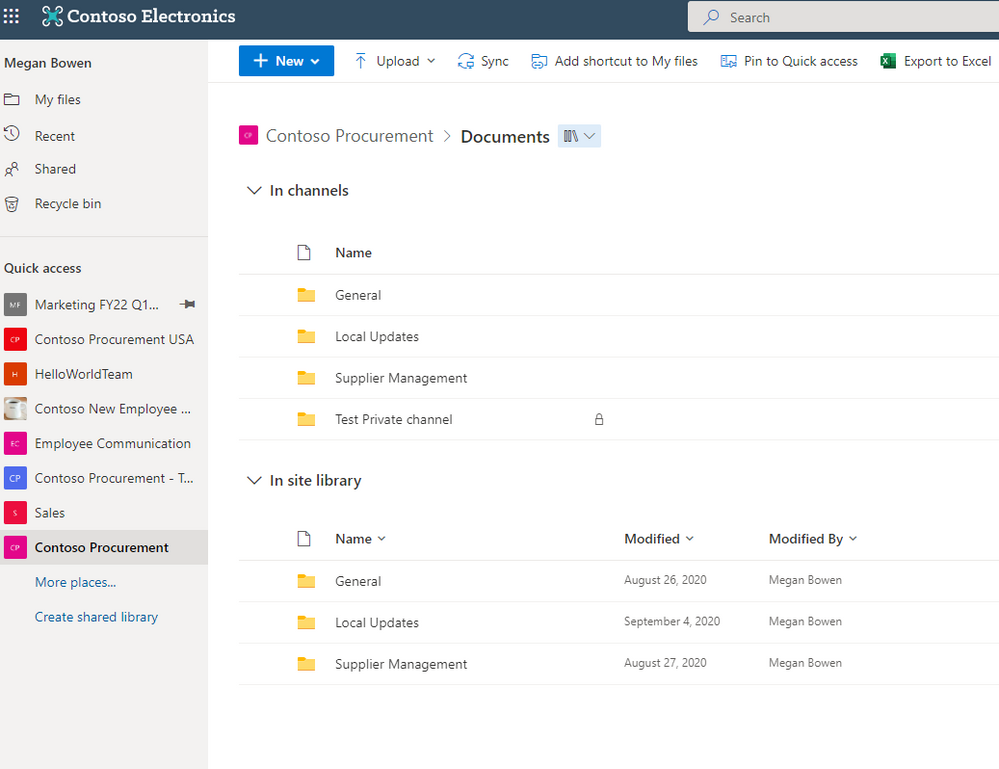 Microsoft Stream Generate captions for a video uploaded to SharePoint and OneDrive for GCC and GCC High (85644)
Users with edit permissions to a video file uploaded to SharePoint and OneDrive can click a button in the player to generate closed captions in English.
OneDrive File Picker v8
The OneDrive File Picker lets you connect your custom web apps to content stored in OneDrive (both the commercial and business versions) and SharePoint. With File Picker v8, you can integrate directly with the Microsoft 365 service, saving you complexity and time during the development phase and providing your users with the same rich, familiar user experience of OneDrive or SharePoint. Users who are already logged into Microsoft 365 can seamlessly access files and content through your web app, without having to log into the Microsoft 365 account a second time.
File picker v8 experience
Learn more..
We hope you're as excited as we are about these new features. Join us for a free webinar tomorrow to learn more about these innovations.
Register here: What's new in OneDrive: Q2 roadmap roundup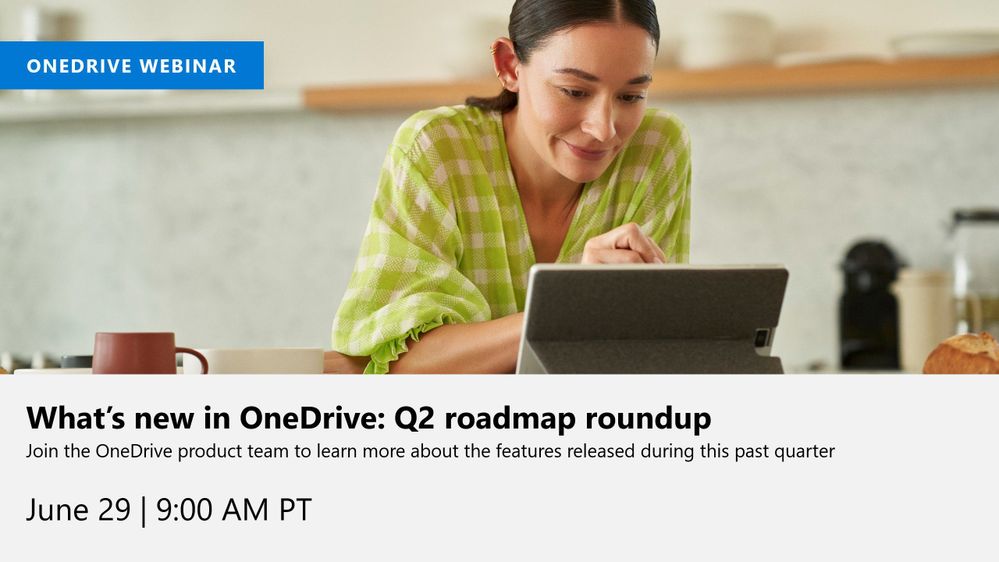 We continue to evolve OneDrive as a place to access, share, and collaborate on all your files in Office 365, keeping them protected and readily accessible on all your devices, anywhere.
You can stay up-to-date on all things via the OneDrive Blog and the OneDrive release notes.
Check out the new and updated OneDrive documentation.
Take advantage of end-user training resources on our Office support center.
Thank you again for your support of OneDrive. We look forward to your continued feedback and hope to connect with you at another upcoming Microsoft or community-led event.
Thanks,
Ankita
Brought to you by Dr. Ware, Microsoft Office 365 Silver Partner, Charleston SC.