This article is contributed. See the original author and article here.
Today we are excited to announce that Microsoft Tunnel VPN capabilities will show up in the Microsoft Defender for Endpoint app for iOS and Android. This enables organizations to offer a simplified end user experience with one security app, while security and IT teams are able to maintain the same admin experiences they are familiar with.
Later this month, existing customers of Microsoft Defender for Endpoint, who are also licensed for Microsoft Tunnel, will see Tunnel capabilities in the Defender for Endpoint app on Android. On iOS, Tunnel capabilities will be added to the Defender app next quarter. Existing Tunnel customers that opt-in for the new public preview will switch to using the Microsoft Defender for Endpoint app for VPN. They will not see any other changes to Tunnel features, it will simply now appear within the Defender for Endpoint app. IT administrators will be able to continue to use the Microsoft Endpoint Manager admin center to configure both Defender and Tunnel features. For additional details, read the blog announcing these changes.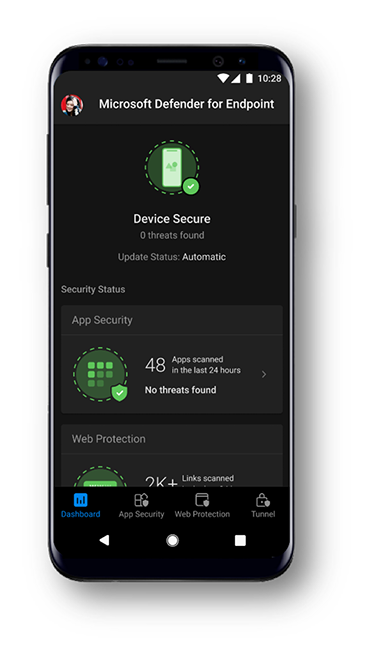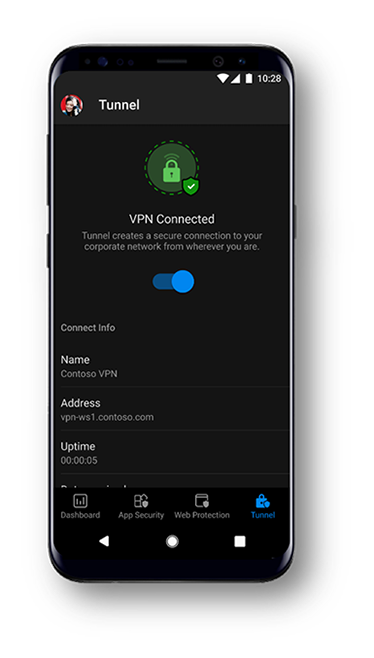 Microsoft Defender for Endpoint customers will notice an updated look and feel to the app. The new experience helps end users better understand the capabilities the app provides and enables the user to be more aware of the security threats to their device. There are no changes to Defender for Endpoint capabilities on mobile. Microsoft's mobile threat defense solution will continue to offer:


Protection against phishing coming from browsing, email, apps, and messaging platforms


Scans for malware and potentially unwanted apps (on Android)


Blocking of unsafe connections as well as access to sensitive data (on Android)


A single pane-of-glass experience for SecOps through the Microsoft Defender Security Center, or the unified Microsoft 365 security center


Finally, we are pleased to share that later this month, we will be offering mobile application management (MAM) support for Android and iOS in public preview. Currently, Microsoft Defender for Endpoint on Android and iOS works on devices that are enrolled with Intune mobile device management (MDM) only. With this update, we are extending support to enable enterprises that are using Intune only for application management to use Microsoft Defender for Endpoint. This will also extend support to devices enrolled with third-party EMM providers as long as they are using Intune to manage apps on the devices.
Please don't hesitate to share your feedback with us! We look forward to continuing to make our experiences for end users as well as security and IT teams better and better.
Microsoft Defender for Endpoint is an industry leading, cloud powered endpoint security solution offering vulnerability management, endpoint protection, endpoint detection and response, and mobile threat defense capabilities. With our solution, threats are no match. If you're not yet taking advantage of Microsoft's industry leading capabilities, sign up for a free Microsoft Defender for Endpoint trial today.
Brought to you by Dr. Ware, Microsoft Office 365 Silver Partner, Charleston SC.