This article was originally posted by the FTC. See the original article here.
The newly-released
Serving Communities of Color Report
summarizes the past five years of the FTC's efforts to address, understand, and educate people about consumer issues that have a disproportionately
negative impact on communities of color. And, it confirms the FTC's commitment to continue this important work.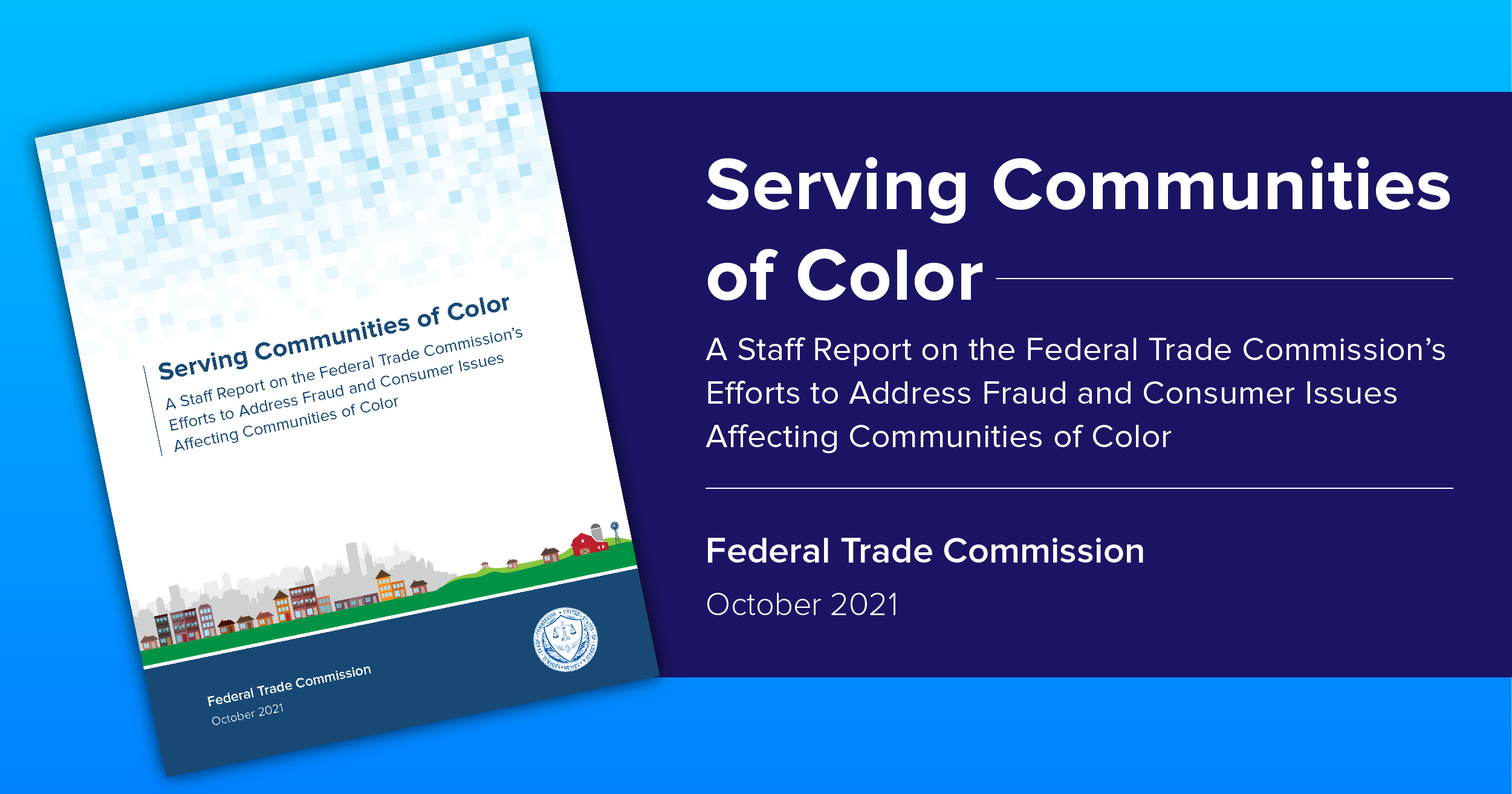 Law enforcement: The FTC filed more than 25 actions involving alleged conduct that either targeted or disproportionately impacted communities of color. Cases challenged unlawful practices by auto sellers, for-profit schools, money-making opportunities, student debt relief schemes, and more.
Research: FTC research shows that people in communities of color experience fraud and consumer problems in unique ways. For example:
Top fraud and consumer issues reported. The FTC's reporting data showed that the top percentage of the reports by people living in majority White and majority Latino communities were about impersonator scams. But in majority Black communities, the top percentage of the reports related to problems with credit bureaus.
Latino community experiences. The FTC's reporting data also showed that people living in majority Latino communities filed higher percentages of reports than majority White communities about credit bureaus, banks and lenders, debt collection, auto issues, and business opportunities.
Black community experiences. An analysis of 23 FTC cases showed that the cases affecting the largest number of people in predominantly Black communities involved payday loan applications, student debt relief programs, and money-making schemes.
How scammers make people pay. Reports from majority Black and Latino communities show that people are more likely to pay scammers in ways that have few, if any, fraud protections ― so: cash, cryptocurrency, money orders, and debit cards. In contrast, reports from majority White communities show that people are more likely to paying scammers with credit cards.
Outreach: Sharing relevant, clear, and in-language consumer protection information through people and groups trusted in communities of color is essential to reaching those communities.
The FTC is committed to serving communities of color, and there's more to do – more research, building trust, and seeking reports – to inform greater law enforcement and enhance education. You can help: share FTC resources in your community. And, if you spot a scam or consumer problem, tell the FTC at
ReportFraud.ftc.gov
.
Brought to you by Dr. Ware, Microsoft Office 365 Silver Partner, Charleston SC.