This article is contributed. See the original author and article here.
Blogger: Ragnar Heil, MVP Office Apps and Services, Channel Account Manager at Quest.
Wednesday, March 3
Session code: FS189
2:00 AM – 2:30 AM CET
Speakers: Bob Bejan | Microsoft, Lars Johnson | Microsoft, Christina Torok | Microsoft
Microsoft starts this Ignite Session about easy, intuitive webinars with Microsoft Teams in a different and refreshing way – not looking like a typical webinar, rather than a TV News Shows. Lars Johnson, Sr Director of Microsoft Teams Marketing, is our Anchor Man for next 30 minutes and leads us to new ways of virtual engagement in the age of remote work. First funny ice breaker: "It's been a long time since we have been able to tell the difference between weekdays and weekends."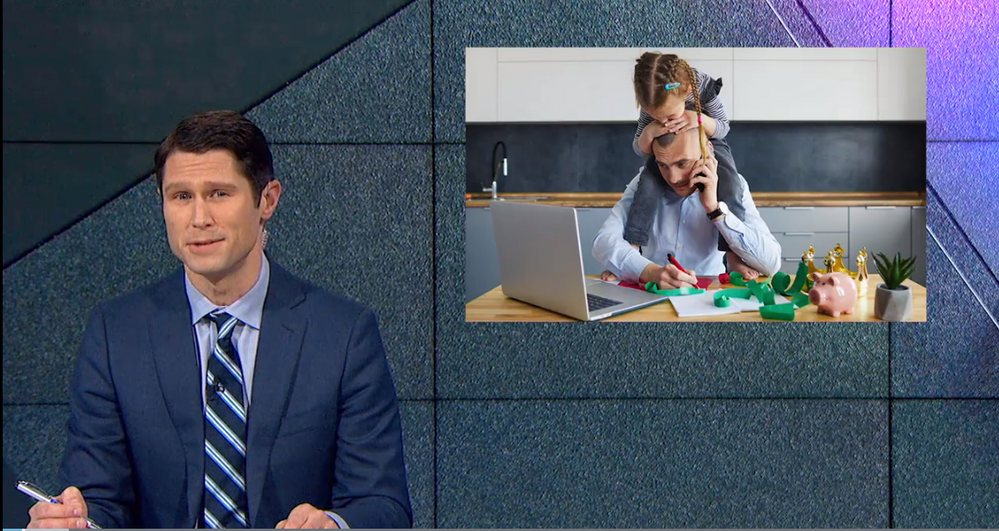 Joining Webinars as an attendee in many different ways with more reactions
I assume we all have faced Webinar fatigue especially since global Covid 19 pandemic started. Too many webinars were offered with too less interactions. Now you can share your reactions, it can be loving hearts, applause or constructive criticism. You can attend the event on demand or real time. You can think about joining the event from your home bike and increase your fitness.

Creating Events and Webinars as organizer
Setting up and running webinars will be just as easy as meetings in Microsoft Teams. Just add a custom attendee registration page to your meeting or webinar to manage attendance before and after any engagement. Following registration, attendees automatically receive an email confirmation for a simple join experience. In case you are using different providers for webinars and team meetings / conference calls: This is now a good time to consolidate and save money.

Christina Torok (Sr Product Marketing Manager at Microsoft) explains how to setup a registration page including:


Event details like title, date, time, abstract and Microsoft Teams Link


Teams Channel


Location


Repeating event?


Collaborative meeting note taking: yes/no


Speaker information with Name and short CV


Registration fields like First Name, Last Name and Email


Custom questions


Requires registration: None/people in your organization and guests/everyone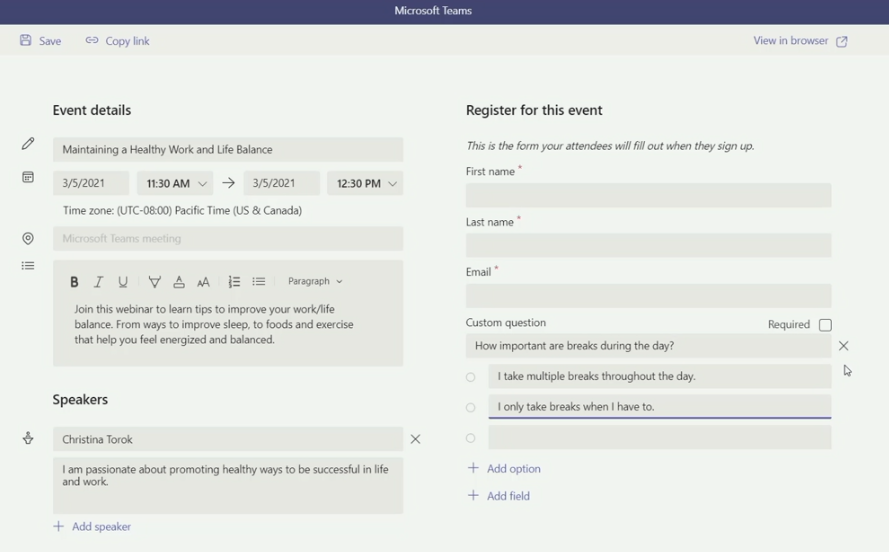 With Teams you can organize and conduct interactive webinars for people inside and outside of your organization with up to 1,000 attendees. You are afraid that too many attendees could disturb your webinar based on Teams Meetings? Host controls such as the ability to disable attendee chat and video. If your webinar grows to over 1,000 attendees, Teams will seamlessly scale to accommodate a 10,000-person view-only broadcast experience. Due to the pandemic Microsoft has increased this number up to 20,000 attendees for a limited time.

Now PowerPoint also wants to transform your webinars with rich presentation options: Simply launch a Teams meeting and instead of opening a PowerPoint deck and sharing your screen, just pick a file under the PowerPoint Live section of the new and improved Share content in Teams. Get full control over your content, the view you see as the presenter is yours only – review notes, engage in chats, and see your audience – all in one panel view.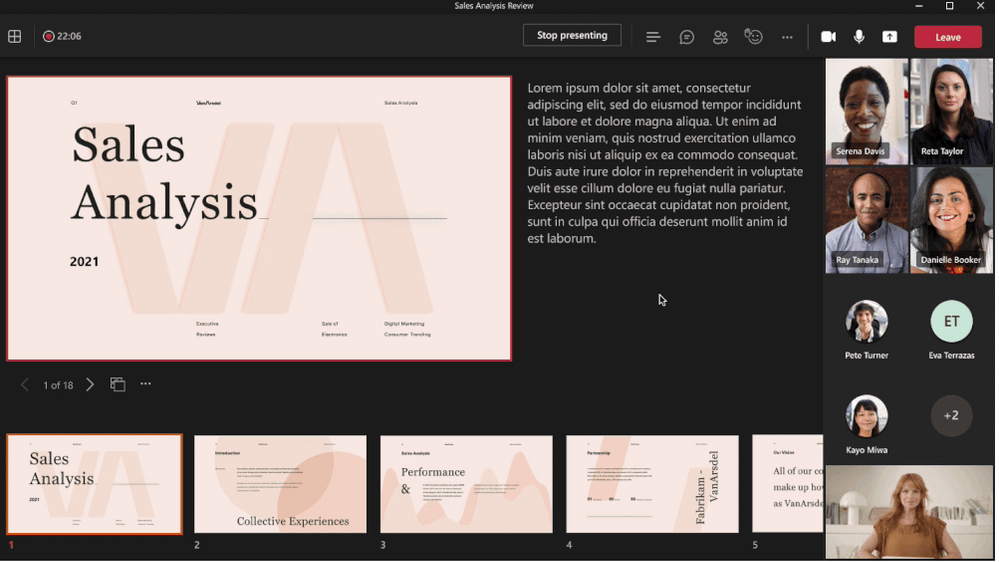 PowerPoint Live in Microsoft Teams allows attendees to access the shared content through screen readers and increases inclusion significantly. Whether you are joining via a mobile phone or 8k monitor, using low bandwidth or fiber connection, each attendee experiences is optimized for their screen type.
Analyzing Webinars as Marketing expert
After the event Marketing can see on a dashboard how many people went to the registration page, have registered and attended. Total event time and average attendee time is shown as well as list of all attendees with status, duration, join-and leave time.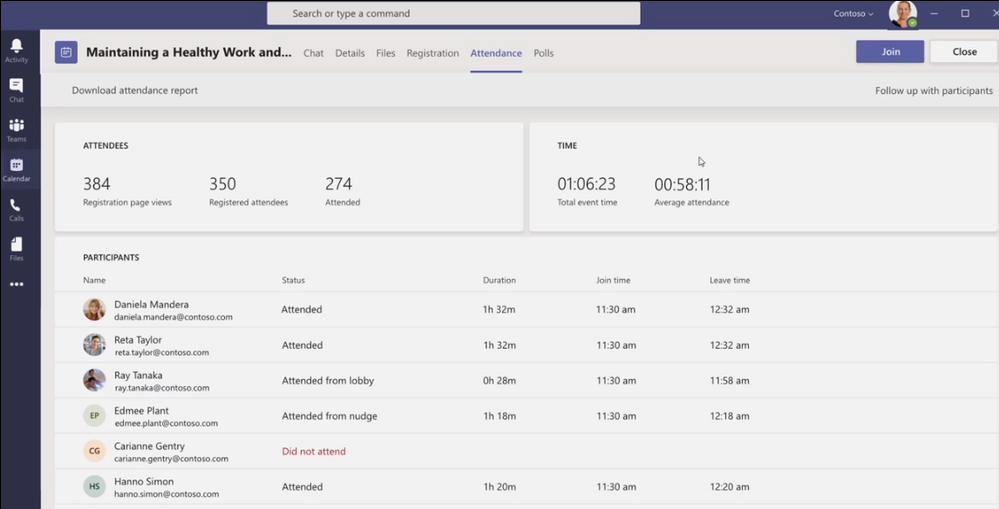 Looks good so far? Maybe you are looking for deeper ways of integration into your CRM. Microsoft is offering an integration with Dynamics365.
In this session I have learned more how Bob Bejan (Corp VP, Microsoft) is looking at the future of Hybrid Events. He is responsible for the development, production and execution of global events and experiential marketing for Microsoft. Ignite 2021 is produced completely different than all previous Ignites which happened onsite. Perspectives are so much different and ways of interactions and gathering feedback changes completely. Don't just send a feedback poll at the end of your webinar, create a story or interesting video around it.
We are going to see more much more immersive webinar experience types soon, so I highly recommend to also watch Microsoft Mesh Ignite Session – powered by VR and Augmented Reality devices like Hololens or Oculus.
Read more here:
Microsoft Tech Community: Ignite Highlights for Microsoft Teams
Introducing PowerPoint Live in Microsoft Teams
My Microsoft 365 Modern Work Blog, Podcast and weekly Teams News Show
Brought to you by Dr. Ware, Microsoft Office 365 Silver Partner, Charleston SC.