This article is contributed. See the original author and article here.
Hi IT Pros,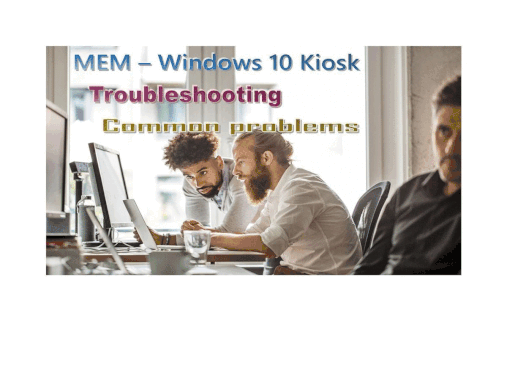 There is a need to run the Windows 10 kiosk mode with its beautiful, illuminative screen in the reception area of your Corporate Office or in the conference room, also there are the needs to run Windows 10 kiosk mode with specialized tool in Hospital operation room, Manufacturer plant, …
Beautiful screen of Windows 10 Kiosk mode:
Setup Windows 10 kiosk device by Endpoint Manager
You will need to follow the steps in Microsoft document about "Deploy Microsoft Edge Legacy kiosk mode" (1-17-2020). In short, you would need to create the following:


a device restriction profile with Edge browser settings


a Windows 10 platform, kiosk configuration profile with the applications to be run by Windows Kiosk Device.


Examples of Kiosk Configuration Profile: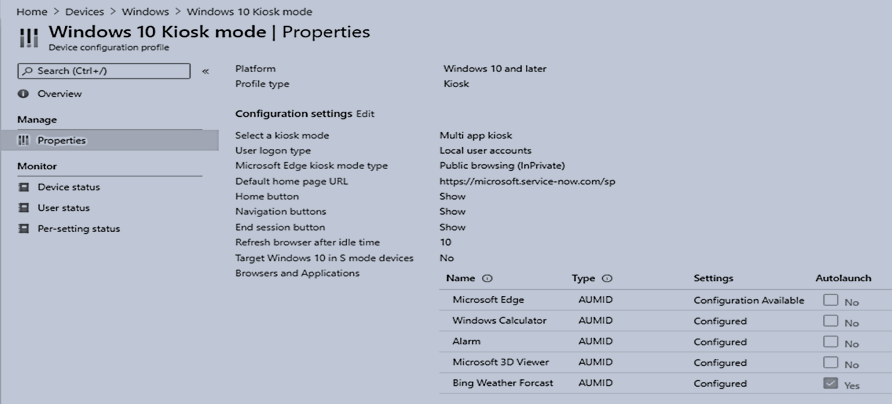 The easiest way to configure the application launched in Kiosk mode is using AUMID application as shown:
You may want to check one application as the default app and it will be automatically launched at sign-in time.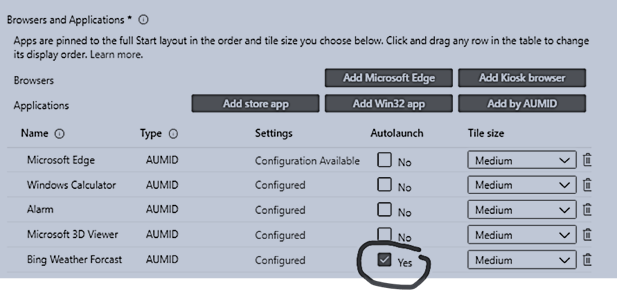 Besides the Troubleshooting guide from Microsoft document, Troubleshoot kiosk mode issues .
I have observed the other common setup problems, which prevent Windows 10 Kiosk mode to work properly.
WINDOWS 10 KIOSK SETUP COMMON PROBLEMS


Incorrect Local Sign in Account Name.




Whatever sign-in account we configured in Kiosk Profile, that account has to be accessible at targeted kiosk device.


If we set up the Kiosk Profile with local sign in account, it has to be existed as local account in targeted windows 10 device,


In the following example, the "LocalKioskUser" account in profile matching to the Computer Management – User account named LocalKioskUser on target kiosk device:



Local Kiosk Account is member of Administrators group


The sign-in local account must not be a member of the Administrator group.
If it is, windows will operate in normal mode.


Edge Chromium is installed instead of Edge Legacy


Uninstall Edge Chromium because the engine which runs the Windows Kiosk Configuration Profile is originally designed for Edge legacy. It may change in the short future but up to this point of time, you have to use Edge legacy for Windows 10 Kiosk mode.


There is mismatch between kiosk setting of Device Restriction Configuration Profile for Edge Browser and Kiosk Configuration Profile



Changing the "Use Microsoft Edge kiosk mode" to the appropriate kiosk option as shown in the following example image: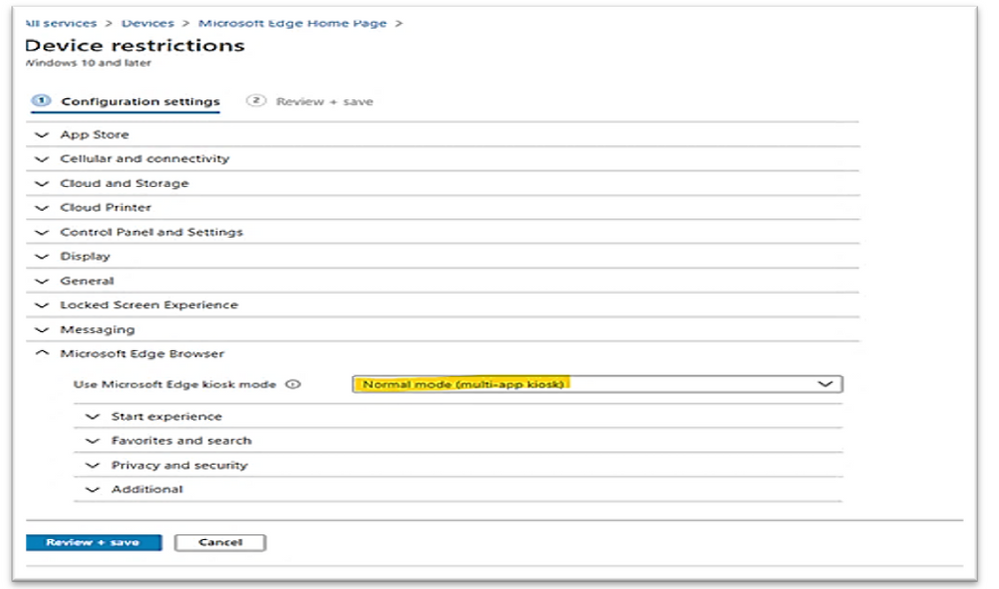 Autopilot Profile is missing If you deploy image by Autopilot.


It is used for initial kiosk setup, no specific setting is required but the profile itself.


Reboot is not applied on kiosk device after an kiosk profile setting change


If all the above configurations are setup correctly and kiosk mode is still not working as expected, the device may need to be synchronized with Endpoint Manager and rebooted to have kiosk profile updated with new change.
Result example, Windows 10 Kiosk with Bing Weather autolaunch.


Sign-in as localkioskuser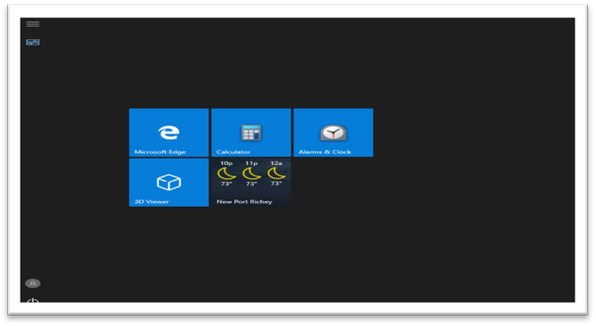 After about 2 seconds, the Bing Weather will be automatically launched as shown: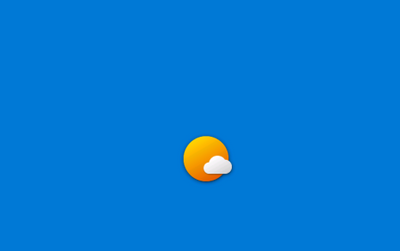 After 3-10 seconds, Bing Weather detail screen is impressively shown.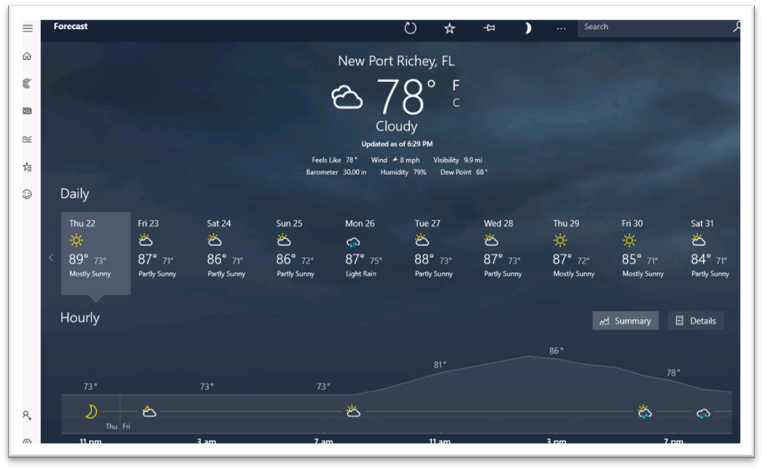 To get other apps, you could move mouse to top right corner to close the current app, and open another one.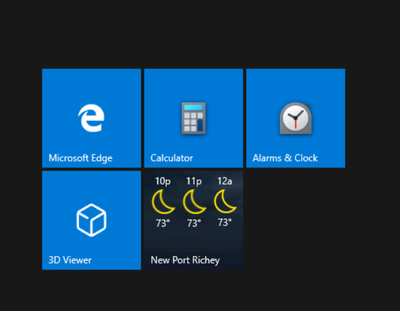 To Repurpose kiosk devices:
Once the assigned access feature, (kiosk mode) with multi-app configuration is applied on the device, certain policies are enforced system-wide, and will impact other users on the device. You will need to reset to factory default or reimage devices to clear all the policies.
Running Windows 10 Kiosk by Edge Chromium
An initial set of kiosk mode features are now available to test with Microsoft Edge Canary Channel, version 87. You can download Microsoft Edge Canary from the Microsoft Edge Insider Channels page.
I hope the information is useful,
Until next time.
Reference
https://www.inthecloud247.com/setup-edge-chromium-based-kiosk-device-with-microsoft-intune/
Brought to you by Dr. Ware, Microsoft Office 365 Silver Partner, Charleston SC.