This article is contributed. See the original author and article here.
This is the next segment of our blog series highlighting Microsoft Learn Student Ambassadors who achieved the Gold milestone and have recently graduated from university. Each blog in the series features a different student and highlights their accomplishments, their experience with the Student Ambassadors community, and what they're up to now.
Today we meet Luisa Gonzalez Vasquez who is from Cali, Colombia and recently graduated from Dallas Baptist University in Texas with a Master of Science in Information Technology and Management.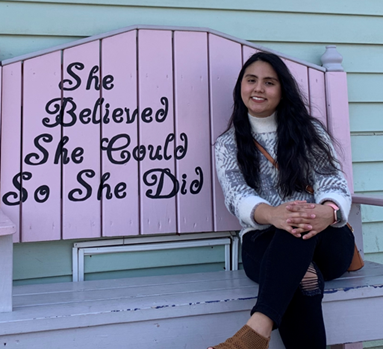 Responses have been edited for clarity and length. 
When you joined the Student Ambassador community in 2020, did you have specific goals you wanted to reach?
When I pursued my undergraduate degree in Colombia, my origin country, I hadn't heard about the Microsoft Learn Student Ambassadors. If I had known about this fantastic opportunity, I would have loved to participate then, so one of my goals once I joined was to share information about the community. When I joined, there were only 4-5 students from Colombia. Now there are more than 20 students!
I wanted to improve my skills as a developer using Microsoft Cloud Technologies such as Azure, Azure DevOps, and Power Platform. I wanted to grow and share my knowledge with other fellow students and people from Colombia. I wanted to inspire girls to step into technology. As soon as I joined, I created my brand called @mytechxperience, where I aim to inspire other girls to get into technology and follow their dreams no matter how hard it might look. Also, I want to encourage other women to grow and improve their skills in the technology industry by setting an example and sharing all my knowledge and skills learned through the Student Ambassador community and my journey as an international student in the technology field.
Furthermore, I wanted to improve my professional resume and profile to get an internship or job in the technology industry as a developer.
What are the accomplishments that you're the proudest of and why?
The most significant accomplishment was meeting a lot of people from Latin America who are passionate about sharing their knowledge in technology and helping to empower other students in the region and the world. I made a lot of friends not only from Colombia but also from Ecuador, Peru, Bolivia, India, the United States, etc. We got together in our Student Ambassadors calls and supported each other in different opportunities and events.
I was also thrilled to have had the opportunity to be a speaker for online events organized by Microsoft, such as the AI student conference in April 2021. I even had the fantastic opportunity to be one of the event hosts in the October 2021 edition. In addition, I am very proud that I had the chance to share my knowledge of Microsoft technologies while I was learning them.
What are you doing now that you've graduated?
I have a lot of plans for this year! I will be joining as a full-time software developer at a company called Elevate Credit, Inc located in Dallas, Texas. I plan to improve my profile to apply to the Microsoft Most Valuable Professional (MVP) program. I plan to resume my online blog and my Instagram account and continue participating in multiple community events to help empower people, especially women, to join the technology field.
If you could redo your time as a Student Ambassador, is there anything you would have done differently?
The only thing I would have preferred to be different is getting to know about the community earlier in my life! I think this is a fantastic opportunity to grow and help others succeed not only in technology and tech skills, but also in areas such as organizing an event, planning a presentation, being a speaker, and other needed skills for an impressive professional career.
If you were to describe the community to a student who is interested in joining, what would you say about it to convince him or her to join?
Please do it! Do not think twice about it and do it! Just apply, be yourself, and do not accept "no" as a response. If you do not pass on the first try, keep trying! Life is about failing and trying. Giving up is not an option. Applications are accepted all year long. The people working with the community are amazing! You will have countless opportunities to grow and improve your skills and learn from others. You will get access to learning opportunities, mentorship opportunities, and many things that will help you build your professional career. Also, start completing the free Azure Fundamentals learning path in Microsoft Learn so you are better prepared when the time comes to share your knowledge!
What advice would you give to new Student Ambassadors?
Read about all the different career opportunities using Microsoft technologies and focus on improving your skills in those and sharing your knowledge with everyone. Engage and connect to the weekly calls where many great opportunities are shared!
What is your motto in life, your guiding principle?
Be passionate and persistent about your dreams and goals in life. Nothing is impossible. The sky is the limit.
What is one random fact about you that few people are aware of?
I have a huge passion for art. I played guitar growing up, I used to sign, and I did theater for five years! My biggest dream growing up was to be an actress, artist, writer, among other careers. However, as a software developer, I feel that I can be very creative and build new stuff. That, for me, is art!
Good luck to you in the future, Luisa!
Readers, you can reach Luisa on Instagram and LinkedIn.
Brought to you by Dr. Ware, Microsoft Office 365 Silver Partner, Charleston SC.