This article is contributed. See the original author and article here.
This is the next installment of our blog series highlighting Microsoft Learn Student Ambassadors who achieved the Gold milestone and have recently graduated from university. Each blog in the series features a different student and highlights their accomplishments, their experience with the  Student Ambassadors community, and what they're up to now.
Today we'd like to introduce Khushboo Verma who is from India and graduated in May from the Indira Gandhi Delhi Technical University for Women with a degree in Computer Science Engineering.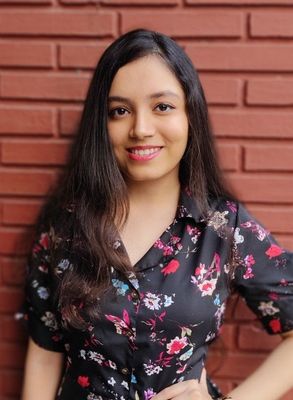 Responses have been edited for clarity and length.  
When you joined the Student Ambassador community in 2018, did you have specific goals you wanted to reach, such as a particular skill or quality?  What were they? Did you achieve them? How has the program impacted you in general? 
My aim behind joining was to connect with a community beyond my campus to be able to bring opportunities and resources to my local community. I wanted to learn valuable skills – both technical and interpersonal – so that I can uplift those around me. The Student Ambassador program helped me grow above and beyond my initial goal. It truly empowered me by providing me an opportunity to connect with passionate student developers from all over the world. It helped me understand what an inclusive and diverse community looks like and also helped me discover my true potential.
I vividly remember my first event as a Student Ambassador when I delivered a talk on Azure in a room full of developers, some of them having many years of industry experience. That talk helped me realize my passion for tech communities and for public speaking. It opened a sea of opportunities for me. From that day to the present day, I have grown immensely. I've gained confidence and skills; it has been possible because of the support I've continuously received from the program. It has helped me build a personal brand for myself, and it also provided inspiration we receive from mentors like Pablo Veramendi, the Microsoft Learn Student Ambassadors Global Program Director, who are so passionate to empower the community and do their best everyday to bring the best out of us. I've witnessed the community grow exponentially ever since I've joined, and I feel super proud to be a part of a community that is literally transforming lives.
What are the accomplishments that you're the proudest of and why?
I've organized multiple events as a Student Ambassador, and I've impacted more than 2000 student developers, but I'm most proud of the "Microsoft Student HackDay" I organized on my campus. The idea behind the hackathon was to introduce the women on my campus to the cloud computing landscape. I'm from an all-women university, and only a handful of my peers were aware about cloud computing and had never tried it hands-on. With the support of Arkodyuti Saha, Developer Relations Program Manager at Microsoft, I organized a 2-day hackathon on campus in which 80 women participated in a beginner workshop on chatbots in Azure. At the end of the hackathon, we were surprised to see that the participants had built amazing projects even though some of them learned about Azure and chatbots for the first time during the workshop. That event made me believe that women can achieve incredible heights if they receive the right guidance.
Another accomplishment I'm really proud of is that as a Gold Ambassador, I was selected to speak at international conferences like Microsoft Build 2020 as part of a panel discussion titled "Learn how to succeed in Hackathons" and Microsoft Ignite 2020 ("Intro to GitHub"). It helped me boost my confidence and provided me the platform to showcase my skills to a much wider audience.
What do you have planned after graduation? 
I am really passionate about technology and communities. I did a summer internship at Microsoft India as a software engineering intern. During that internship, I got to learn a lot about software engineering, interacted with senior leaders from Microsoft, and fell in love with Microsoft's culture. I received a pre-placement offer after my internship, and I'll be joining Microsoft India full time as a software engineer after graduation. I'm really excited for this upcoming chapter of my life.
If you could redo your time as a Student Ambassador, is there anything you would have done differently?
If I could start all over again, I would network with more people. The Microsoft Student Learn Ambassador program brings together students from varied backgrounds from all over the world and provides us a platform to interact, learn, and lead together. Initially, I was afraid of reaching out to new people because of imposter syndrome but eventually, I realized everyone was really helpful and supportive. Each Student Ambassador has something amazing to teach to the community, and the more I interact with them, the more I learn. So one thing that I would have done differently would be to interact and collaborate with more people.
If you were to describe the community to a student who is interested in joining, what would you say about it to convince him or her to join?
This is a program for every student out there who has a passion to learn, share, and connect with others. If you're passionate about technology and have a desire to create an exponential impact in the world, then come and join our amazing community. You'll not only get wonderful opportunities, but you'll also learn great technical and interpersonal skills, you'll build long lasting connections, and you'll become a better leader and a better individual. The community is welcoming, honors diversity and inclusion, and values your ideas.
What advice would you give to new Student Ambassadors?
My advice to all the new Student Ambassadors would be to take initiatives and push yourself to transform your ideas into reality. Network and collaborate with as many people as you can – you'll get to learn a lot. Help and uplift your community. And lastly, don't doubt your own capabilities, and don't be afraid to ask questions, as no question is ever stupid.
What is your motto in life, your guiding principle?
I'd like to share one of my favorite quotes that acts as a guiding principle for me: "As long as you've got passion, faith, and are willing to work hard, you can do anything you want in this life." At the end of the day, I want to be happy with whatever I do, and I want my life to be meaningful, impactful and fulfilling.
What is one random fact about you that few people are aware of?
One random fact about me is that I can't go without listening to music even for a single day. Music runs in my veins, haha.
Good luck to you in your journey, Khushboo!
Brought to you by Dr. Ware, Microsoft Office 365 Silver Partner, Charleston SC.