This article is contributed. See the original author and article here.
With SAP solutions on Microsoft Azure, organizations can unlock and implement important business strategies and accelerate innovation. With the scalability, flexibility, and cost savings of Azure, these solutions can help organizations drive better outcomes and gain real-time insights. As an architect or engineer specialized in Azure for SAP workloads, make the most of these opportunities and prove your expertise and worth with this certification.
The Azure for SAP Workloads Specialty certification validates that you have extensive experience and knowledge of the SAP system landscape and industry standards that are specific to the long-term operation of an SAP solution on Azure. You earn this certification by passing Exam AZ-120: Planning and Administering Microsoft Azure for SAP Workloads.
If your responsibilities include making recommendations on services and adjusting resources for optimal resiliency, performance, scale, provision, size, and monitoring, this could be the certification for you. Additionally, you partner with cloud administrators, cloud database administrators, and clients to implement solutions.
What kind of knowledge and experience should you have?
As a candidate for this certification, you should have extensive experience and knowledge of SAP applications, including SAP HANA, S/4HANA, SAP NetWeaver, SAP BW/4HANA, and OS servers for SAP applications and databases. You also need to be familiar with the Azure portal, Azure Resource Manager templates, operating systems, virtualization, cloud infrastructure, storage structures, high availability design, disaster recovery design, data protection concepts, and networking.
Candidates for this certification must have expert Azure administration and Azure solutions architect skills. Although it's not required, we strongly recommend that you shore up your foundation with training in these areas. In fact, you might even consider earning the Azure Administrator Associate certification and the Azure Solutions Architect Expert certification. For more details, check out our blog posts, Level up with Microsoft Certified: Azure Administrator Associate and Level up with Microsoft Certified: Azure Solutions Architect. It would also be very helpful to have SAP HANA and Linux certifications.
How can you get ready?
To help you plan your journey, check out our infographic, The journey to Microsoft Certified: Azure for SAP Workloads Specialty. You can also find it in the resources section on the certification and exam pages, which contains other valuable help for professionals pursuing this specialty certification.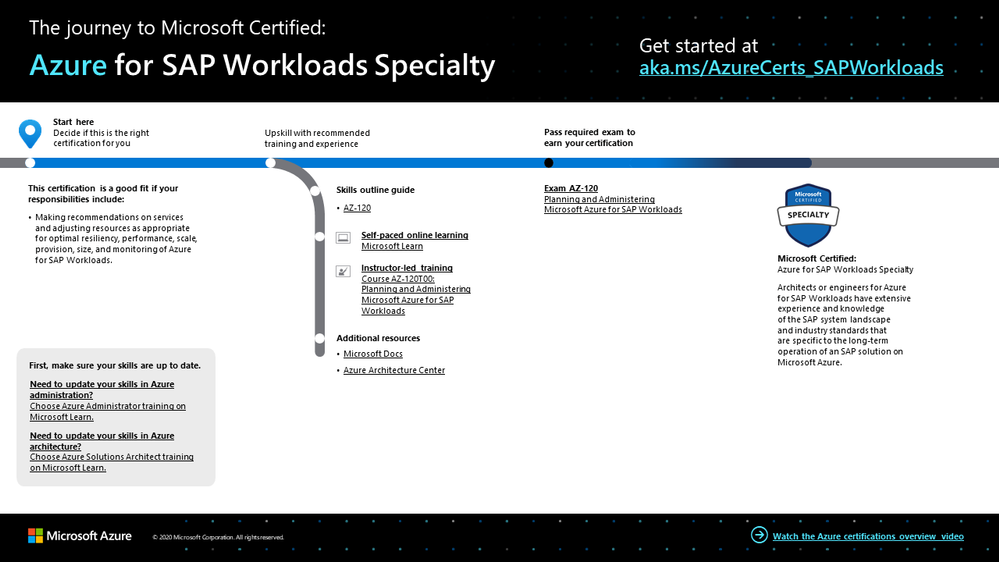 The journey to Azure for SAP Workloads Specialty
To map out your journey, follow the sequence in the infographic. First, decide whether this is the right certification for you, and then be sure your Azure administrative skills are up to date. To understand what you'll be measured on when taking Exam AZ-120, review the skills outline guide on the exam page.
Sign up for training that fits your learning style and experience:
Complement your training with additional resources, like Microsoft Docs or the Azure Architecture Center.
After you pass the exam and earn your certification, check out our many other training and certification opportunities on Microsoft Learn.
Note: Remember that Microsoft Certifications assess how well you apply what you know to solve real business challenges. Our training resources are useful for reinforcing your knowledge, but you'll always need experience in the role and with the platform.
Celebrate your Azure talents with the world
When you earn a certification or learn a new skill, it's an accomplishment worth celebrating with your network. It often takes less than a minute to update your LinkedIn profile and share your achievements, highlight your skills, and help boost your career potential. Here's how:


If you've earned a certification already, follow the instructions in the congratulations email you received. Or find your badge on your Certification Dashboard, and follow the instructions there to share it. (You'll be transferred to the Acclaim website.)


To add specific skills, visit your LinkedIn profile and update the Skills and endorsements section. Tip: We recommend that you choose skills listed in the skills outline guide for your certification.



Keep your certification up to date
If you've already earned your Azure for SAP Workloads Specialty certification, but it's expiring in the near future, we've got good news. You'll soon be able to renew your current certifications by passing a free renewal assessment on Microsoft Learn—anytime within six months before your certification expires. For more details, please read our blog post, Stay current with in-demand skills through free certification renewals.
It's time to level up!
Your Microsoft Certification can help validate that you have the skills to stay ahead with today's technology. It can also help empower you with a boost in confidence and job satisfaction—and maybe even a salary increase. Want to know more? In our blog post, Need another reason to earn a Microsoft Certification?, we offer 10 good reasons to earn your certification.
If you're ready to help your organization simplify and accelerate SAP migration, unlock new insights, and drive business value, earn your Azure for SAP Workloads Specialty certification. Not only can you help your business but also you can create new and better customer and employee experiences, as you bring the benefits of Azure to your SAP applications.
Related announcements
Understanding Microsoft Azure certifications
Finding the right Microsoft Azure certification for you
Master the basics of Microsoft Azure—cloud, data, and AI
Brought to you by Dr. Ware, Microsoft Office 365 Silver Partner, Charleston SC.