This article is contributed. See the original author and article here.
Qualified data professionals are always in demand in today's job market. And their importance in digital transformation is ever-increasing, as they modernize relational Microsoft SQL Server databases on-premises, migrate and administer them on Microsoft Azure, or use the best of both worlds in hybrid environments. Does this describe you? If you understand the transformation from on-premises databases to cloud data services—and the cloud database technologies available to you with Azure—now is the time to showcase the value you add to your organization as a database administrator.
The Azure Database Administrator Associate certification validates that you have what it takes to be a data management specialist with subject matter expertise implementing and managing cloud and on-premises relational databases built on top of SQL Server and Azure data services. You earn the certification by passing Exam DP-300: Administering Relational Databases on Microsoft Azure.
What kind of knowledge and experience should you have?
If you're responsible for database management, availability, and security, plus performance monitoring and optimization of modern relational database solutions, and if you manage operational aspects of data platform solutions, together with Azure data engineers, this could be the certification for you.
As a candidate for this certification, you should have experience using a variety of methods and tools to perform day-to-day operations, including applying knowledge of using T-SQL.
How can you get ready?
To help you plan your journey, check out our infographic, The journey to Microsoft Certified: Azure Database Administrator Associate. You can also find it in the resources section on the certification and exam pages, which contains other valuable help for Azure database administrators.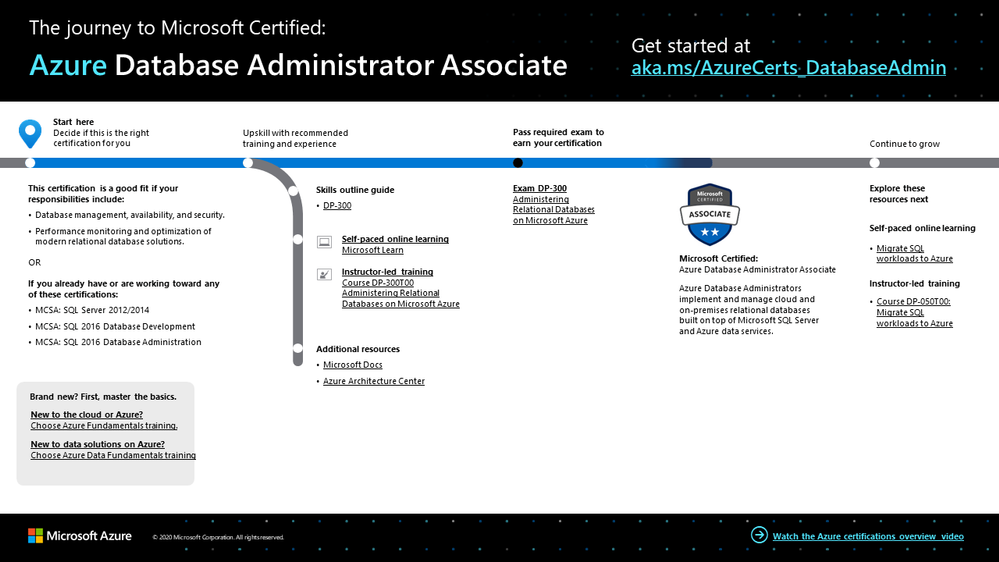 Azure Database Administrator Associate certification journey
To map out your journey, follow the sequence in the infographic. First, decide whether this is the right certification for you.
Next, to understand what you'll be measured on when taking Exam DP-300, review the skills outline guide on the exam page.
Sign up for training that fits your learning style and experience:
Complement your training with additional resources, like Microsoft Docs or the Azure Architecture Center. Don't miss the Data Exposed show on Channel 9, which explores everything about data—relational and non-relational, on-premises and in the cloud, big and small.
After you pass the exam and earn your certification, check out the many other training and certification opportunities. Want to add to your skill set? Consider learning to migrate SQL workloads to Azure.
Note: Remember that Microsoft Certifications assess how well you apply what you know to solve real business challenges. Our training resources are useful for reinforcing your knowledge, but you'll always need experience in the role and with the platform.
It's time to level up!
When you earn your Azure Database Administrator Associate certification, you not only grow professionally but you also have the opportunity to show your colleagues and your employer how you can contribute to your organization's cost savings, efficiency, and scalability. As more and more companies move to the cloud, this is a great opportunity to level up—and prove—your Azure database administrator skills.
Related announcements
Understanding Microsoft Azure certifications
Finding the right Microsoft Azure certification for you
Master the basics with Microsoft Certified: Azure Fundamentals
Brought to you by Dr. Ware, Microsoft Office 365 Silver Partner, Charleston SC.