This article is contributed. See the original author and article here.
What's one of the hottest roles in today's fast-paced IT environment? If you guessed data scientist, you'd be right. In great demand, these professionals are empowered by AI, machine learning, and data science. A data scientist helps their organization visualize and deliver innovation, improve customer experience, grow the company's revenue, and stay ahead of the competition. Specifically, a data scientist promotes a data-driven culture using rigorous scientific methodology and algorithms to discover and resolve business problems and to pursue opportunities to help achieve their organization's goals. If this describes you, your skill set, and your passion for data, we have just the certification for you.
The Azure Data Scientist Associate certification validates that you have subject matter expertise implementing and running machine learning workloads on Microsoft Azure. You earn the certification by passing Exam DP-100: Designing and Implementing a Data Science Solution on Azure.
Your responsibilities include planning and creating a suitable working environment for data science workloads on Azure, and you run data experiments and train predictive models. In addition, you manage, optimize, and deploy machine learning models into production.
What kind of knowledge and experience should you have?
As a candidate for this certification, you should have knowledge and experience in data science and using Azure Machine Learning.
How can you get ready?
To help you plan your journey, check out our infographic, The journey to Microsoft Certified: Azure Data Scientist Associate. You can also find it in the resources section on the certification and exam pages, which contains other valuable help for Azure data scientists.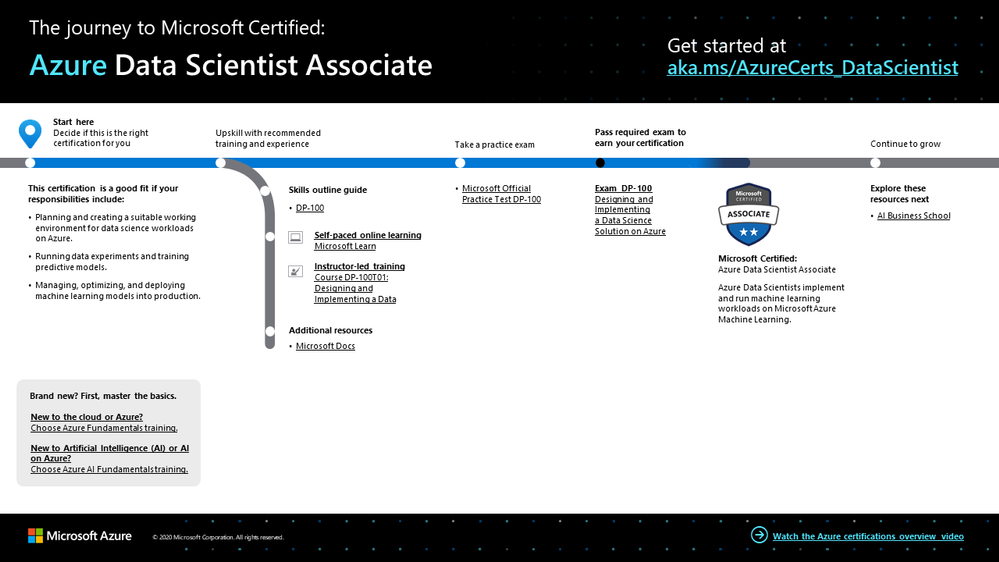 To map out your journey, follow the sequence in the infographic. First, decide whether this is the right certification for you.
Next, to understand what you'll be measured on when taking Exam DP-100, review the skills outline guide on the exam page.
Sign up for training that fits your learning style and experience:
Then take a trial run with the Microsoft Official Practice Test for DP-100: Designing and Implementing a Data Science Solution on Azure. All objectives of the exam are covered in depth, so you'll find what you need to be ready for any question.
Complement your training with additional resources, like Microsoft Docs.
After you pass the exam and earn your certification, check out the many other training and certification opportunities. Want to add to your skill set? Explore the AI Business School.
Note: Remember that Microsoft Certifications assess how well you apply what you know to solve real business challenges. Our training resources are useful for reinforcing your knowledge, but you'll always need experience in the role and with the platform.
It's time to level up!
Your Microsoft Certification can help validate that you have the skills to stay ahead with today's technology. It can also help empower you with a boost in confidence and job satisfaction—and maybe even a salary increase. Want to know more? In our blog post, Need another reason to earn a Microsoft Certification?, we offer 10 good reasons to earn your certification.
Ready to prove your experience and skills in this in-demand role? Take the exam, earn your Azure Data Scientist Associate Certification, and roll up your sleeves to help your organization navigate the fast pace of IT transformation. As a data scientist, you'll bring the agility, resilience, and actionable insight of AI and Azure Machine Learning to deliver insights, innovation, and results.
Related announcements
Understanding Microsoft Azure certifications
Finding the right Microsoft Azure certification for you
Master the basics of Microsoft Azure—cloud, data, and AI
Brought to you by Dr. Ware, Microsoft Office 365 Silver Partner, Charleston SC.