This article is contributed. See the original author and article here.
Last month, we released Microsoft Viva Topics as part of the introduction of Microsoft Viva, the first Employee Experience Platform built for the digital era. SharePoint Syntex and Viva Topics are developed and delivered together to help you enrich your content and turn it into action and knowledge.
This week at Microsoft Ignite we highlighted our continuing enhancements to Microsoft Viva Topics and announced our latest expansion of the Microsoft Content Services Partner Program. And we've also rolled out new capabilities for SharePoint Syntex to help you get even more from your content in Microsoft 365.
Document understanding model improvements
Document understanding helps you scale your expertise and build no-code AI models to recognize and tag unstructured content. When working with your example files, we've added a new find function to make it easier to locate the terms you wish to extract.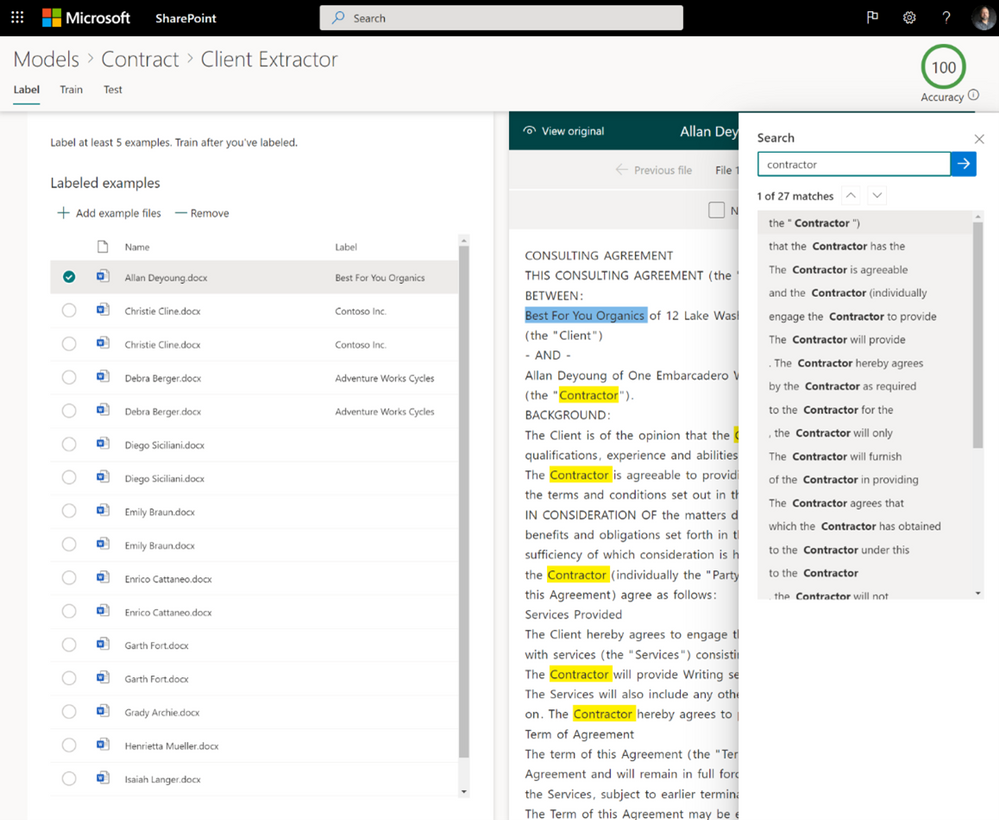 Search inside model training files
This feature is available now.
When you create an explanation, by default the entire document is searched for the phrase you are trying to extract. However, you can use the Where these phrases occur setting to isolate a specific location in the document for that phrase.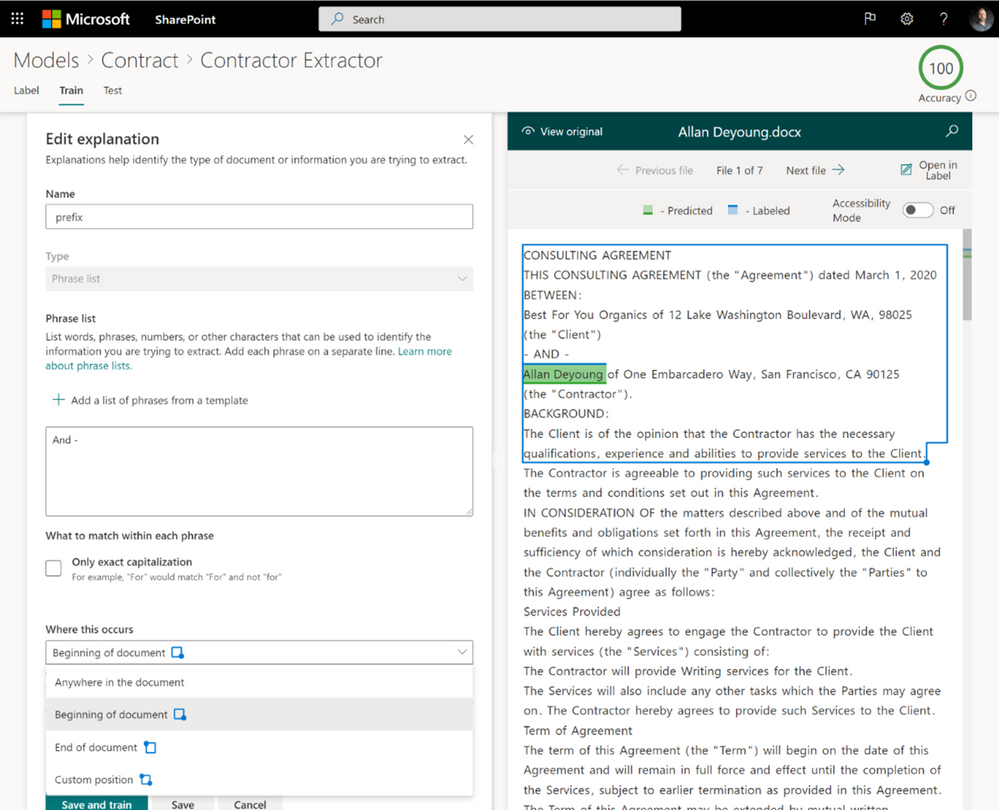 Use regions in document for more precise modeling
This feature is available now.
We're providing three new explanation templates to aid with creating explanations for your models. These new explanations automatically enumerate the words or characters that occur before or after your labels – or the labels themselves to create a contextual explanation.
This feature is available now.
Compliance updates
Retention labels are now available for form processing models. When creating a form processing model, you can now apply a published retention label to use by default when that content type is recognized.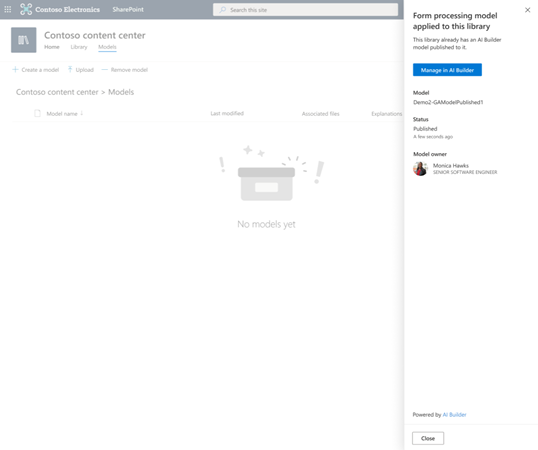 Apply retention label to form processing models
This feature is available now.
Content center analytics
If you have multiple content centers, you can now see activity across all content centers rolled up to you default content center. This includes both document understanding models from the different content centers, in addition to form processing models created across the tenant. You'll need to be a SharePoint Syntex content manager or a SharePoint admin to use these analytics. This gives content managers and other stakeholders a centralized portal to manage and oversee the content centers and models across the company.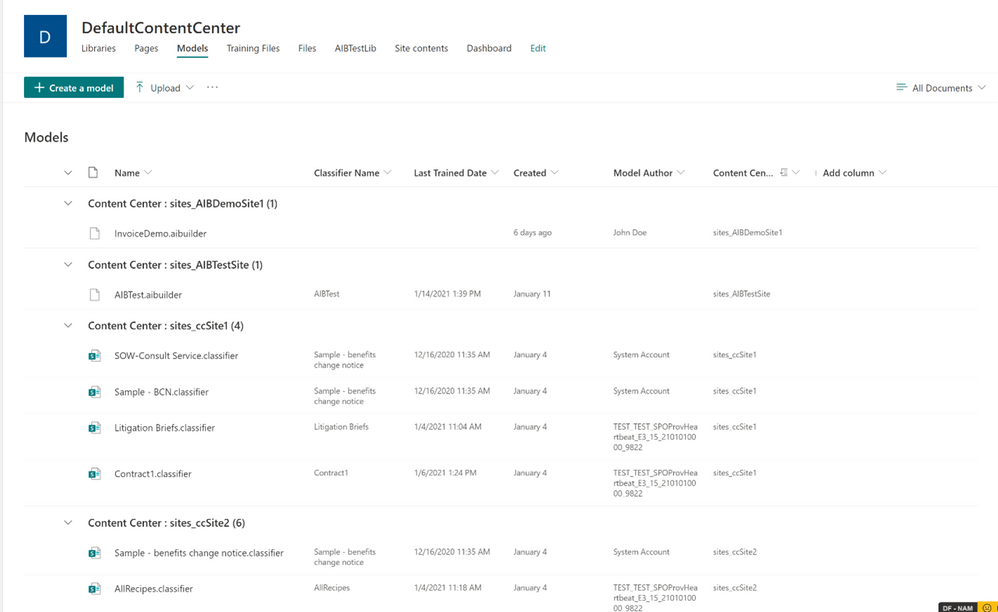 VIew models from multiple content centers
Other content centers will only show model usage analytics for their "local" models. This gives "local" content managers usage data without the clutter of activity from across the organization.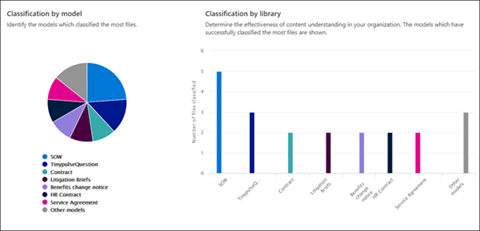 SharePoint Syntex model analytics
This feature is available now.
Content

type publishing to hub sites

A content type is a reusable collection of details about a category of content in Microsoft 365. A content type associates this item with key metadata or other information such as a template or a set of extended metadata columns. For example, you can define a Sales Contract content type and add it to the library that your team uses. Then, any time someone wants to create a sales proposal, they just choose Sales Contract from the New Document menu. Their document will use the default template and have placeholders for custom columns, such as "Customer" or "Product".

SharePoint Syntex builds document understanding models as a superset of content type properties, so the processing rules for identifying content and extracting metadata, along with default retention policies can be automatically invoked. SharePoint itself has an existing process for synchronizing changes to content types among multiple sites – syndication – that requires manual subscriptions from target sites to a master set of content types. But this process can be cumbersome in large, distributed information architectures.

To make important content types more consistently available to document libraries, you can push them to the SharePoint hub sites that you select. Pushing the content types automatically adds them to any new lists and libraries created on the sites associated with the hub – and to any new sites added to the hub. This feature requires a SharePoint Syntex license for administrators and users. After the initial push, changes to content types will be distributed in minutes from the hub site to connected sites.

This feature will begin rollout in April 2021.
Roadmap
Our team is working with our customers as we deliver additional updates to Microsoft Viva Topics and SharePoint Syntex. We'll continue to drive user experiences, foundational services and APIs, expanded language support, and government cloud coverage (GCC) as our top priorities for 2021.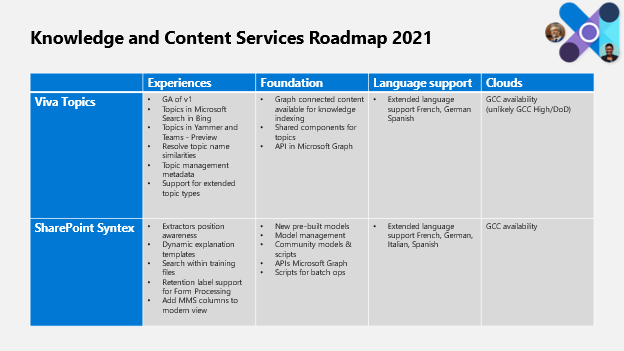 We'll share more detail on all of these and more on the Microsoft 365 roadmap.
SharePoint Syntex at Ignite
You can learn more about SharePoint Syntex at Microsoft Ignite this week, including:
Ask the Experts
ATE-FS193 | Ask the Experts: Meet Microsoft Viva: a new kind of employee experience
Now that you have the basics covered, we invite you to ask the questions that may not have been answered in sessions already. There will be a team of Subject Matter Experts available to answer questions both on camera and in chat and point you in the right direction to get started on your own Microsoft Viva journey. Come with questions about SharePoint Syntex, Viva Connections, Viva Topics, Viva Learning, and Viva Insights.
Wednesday, March 3 | 2:00 PM – 2:30 PM PST
On-Demand Sessions
OD372 | Microsoft Viva Topics: Put knowledge to work with content and AI by Chris McNulty and Naomi Moneypenny
Viva Topics frees up time by making it easy for people to find information and put knowledge to work. And SharePoint Syntex uses advanced AI and machine teaching to amplify human expertise, automate content processing, and transform content into knowledge.
For details on all the sessions at Microsoft Ignite, please read the Viva Guide to Ignite blog post.
Thanks again, and we look forward to seeing you at Microsoft Ignite and here on the Tech Community.
Brought to you by Dr. Ware, Microsoft Office 365 Silver Partner, Charleston SC.