This article is contributed. See the original author and article here.
Microsoft Inspire, starting today, provides a forum for Microsoft and our partners to engage and develop plans to further our mission of empowering our customers to achieve more. Project Cortex is our newest endeavor to transform organizational productivity by connecting people with knowledge, insights and expertise.
With Microsoft Inspire offered as a free virtual event this year, we're happy to share our latest news on availability, partners, and technical updates with everyone.
Project Cortex Availability
We're excited by the ongoing customer engagement with Project Cortex. As we prepare for general availability, we're happy to announce our next steps.
Our product team has been tightly focused on delivering a top-notch experience that aligns to customer expectations. One of our healthcare preview customers is eager to bring Project Cortex into production across their organization; noting:
"Cortex would have helped us identify procedural information much faster. When it comes to the treatment of pandemics, we already have workflows in our archives since that type of emergency management procedure has been thought of and written down."
Over the past year, we've been working with dozens of customers in our preview program like Mott Macdonald, Arla Foods, Unilever, and Siemens Healthineers. Project Cortex capabilities are starting to ship, beginning with taxonomy experiences and APIs, which are reaching all SharePoint customers this month.
We're happy to announce Project Cortex will go to production for existing private preview customers on August 1, 2020. You can expect additional details about general availability at Microsoft Ignite 2020.
Content Services Partner Program 2020-21
The Microsoft Content Services Partner Program is our principal program to prepare and engage partners to deliver knowledge and insights solutions to customers, featuring Project Cortex. For 2020-21, the program will offer three partnership levels for accepted partners.
Preferred (new level) – Publicly recognized partners in the program, selected for proven customer success, training certifications and competencies, capacity and alignment to Microsoft, and close alignment to the Microsoft field
Charter – Publicly recognized partners in the program, selected based on proven customer success, training certifications and competencies, capacity and alignment to Microsoft.
Associate – Registered members of the program, participate in ongoing newsletter, quarterly updates, and training while they develop their competencies, evidence, and offerings to be considered as Charter or Preferred partners.
Here's the timeline for partners to apply as new or renewed members of the Content Services Partner Program:
July 21 to August 3 – Partners apply for the program via the application form)
August 4 – Office hours call (download the invite) for all interested partners to walk through the 2020 CSPP application process and criteria in detail. We'll also be available to answer questions.
August 17-19 – Training for partners on Knowledge and Insights, Project Cortex technical details, and Microsoft field engagements. This is a repeat of the initial pilot training developed in June 2020, and we plan to continue to deliver this training periodically throughout the year. Register for the training by August 13, 11:59pm PDT. Attendees will need to be members of a registered Microsoft partner and under NDA.
September 15 —Microsoft sends program status decisions to applicants.
Ignite 2020 —Microsoft announces FY21 partner program members (program year runs October 2020 – September 2021)
October 2020 — Partners participate in new partner onboarding and work begins
on publishing case studies
For more details on the CSPP application process, please see today's blog post Microsoft 365 Content Services Partner Program – 2020 application announcement.
Project Cortex Launch Partners
As we continue to get Project Cortex ready for launch, we're also working to ensure that our partners are ready to guide, support, and implement Cortex for our customers. The following Charter partners from our Content Services Partner Program have met the requirements to be recognized as our initial set of launch partners.
System integrators (SI's)
Independent software vendors (ISVs)
We thank them and congratulate them on their achievement.
Technical Updates
This week, we're happy to also announce the following technical updates. These were developed as part of Project Cortex to modernize our Microsoft 365 taxonomy service, previously known as Managed Metadata Services. They're being made available through all Microsoft 365 licensing plans for SharePoint content:
Our modern taxonomy end user experiences and the modern term store have now reached 100% deployment to all SharePoint customers in Microsoft 365. This week, our modern content type gallery will also reach full general availability.
Additionally, our taxonomy APIs will be available in the Microsoft Graph APIs by the end of July, as we previewed at Microsoft Build.
These updates help you find these features in the SharePoint admin center, under the 'Content services' node, and modernize the user experiences. Existing terms in the term store and content types in the content type hub are all available, to make the transition seamless.
Modern administration experiences are available for the organization-wide term sets and enterprise content types. In the future, these updates will also be made available to the site level term sets and content types.
Tagging and filtering managed metadata columns
Updates to tagging and filtering content with terms are now generally available. Our updated tree view makes it easier to navigate term sets and select terms. You can also use the tree view to filter content with the full hierarchy of the term set.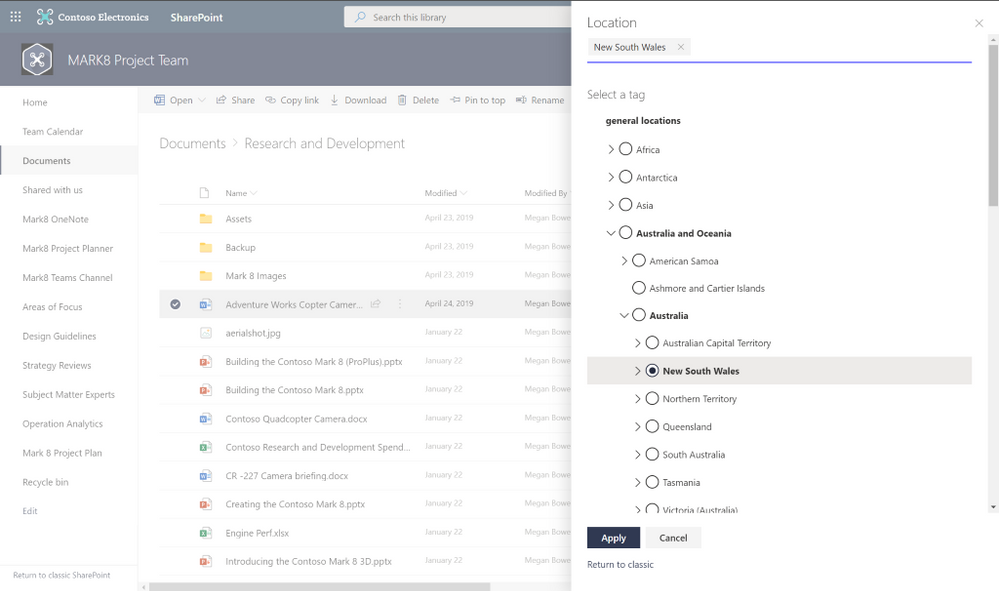 Modern taxonomy filltering
To learn more about filtering in SharePoint, please explore our documentation.
Managing taxonomies in the SharePoint admin center
The new term manager, with its modern experiences for creating and managing taxonomies, is now generally available. Available in the new SharePoint admin center, this new manager allows you to work with your pre-existing organization-wide term sets and create new sets easily.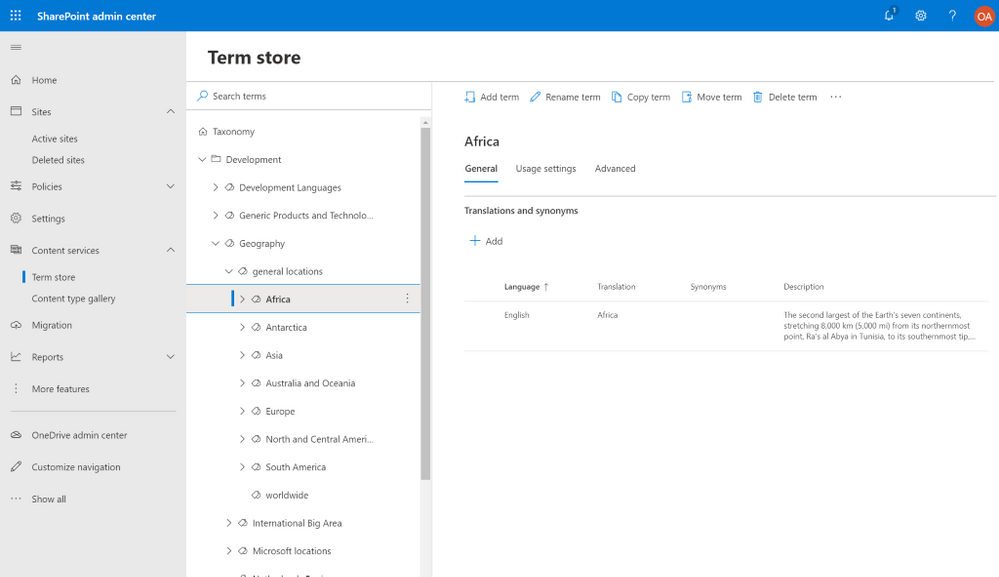 To learn more about taxonomies and managed metadata in SharePoint, and using the new experiences, please explore our documentation.
Content type gallery
The new content type gallery is being released and will be generally available this week. The gallery uses a modern list view of content types in the content type hub, which lets you easily group on different columns and save custom views. The content type ID is also listed for custom coded solutions. Managing your existing enterprise content types and creating new ones is smoother with modern experiences.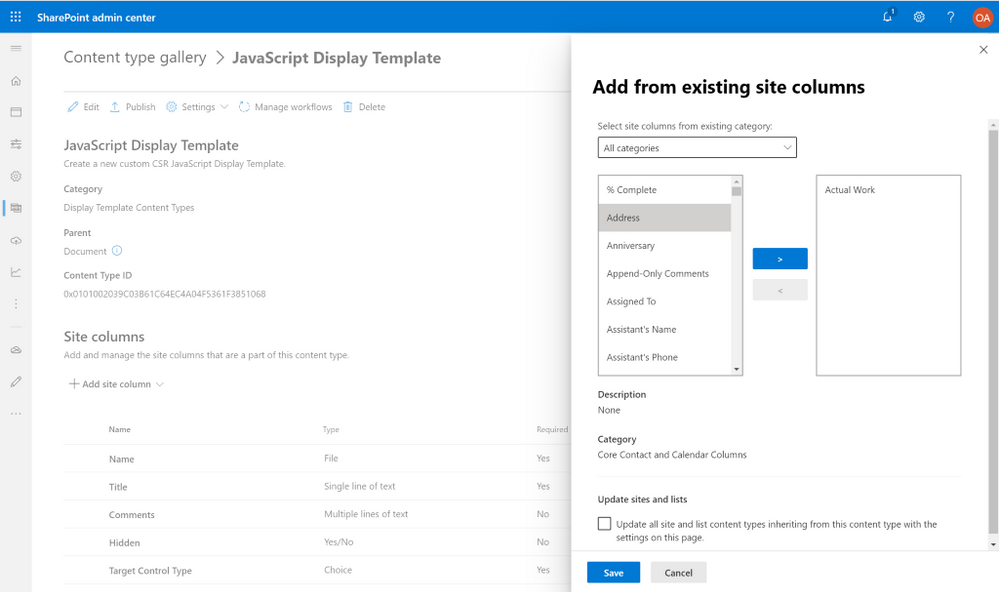 To learn more about content types and the new experiences, please explore our documentation.
Graph APIs
As mentioned at Microsoft Build, we're developing new Microsoft Graph APIs to support operations on the taxonomy service. These APIs support listing and adding organization-wide term groups, term sets and terms. Listing and editing of most of the properties of these entities are also supported.
The taxonomy APIs will be available for preview in the beta version of Microsoft Graph by the end of July.
Microsoft Inspire
You can learn more about Project Cortex at the following sessions at Microsoft Inspire:
Thanks again. We're excited by our news and hope you can join us this week and later this year at Microsoft Ignite.
Brought to you by Dr. Ware, Microsoft Office 365 Silver Partner, Charleston SC.