This article is contributed. See the original author and article here.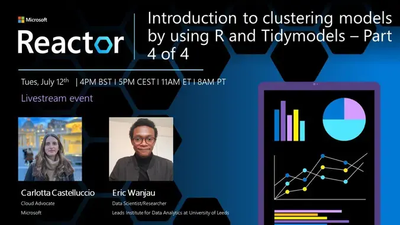 In the previous episodes, we have journeyed through airports, real estate, and wine industry, gaining insight on the different industries, and utilizing the data in decision making. Alas, now we are in the final episode of a Four-part series – An introduction to R and Machine learning. Join us for the session at Introduction to clustering models by using R and Tidymodels – part 4 of 4, Tue, Jul 12, 2022, 4:00 PM | Meetup. If you missed previous episodes, watch them on demand below:
Introduction to clustering models by using R and Tidymodels – part 4 of 4
In this session, you will train a clustering model. Clustering is the process of grouping objects with similar objects. This kind of machine learning is considered unsupervised because it doesn't make use of previously known values to train a model.
Who is it aimed at?
This session is aimed at anyone who would like to get started with data science in R
Why should you attend?
Get an introduction to clustering models and learn how to train a clustering model in R
Any pre-requisites?
Knowledge of basic mathematics
Some experience programming in R
Speaker Bio's
Carlotta Castellucio – Cloud Advocate, Microsoft
Carlotta Castelluccio is a Cloud Advocate at Microsoft, focused on Data Analytics and Data Science. As a member of the Developer Relationships Academic team, she works on skilling and engaging educational communities to create and grow with Azure Cloud, by contributing to technical learning content and supporting students and educators in their learning journey with Microsoft technologies. Before joining the Cloud Advocacy team, she worked as an Azure and AI (ARTIFICIAL INTELLIGENCE) consultant in Microsoft Industry Solutions team, involved in customer-face engagements focused on Conversational AI solutions. Carlotta earned her master's degree in Computer Engineering from Politecnico di Torino and her Diplôme d'ingénieur from Télécom ParisTech, by completing an E+/EU Double Degree Program.
Eric Wanjau – Data Scientist/Researcher at the Leeds Institute for Data Analytics (LIDA)
Eric is an Early Career Researcher who continually seeks to tackle real-world challenges using applied research, data analytics and machine learning; all wrapped in unbridled empathy and enthusiasm. He is currently a Data Scientist/Researcher at the Leeds Institute for Data Analytics (LIDA) in the University of Leeds, working on the British Academy project undertaking urban transport modelling in Hanoi. He has also done research in robotics, computer vision and speech processing in Japan and Kenya, aimed at creating safe working environments and exploring human-robot interaction in board games. Eric holds a BSc. in Electrical and Electronic Engineering (2021) from Dedan Kimathi University of Technology Kenya. He plays the guitar (terribly but passionately).
Brought to you by Dr. Ware, Microsoft Office 365 Silver Partner, Charleston SC.