This article is contributed. See the original author and article here.
When we set out to design Surface Pro 7+, we wanted to make it easy for enterprise customers to retain data and repair units in the unlikely event of a hard drive failure. We listened to customer feedback about the critical importance of retaining confidential data and reducing the downtime incurred by a servicing issue. That's why we're pleased to announce that beginning today, commercial customers in the U.S. will be able to purchase Microsoft Surface rSSDs, enabling their IT technicians to service devices onsite.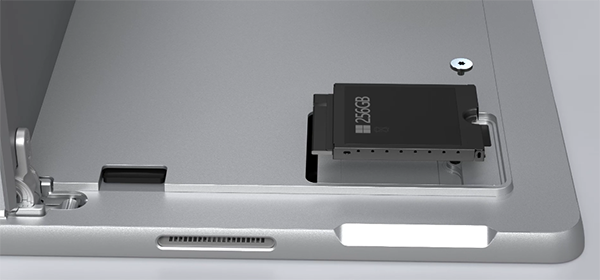 We constantly look for more ways to enable you and your employees and we hope this helps commercial customers get their Pro 7+ devices back up and running within minutes as well as meet data retention requirements.
SSD kits consist of a single certified refurbished SSD —plus SSD screw. All volume sizes are available: 128GB, 256GB ,512GB or 1TB. After the initial US rollout, we plan to gradually roll out the kits to all Surface regions.


We designed the kits to facilitate data retention and enable IT to restore devices to productive use as quickly as possible. If an employee encounters issues that are related back to the SSD, the IT admin can replace the machine's SSD in a matter of minutes saving time and money. At this time, the kits cover Surface Pro 7+ only and will not work for Surface Pro X or Surface Laptop Go.
To order, reach out to your regional reseller or Surface specialist (initially in the U.S. only) to order via regular commercial channels. Finally, here are answers to some common questions customers may have:
Will replacing the SSD affect the warranty?


Please note that the warranty for the device you purchased can only be considered if an issue occurs while using the original parts from the factory.


Does the installation have to be done by an Authorized Service Provider (ASP)?


Removable SSDs (rSSDs) do not require a license or authorization. Microsoft recommends these repairs be performed by a skilled IT professional.


Does installation require a trained technician?


We recommend only a skilled IT technician perform the SSD replacement and while following Microsoft instructions in the Surface Pro 7+ removable SSD guide available on the Microsoft Download Center.


Can I upgrade Surface Pro 7+ devices by installing larger SSDs, or do I have to replace with the same size SSD that is removed?


While technically possible, Microsoft strongly discourages users from installing an SSD that has not been tested for your device configuration. Microsoft takes measures to ensure product quality and tests the hardware configurations offered for sale. Installing a non-Microsoft or a Microsoft SSD of different volume than the one provided originally may lead to reduced performance and unsupported configurations.


What comes in the box when I purchase a commercial spare? Are there installation instructions?


The rSSD Commercial Spare Package includes only the replacement SSD and basic instructions. For complete instructions, refer to the Surface Pro 7+ removable SSD guide available on the Microsoft Download Center. It is recommended to store the rSSDs in their original packaging until they are used to prevent potential damage due to stacking.


Is there a software tool to erase the content of my old SSD?


You can use Surface Data Eraser or reimage the device to securely wipe all data stored on the SSD. The SSD must be installed during the process. Surface SSDs are encrypted by default.


Does the commercial spare SSD need to be imaged?


Yes. After a new SSD has been introduced in a host PC, users must use BitLocker

recovery to restore the device. Alternatively, the device can be reimaged.



Can consumers place orders too?


Commercial Spares are not available for purchase in the regular consumer channels and are intended for use by enterprise customers only.


Brought to you by Dr. Ware, Microsoft Office 365 Silver Partner, Charleston SC.