This article is contributed. See the original author and article here.
In May 2020, we announced plans to have more granular privacy controls within Microsoft products. This is part of Microsoft's continued commitment to providing products, information and controls that lets you choose how your data is collected and used. After this announcement, several controls have been released. Now we would like to announce the release of peopleInsights admin controls.
The hundreds of millions of users of Microsoft 365 cloud services form part of the core of Microsoft Graph. The users' data is carefully managed, protected, and with proper authorization, made available by Microsoft Graph services to drive productivity and creativity in businesses.
As ubiquitous the user's data is in Microsoft Graph, data derived from the user's interactions is particularly interesting. It provides intelligent insights that can be used to build smarter apps. The people API returns people ordered by relevance to a user, based on that user's contacts, organization directory, and recent public communications on email.
For a person to be included as relevant to or "working with" a profile owner in Office Delve, to be displayed in the owner's profile card, or to be returned by the people API, there must be a public relationship between the person and the profile owner. The following illustration shows a User A, an index of relationships with other users (User B), and a public profile showing a subset of user relationships.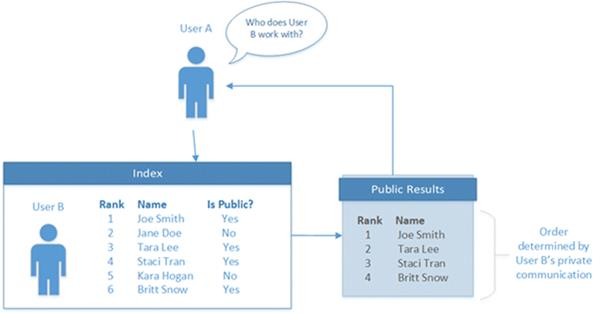 We are pleased to announce new privacy controls which provide you with the ability to configure the visibility of the list of relevant people, also called Working-with or peopleInsights. The controls will give administrators the ability to disable the controls for all users by using "isEnabledInOrganization" parameter in Microsoft Graph. Alternatively, they can disable the feature on admin center by checking the "Allow your organization to use People Insights" checkbox shown below.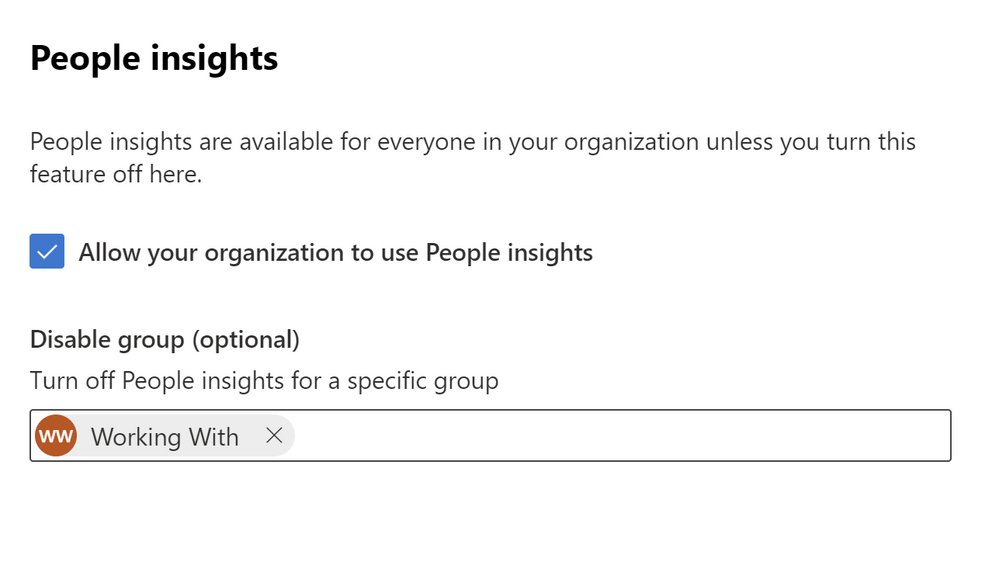 If an organization only needs to disable the feature for a group of people, they have the option of using the "disableForGroup" parameter. They will need to provide the id of an Azure AD group. The group should have all affected users. Note, only one group can be disabled. The alternative is using admin center page and adding the name of the group to be disabled for in the text field as shown above. The controls above respect the existing Office Delve settings already in place.
We are working on releasing user level controls as well in the future to ensure that at user level people have control over their own privacy.
Brought to you by Dr. Ware, Microsoft Office 365 Silver Partner, Charleston SC.