This article is contributed. See the original author and article here.

This season on Inside Microsoft Teams, our goal is to share a more diverse set of customers and stories around how our customers in a wide range of fields have found success in piloting, deploying, managing, securing, and driving adoption around Teams.
In addition, we are looking to focus more on our application partners, helping you to get more done. With that said, we heard from Atlassian, makers of the Jira suite of apps on Episode 1 of our latest season of Inside Microsoft Teams.
After the episode aired, we had a lot of comments loving the segment but asking us about the Teams integration for Jira Cloud for developers. I am happy to announce that today, we are releasing a special bonus episode focused on Jira Cloud and the Jira Suite in Microsoft Teams for Developers.
As you are watching this episode, make sure to share your favorite feature you're seeing on Twitter by mentioning @Jira with #JiraforTeams by March 10. The folks at Atlassian will randomly pick three (3) winners that will receive $50 to spend at the Atlassian swag store.
Tygrr DosRemedios – Product Manager, Atlassian
At Atlassian, our mission is to unleash the potential of every team. We know that every time you switch between tools, that is harder to achieve, which is why we are investing in a new breed of integration on the Teams platform. We are thinking beyond building integrations that merely link tools for the sake of it. My team and I have spent the last year interviewing customers, digging into the data, and building this next generation of integrations.
Our newest release, Jira Cloud for Teams, was purpose-built to individualize your workflow, create cross-team visibility, and hone your focus in new ways. The new Jira for Teams app does just that, with multi-level functionality that spans across all areas of Teams: meetings, chat, calling, collaboration, and automation.
Here's what customers are most excited about:
Freedom to own your workflow
"I just love email," said no developer ever. Skip the inbox and get your Jira notifications in Teams, which are totally customizable. And with the handy Jira tab in the personal scope, you can view issues assigned to you – no context switching necessary. Customers shared in interviews that this is a game-changer – they can now treat Teams as their browser and stay focused on deep work.
Start, pivot, and finish in Teams
We all know that meeting or chat message – the one that makes you realize you need to pivot. Whether it's big or small, there are major consequences if the conversation happens, and nothing gets updated. And Jira can't be a source of truth if it's out of date.
This is exactly why we built in functionality to turn chats into a comment on a Jira issue (or a new Jira issue altogether). And for those curveballs that come up in meetings, use the Jira app to edit issues assigned to you right in the side panel.
And to keep you rolling with the punches, we made Jira link cards actionable, so you can edit fields, add comments, and update the status right from chat. No waiting for a new window to load and no logging in again – you've got better things to do.
Admin-friendly
We all know that our IT pros are the real heroes of this story. Without their help and expertise, there's little progress to be made. Thankfully, the Teams Admin Center allows you to turn on app availability, pre-pin it for your users, and monitor app usage. Check out our full walkthrough of the Jira setup process (I promise, it's simpler than you think!).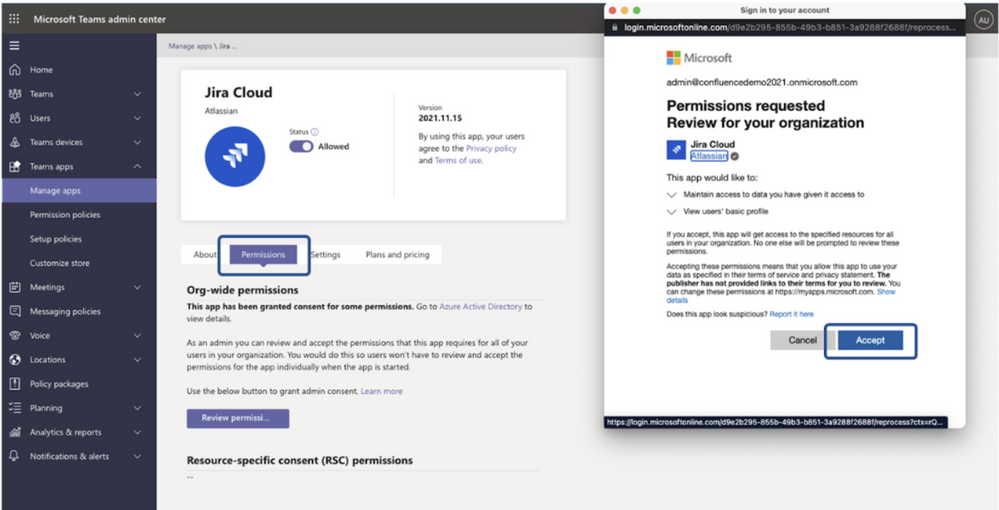 We've also created automated welcome cards that guide users through the features of the app, so you can answer fewer questions and they can get up to speed faster.
Whether you're an IT admin or an operational leader, driving organization-wide adoption of a tool like Teams is no small feat. We put together this guide of tips and tricks to help IT and operations managers overcome common deployment obstacles: 3 Ways to Make your Team Fall in Love with Microsoft Teams.

Thanks again to the folks at Atlassian for their great partnership on our bonus episode and check out Jira (free for up to 10 users). Finally, make sure to check out the companion blog from our Teams General Manager Nicole Herskowitz on our Microsoft 365 Blog as well as the Jira bonus episode on Inside Microsoft Teams.
Questions, comments, and/or suggestions? Contact us at IMT@microsoft.com.
Until next time,
Stephen Rose
Host of Inside Microsoft Teams
Brought to you by Dr. Ware, Microsoft Office 365 Silver Partner, Charleston SC.