This article is contributed. See the original author and article here.
In today's new world of work, finding ways to work better together no matter where team members are located is critical. That's why we're excited to announce our first-ever non-Microsoft integration for Visio with Atlassian Confluence, a remote-friendly team workspace that provides knowledge management, project collaboration, and a user-friendly social interface to help people share work and get feedback.
Using the Microsoft OneDrive for Business app for Confluence, you could already embed Word, Excel, or PowerPoint files stored in OneDrive or SharePoint to any Confluence page. Now, you can also easily add Visio diagrams to your Confluence pages. This app enables you to access and embed Visio files stored in OneDrive or SharePoint and open them for directly in a new browser tab. We've also ensured that your data remains secure—Confluence respects all privacy settings set in OneDrive and SharePoint, so no unauthorized users can access your content.
The ability to embed Visio files in your Confluence pages means that you can easily share and co-edit flowcharts and diagrams to collaborate on projects.
Once your IT administrator has enabled the Microsoft OneDrive for Business in Confluence macro, you can begin using it right away. From the Macros list in Confluence, simply search for OneDrive for Business.
Then, you can paste the OneDrive file URL for your Visio file into the area provided.
Confluence connects to your OneDrive account and displays a preview of the file. After you click Save, the Visio file appears on your Confluence page. You can select Open in new tab to begin editing.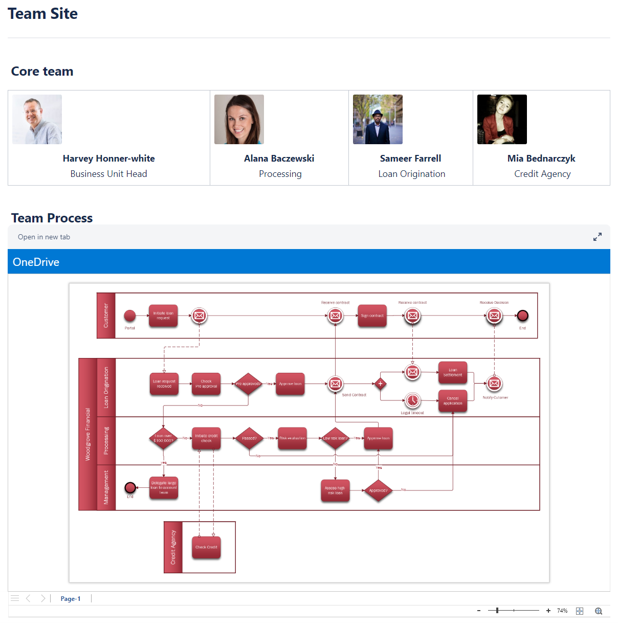 This blog post is the second of four that dives into the update details from our Microsoft Ignite roundup blog. The remaining two will be published in the coming weeks, so keep checking our Tech Community Blogs site. In the meantime, please continue to send us your product feedback and ideas through UserVoice, or send a note to tellvisio@microsoft.com if you have specific questions or comments.
Brought to you by Dr. Ware, Microsoft Office 365 Silver Partner, Charleston SC.