This article is contributed. See the original author and article here.
Microsoft Ignite 2020 (#MSIgnite) is upon us – in the virtual world – with real-world announcements flowing left and right. And we've got a front-row seat with Omar Shahine, VP of OneDrive and SharePoint Program Management; aka, Jeff Teper's lead guiding what OneDrive and SharePoint are in Microsoft 365.
We asked Omar about the recent back-to-school surge, Ignite updates for Project Cortex, Microsoft Lists, Microsoft Stream, new SharePoint innovation in Microsoft Teams, the Leadership Connection site offering, OneDrive sync reports, and more. And we rounded it all off hearing how he and team take an overall design approach that best provides for "consumers in the commercial space."
Ok, ok, Mark. Bring on Omar. On to the show…
Subscribe to The Intrazone podcast! And listen to episode 57 now + show links and more below.
The Intrazone guest, Omar Shahine (VP of OneDrive and SharePoint Program Management).
Link to articles mentioned in the show:
Hosts and guests
Articles and sites

BLOG | "Microsoft Ignite announcements across Project Cortex, SharePoint, OneDrive, Microsoft Teams and more" by Jeff Teper.
SESSION (on-demand soon) | [#MSIgnite 9/22/20 #DB158]: "Enabling collaboration, communication, and knowledge sharing with Microsoft Teams, SharePoint, Project Cortex, and more"
OmarKnows blog: https://omar.shahine.com/
#ProjectCortex: https://aka.ms/ProjectCortex + Cortex Ignite 2020 announcements
#MicrosoftLists: https://aka.ms/MSLists + Lists Ignite 2020 announcements
#MicrosoftStream: https://resources.techcommunity.microsoft.com/stream/
Microsoft Docs – The home for Microsoft documentation for end users, developers, and IT professionals.

Events
Subscribe today!
Listen to the show! If you like what you hear, we'd love for you to Subscribe, Rate and Review it on iTunes or wherever you get your podcasts.
Be sure to visit our show page to hear all the episodes, access the show notes, and get bonus content. And stay connected to the SharePoint community blog where we'll share more information per episode, guest insights, and take any questions from our listeners and SharePoint users (TheIntrazone@microsoft.com). We, too, welcome your ideas for future episodes topics and segments. Keep the discussion going in comments below; we're hear to listen and grow.
Subscribe to The Intrazone podcast! And listen to episode 57 now.
Thanks for listening!
The SharePoint team wants you to unleash your creativity and productivity. And we will do this, together, one Omar'ized episode at a time.
The Intrazone links
+ Listen to other Microsoft podcasts at aka.ms/microsoft/podcasts.

Left to right [The Intrazone co-hosts]: Chris McNulty, senior product manager (SharePoint, #ProjectCortex – Microsoft) and Mark Kashman, senior product manager (SharePoint – Microsoft).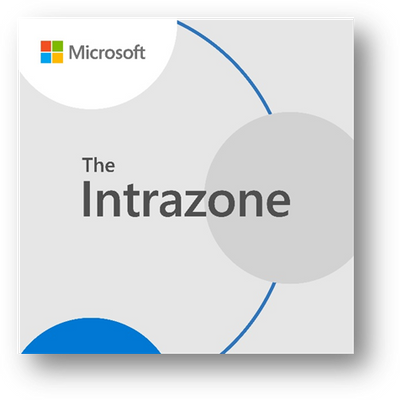 The Intrazone, a show about the Microsoft 365 intelligent intranet (aka.ms/TheIntrazone)
Brought to you by Dr. Ware, Microsoft Office 365 Silver Partner, Charleston SC.