This article is contributed. See the original author and article here.
Welcome new Humans of IT Community members!
As we usher in a brand new (fiscal year), we wanted to give a huge shoutout to the thousands – yes, thousands! – of new Humans of IT Community members worldwide that have joined us over the past year. All 10.5K of you, in fact.
A BIG THANK YOU
For your passion in helping others through tech, and for your commitment to become compassionate #HumansofIT who selflessly contribute your tech superpowers in making our world a better, kinder place to live. YOU are the tech leaders, status quo-shakers and changemakers who are paving the way for a whole new generation of #FutureTechnologists who look to you as role models and they plan their own future career paths in tech.
ABOUT HUMANS OF IT
If you are new to the Humans of IT family, we want to extend a big, warm welcome to you! Kudos to you for taking a significant step in carving out a meaningful tech career for yourself, and leveraging technology for good to solve complex world problems no matter where you reside in this world. We've all seen the power of community, and the incredible things we can achieve when we band together as one!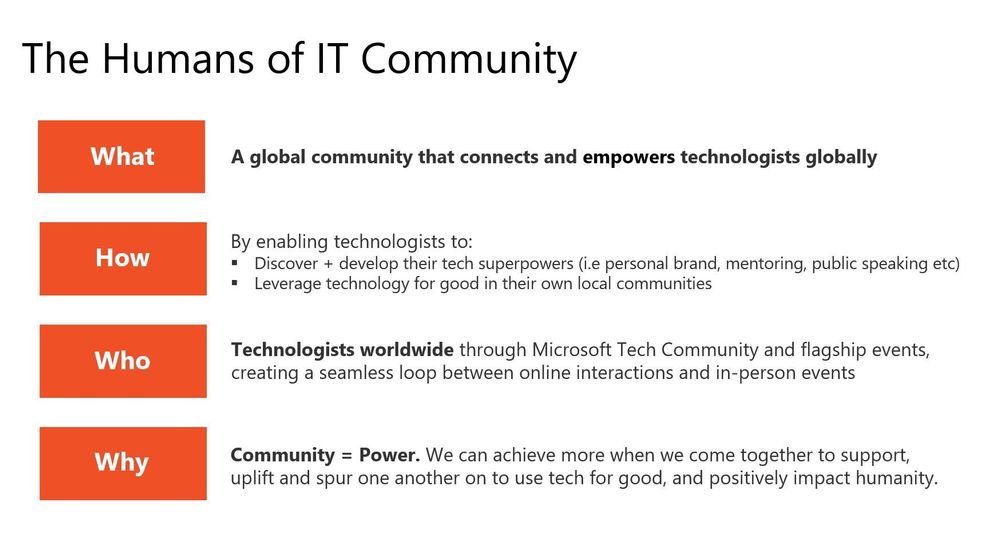 About the Humans of IT Community
Although currently many in-person events have been postponed due to the outbreak, we're thrilled that all of us humans can continue to connect thanks to technology (go Teams!). If you're raring to dive into giving back to the community and helping your fellow Humans of IT, here are a few ways you can start contributing TODAY!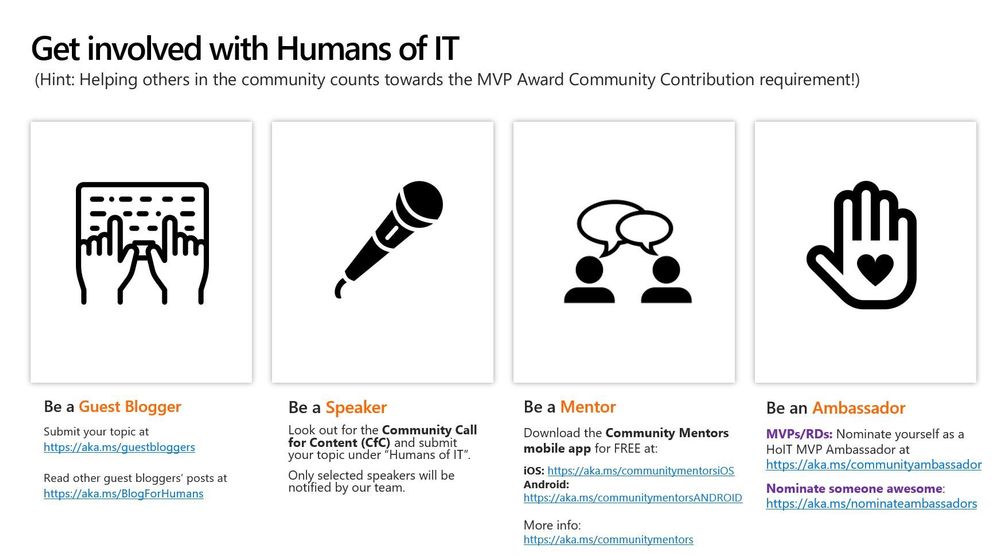 Ways you can get involved with Humans of IT
Adding the links below for easy access as well:
THE TAKEAWAY
Remember, no matter what you choose to do in your Tech for Good journey, start by doing something – you never know where that journey may take you. Your Humans of IT Community fam will be here to support and cheer you on. You've got this. We've got this.
Now go forth, spread kindness and channel your inner #TechSuperpowers for good!
With gratitude,
Shona Bang
Microsoft Humans of IT Community Lead
Follow me on Twitter: @shonadelie
#HumansofIT
#TechforGood
Brought to you by Dr. Ware, Microsoft Office 365 Silver Partner, Charleston SC.