This article is contributed. See the original author and article here.
This article was written by MVP Rory Neary as part of our Humans of IT Guest Blogger series. Rory describes his project, PowerApps4Kids, and how children can get involved in building apps through the project.
PowerApps4Kids Logo
In March 2020, PowerApps4Kids didn't exist. All that did exist were a group of people that didn't even know each other yet, but who believed Power Apps had the ability to educate our children in diverse and entertaining ways. We've come a long way since then. You can find us at our website (https://powerapps4kids.com), on YouTube, GitHub and Twitter. We've also run online sessions that have been well received at the Microsoft Reactor.
What is PowerApps4Kids?
PowerApps4Kids is an initiative to bring Microsoft PowerApps to as many children across the world as we can reach, and help them discover fun ways to create things with technology.
What do you actually do?
We run a regular online user group via the Microsoft Reactor where developers demonstrate how to build quick and simple apps to children and their parents.
The webinars are complemented by the website, where children can download assets, watch videos on the PowerApps4Kids YouTube channel and explore learning paths. The downloads page is arranged so that children not only get to see a project, but also specific videos associated with the skills needed to be successful with the project.
We are all living in highly unusual times, and one aspect of this is that parents and children are at home together, which offers some very interesting learning opportunities as parents can help facilitate their children's learning of Power Apps right at home. That said, the project is intended to live on well beyond this period even as we enter into the new normal.
Children love to copy their parents. Now that it has been more visible what the parents do (while they are working from home a lot), being able to do the same as the parent can get children really keen on building their own things with tech, too.
Ok, so take me through the first few sessions
The first session was highly experimental. I reached out to Daniel Christian and Reza Dorrani from PowerAddicts to see if they would like to get involved, and we ran a session delivered through the Microsoft Reactor to demonstrate some of our simpler, "child-focused" projects. At the end, we gave the children a challenge to write a story using an app we provided them with.
In Session 2, we switched things up and my fellow MVP Pieter Veenstra's boys showed us how to build Noughts and Crosses.
Session 3, another fellow MVP Laura Graham-Brown taught kids (and parents!) how to build the "Hangman" word game (minus the hanging, of course!). The delivery was well-paced and at the level that a supported child would understand.
Finally, in Session 4, we packed out the session with a very simple sign language app in addition to building a Rock, Paper Scissors game by PowerAddicts community member Michelle Wong along with a little training on the shuffle function.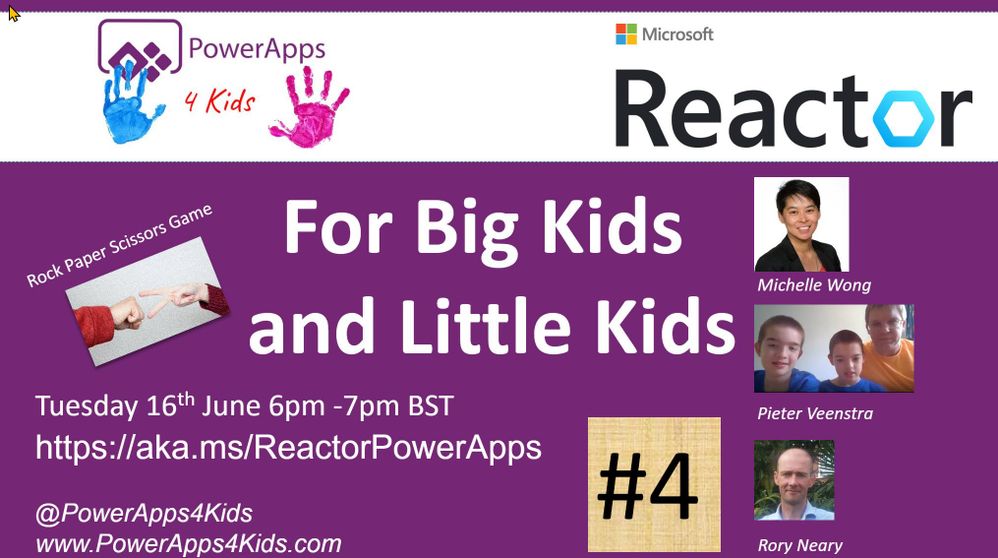 Session Flyer with Microsoft Reactor
In all of these sessions, we either reinforced existing skills or shared new ones, but we are acutely aware that it is easy to scare off parents and children with complex tech, so we're doing our best to be sensitive to this each time we deliver a session. It helps to ensure we establish a solid foundation of skills that are progressively built upon in subsequent weeks and months.
Is developing for kids not the same as for adults?
In a way it is, but where adults tend to quite often fake their understanding in classes and search online for answers on their own, children tend ask for more details and help with things they don't understand. When teaching children, it means that you start with the basics and try to simplify the apps that you build. Quite often this is a good thing anyway, even for us trainers since it tests our ability to simplify concepts for new users!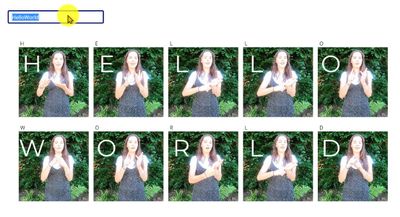 There are many options available for kids to learn how to create program code. Why are you specifically targeting this product?
That's a very good question – so good in fact that we actually answer it during each session. To children we say that this is an amazing multimedia platform for building interactive experiences. To parents we say "there are very few examples of instances where something learned in a school setting is directly transferrable to the workplace – with Power Apps you have a tool that is exactly the same when used in business, albeit for different purposes". In this way, through Power Apps, we are helping foster skills that kids can directly benefit from later in life, as working professionals! By gaining these skills at a young age, they not only have a head-start in tech, but can also help foster confidence in technical skills and a love for tech.
With the above in mind, there is an opportunity like never before for both children AND parents to learn to use a tool that has value in both of their lives, and has applications whether your true love is art, science, mathematics or even music. Power Apps makes tech fun and accessible to all ages!
Why do you feel it is important for kids to learn how to code through Power Apps?
You'll hear many reasons for teaching kids how to code, however this is the first product that we've seen where the skills are directly transferrable to the workplace, and is just as valuable for the careers of the parents as it is for the children.

Additionally, coding teaches children a 'way of thinking': fundamental skills that are important in anywhere in life, not just while on a computer. While coding you'll encounter challenges and learn how to problem-solve. You'll develop an understanding of logic. After all the app won't run if it's not given the correct instructions or arranged in the correct order. Perhaps, above all you'll need to use your creativity to design an awesome app and bring your vision into the world.
It is a quite an extraordinary mix of skills that are required to develop an app. Skills that are worth learning and encouraging in our children, and the coding element is just one of them, but an important one.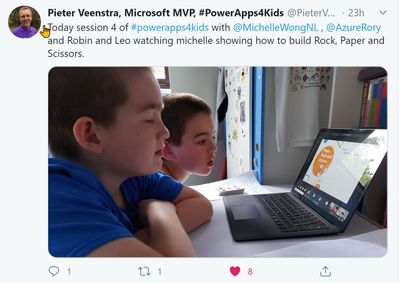 Some children watching one of the online sessions
What has the response been like?
On the whole, we're very pleased that having started with nothing more than an idea in mid-April 2020, we have a platform, digital presence and a community interest following 4 sessions and an invitation to an external session. People seem to be enjoying the idea that if they've built something that's a little on the silly side, they now have a way of sharing that with others in addition to sharing the learning along the way. All too often we share how brilliant we've been, but sharing the knowledge and the eureka moments is where the real generosity lies.
So tell us about the website?
The website is intended to support the live sessions and in due course there is a desire to create "Projects" that require "Skills" so that theoretically a child could plan their own path through the resources. It's a work in progress, so in due course there will be a place for teachers, parents and IT administrators so that we remove any barriers that there may be at home or at school.
How safe is this for children?
This is a really important point. Firstly, our interaction is a collective or open one (versus one-to-one) with parents plus their children. Secondly, the platform does not make direct contact with children (i.e there should always be parental supervision/facilitation), and finally, all of the content is in direct control of the founders whether it be on the website, on GitHub (github.com/powerapps4kids) or on the YouTube channel so that it is fully accessible to all. Content provided by developers are always moved to these shared and vetted areas to ensure safety for our young participants.
Ok, so tell us about the team you've put together?
I guess you'd say that Pieter Veenstra and I would be thought of as the founders of Power Apps 4 Kids, with numerous others that are providing amazing assistance and support. Matt Devaney has provided guidance in the background to ensure that the presenters hit the high notes so we're looking forward to his session on July 14th. We're also supported by Ee-Lane Wu, Laura Graham-Brown, Reza Dorrani, Michelle Wong, Chris Huntingford and Daniel Christian. I should also mention Emma Mcgrath of the Microsoft Reactor London who has assisted us in all our online sessions so far.

Are you where you want to be with the project?
It is still early days, but there is already a lot of interest and support from Microsoft and the community for what we are doing.
Personally, I've always said, start small in terms of output, but think big in terms of quality and governance in all my projects. For us, this means having multiple channels – a website, a YouTube channel, a dedicated GitHub, a Twitter handle and an Office 365 tenant – where we can easily collaborate with other community leaders.
Do you need any help with this?
Definitely. For this to be a true success, we need to be able to engage children wherever they are in the world. For this to happen, we need to have high quality, well thought out content delivered in a reasonably consistent fashion. As the volume of the content increases, we'll need the navigation experience around the website to reflect this, so we're looking for:
More content

Quality delivery through video or blog posts

Moderators for proposed content
If you'd like to be involved, please contact us here.

You can also propose content to us via the form located on the site.
https://powerapps4kids.com/developers/
Content is reviewed and then moved to our GitHub location before we make it live on the site.
You can also contact us either through Twitter @powerapps4kids or via Linkedin (search for "Rory Neary" or "Pieter Veenstra").
What do I need to do to find out more?
I think you're best to head over to the website powerapps4kids.com, have a look around, then head over to the content explorer and pick a project and start building. Maybe even take a shot of your latest creation and tag it with #PowerApps4Kids – we'd love to see your creations!
Our next session is on July 14th with Matt, and you can find the details here.
Thanks Rory for telling us about what you've been doing, and good luck with the rest of the project!
My pleasure, thank you for having me on – perhaps we'll come back a year from now and share a retrospective view on things. Here are some useful links in the meantime:
Web: powerapps4kids.com
Microsoft Reactor https://www.meetup.com/Microsoft-Reactor-London/events/calendar/
YouTube Channel – https://www.youtube.com/channel/powerapps4kids
GitHub – https://github.com/powerapps4kids
Twitter – @PowerApps4Kids #PowerApps4Kids

#TechforGood
#LessCodeMorePower
Brought to you by Dr. Ware, Microsoft Office 365 Silver Partner, Charleston SC.