This article is contributed. See the original author and article here.
This article was written by Data Platform MVP Indira Bandari in New Zealand. She shares about her experience teaching kids how to code.
In this article, I wanted to share my journey with helping kids get to know about and foster a love of technology.
How did it all start?
In June 2016, I signed up as a mentor for #JHACK NZ 2016, a Game Development Competition for kids in high school. JHACK, with the help of Microsoft ran their first workshop on June 26, 2016. Over 100 kids were trained for half a day on a game development software called Construct 2.
They were given 6 weeks to develop games and submit. All the mentors that signed up also were trained on Construct 2. When I was returning home from the training, it hit me. I had a realization. Why not also teach tech to some of the primary school kids that come to the Sunday school where I volunteer? That July came with new beginnings. I started with 12 kids between ages 9 to 12, teaching them the same software, Construct 2 for 6 straight weeks.
After 2 weeks of successfully running the course, I mentioned this to the Program Manager of #JHackNZ. It evolved even more. She encouraged me and said "Why don't the kids submit some games for the competition?" Even better, I was able to use this resource to inspire the kids to build games. The result: 8 individual games and 1 group game were successfully submitted.
Come September, the students I taught joined the rest of the participants in the game competition. It was a full day of fun and activity for the kids with industry experts. 5 games were selected for individual category and 5 games were selected for group games category, followed by presentations to the audience about their creations.
We were thrilled to hear that 2 of our kids were finalists. Take a look at their presentations here: Season Run Star Gatherer.
So after their presentations in the final round, we were once again pleased to hear that these 2 games placed SECOND and THIRD in the individual category. I couldn't believe this and this was a significant achievement for all of us. You can check the photos here.
JHACK Winners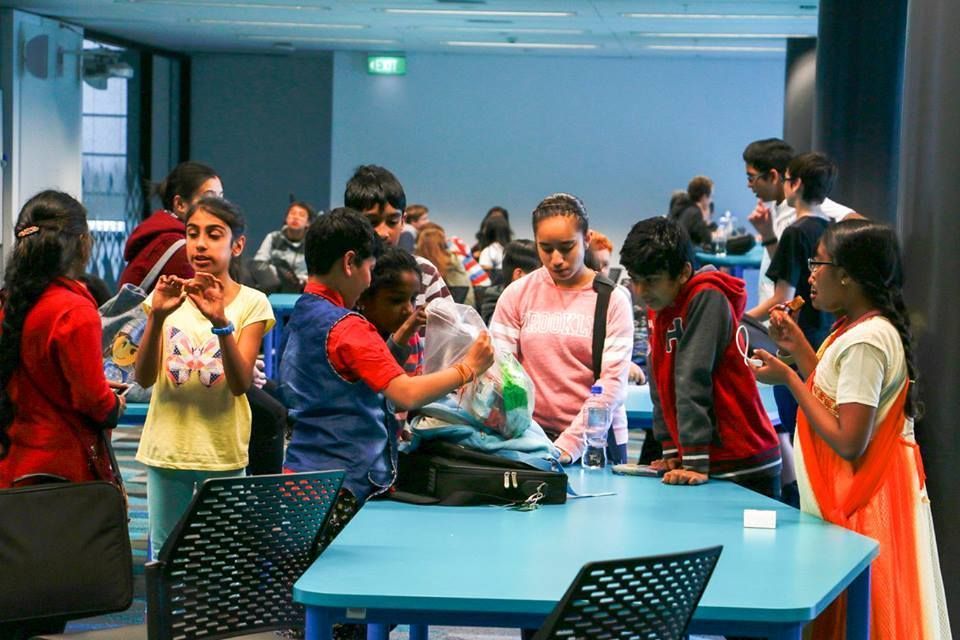 Kids enjoying the JHACK competition finale
What did I learn from this?
Each kid is different in terms of what they can achieve
They are creative in their own unique way
They enjoy creating games that are similar to the ones they play
They tend to have fun and make life interesting
When the presentation time came, they used all their imagination to weave stories around the games they have created to make it fun and interesting for the audience
So what came next?
After the success of the game development classes, I turned teaching kids tech into a yearly practice. And what better to teach them than what I have been doing for the last 15 years?
With that, I have been running a 12-14 week course on Databases and Data Visualizations every year since then. In the databases section of the class for the first 6 weeks, I teach them fundamentals of SQL using Microsoft SQL Server using SQL Server Management Studio. In the next 6-8 weeks, I take Data Visualization classes and teach them basics of Power BI.
Now, I conduct Power BI competitions for kids after the 12-14 weeks course. The kids select their own datasets from MakeoverMonday.com or kaggle.com based on their interests. If you want to learn more, find the details of this competition here.
So, what are these kids capable of?
Kids are extremely courageous when it comes to trying new initiatives. If they are given access to technology with proper guidance, you'll be amazed at how they can come up with exceptionally creative solutions.
So far, I have trained 22 kids in Power BI and some of them have started using them in their schools. A couple of kids have participated in Hackathons such as Hackthecrisis NZ and Hackforgood. The exposure at such a young age prepared them for being brave in try new technologies, such as building websites, using PowerApps, Power Virtual Agents, qnamaker, Cognitive services etc. It also encourages them to become more involved at school or wherever they get the opportunity. It is so interesting to see these kids receive certificates in school that are related to technology. One of my students even started her own YouTube channel.
New initiative this year
Inspired by my own 5-year old kid, I have started teaching coding basics classes for 5 – 9 year olds. Thanks to code.org, I've been amazed to see these kids progress, even achieving tech certificates as as they move to higher levels.

Coding classes for 5 to 9 year olds
What joy mentorship and teaching have brought me over the course of these past few years. I encourage everyone to find opportunities to use their technical expertise and mentor future technologists.
#HumansofIT
#TechforGood
#FutureTechnologists
Brought to you by Dr. Ware, Microsoft Office 365 Silver Partner, Charleston SC.