This article is contributed. See the original author and article here.
This guest blog was written by Katie Glerum, Global Health Program Manager at Mt Sinai Health Systems. At the recent Microsoft Ignite, Katie shared the inspiring story of how Mount Sinai Health System (MSHS) is using Microsoft technology to bridge the 7,000+ mile gap between MSHS in New York and their partners at the Kyabirwa Surgical Centre (KSC), an ambulatory surgical facility in rural, eastern Uganda. Her session with Payge Winfield received overwhelming interest and tons of questions from attendees eager to learn more about how Mt Sinai Hospital uses mixed reality to bridge the gap in providing critical care to patients in remote villages in Uganda, hence she is thrilled to follow up on those questions in this post. You can also watch her Microsoft Ignite session recording here.
Thanks everyone for showing up to our session at Microsoft Ignite and asking excellent questions about how we at Mt Sinai Health System (MSHS) are using Dynamics 365 Remote Assist on HoloLens 2 in our facilities across New York and at the Kyabirwa Surgical Centre. For those who have not had a chance to read the full written story about our use case, please be sure to check out this link here: Microsoft Customer Story-From 7,000 miles apart, Mount Sinai and Ugandan surgeons work together in real time, bringing life-saving expertise to rural communities
I wanted to share some of the photos that I had previously shown during the session, just for context: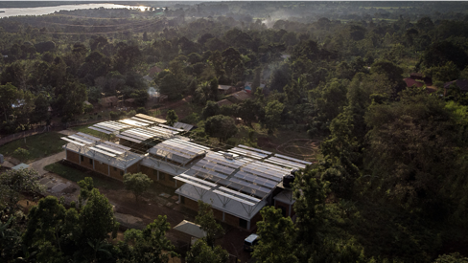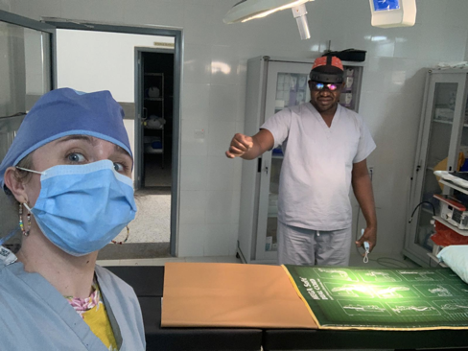 Some additional background for those who may have not seen the presentation (recording here): Uganda is included among the poorest 35% of the world's population, which undergoes only 3.5% of all surgical procedures performed annually. This is due to a variety of factors including the fact that for every 500,000 Ugandans there are only three surgeons and one operating room.
To help address this gap in care, MSHS built a self-sustainable facility in rural Uganda in partnership with the local community. We then leveraged Microsoft technologies to create clinical partnerships between the Ugandan surgeons and surgeons at MSHS, so that all may learn from each other. The comprehensive suite of Microsoft technologies powering these clinical partnerships include:


Microsoft HoloLens 2 with Dynamics 365 Remote Assist, which allows for remote surgeons at MSHS to assist with surgery happening in Uganda, allowing surgeons in Uganda to work hands-free, with real time support from their colleagues at MSHS who can simultaneously view the live surgery via Microsoft Teams


Microsoft Teams also serves an additional two purposes: (1) to connect a pathology microscope in Uganda with a MSHS pathologist in NYC, allowing them to perform specimen readings remotely; and (2) to facilitate remote training/assistance during endoscopic procedures


Microsoft Azure allows us to store patient data securely on the cloud, making it easily accessible by both Ugandan and MSHS clinicians


Microsoft Power BI provides analysis of patient data stored on the cloud, also making this easily accessible by both Ugandan and MSHS clinicians


17 Microsoft Surface Hubs that facilitate intercontinental collaboration and communication (15 in NYC, USA and 2 in Kyabirwa, Uganda)


Office 365 is used for all our communication and collaboration needs


Dynamics 365 Business Central powers all our ERP needs


Now to the unanswered questions that I couldn't get to during the session because we ran out of time (and all of you had SO many awesome questions!) – These all tended to fall within the bulleted categories below. Several questions from folks overlapped, so I picked the most common question themes and hope that I have addressed all of the questions you might have: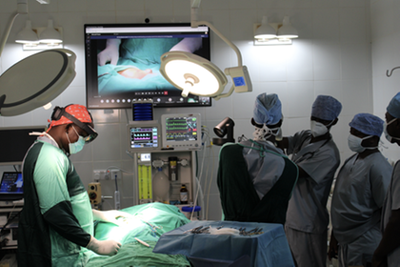 Training and Implementation:


What training is required to get your users up to speed?




The technology may be complicated, but the actual usage training is actually quite simple. All surgeons receive an initial two-hour training with the HoloLens 2 headset. This includes the MSHS surgeons, so they can better understand the experience of the Ugandan surgeons, who will be wearing the headset during surgery. Then the MSHS surgeons are trained to use Remote Assist to join sessions and use mixed reality 3D annotations as well.









How are the surgeons using the Kyabirwa tenant with their own teams and Remote Assist licenses?




As the question references, this is all done on the KSC tenant, where the operating surgeon is located. The Dynamics 365 Remote Assist licenses are also part of the KSC tenant. This means that the meeting must be set up by someone on that tenant, which is simple because I, as the Global Health Program Manager for the Department of Surgery at MSHS, have an account on the KSC tenant as well. Once they're let into the meeting as Guest users on the KSC tenant, the MSHS surgeons can annotate in 3D using Remote Assist.









Are there any issues regarding the sterility of the device?




The device is viewed similarly to vision corrective glasses that a surgeon may be wearing. It does not require additional effort to maintain sterility. Of course, if an adjustment is required (if it is slipping or something), a surgical assistant in the operating theater will assist, so the surgeon maintains sterility.







User Experience:


What frustrations have surgeons experienced using the HoloLens?




I passed this question on to Dr. Joseph Okello Damoi, the lead surgeon at Kyabirwa Surgical Centre and he had three main points of feedback on this which I am sharing in full transparency for your own consideration/evaluation:




Head Position: The operating surgeon must hold their head at a different angle than they would otherwise


Battery Life: The battery life doesn't always last the entirety of a procedure and charging while in use has at times caused the device to overheat and turn off in the middle of a procedure


Accuracy of Drawings: The holographic drawings do a good job of illustrating a point, but precision can be improved














Has anyone viewing the HoloLens perspective experienced motion sickness and gotten nauseated or dizzy?


This has not been an issue, and, honestly, I get car sick quite often, so am a good test for this! :)
Technical Concerns:


How is technical support provided to users in rural locations?




We work with both SphereGen, a mixed reality company, and Tellistic, an East African Microsoft partner. With their powers combined, we have not had any issues receiving technical support. Software issues can be addressed remotely by SphereGen, while Tellistic ensures the device is properly configured, connected, and powered on the Ugandan side. At the moment, we ensure that there is representation from both SphereGen and Tellistic on all Remote Assist calls during surgery, in the event of technical difficulties.









Are bandwidth limitations in rural areas a big challenge?




The answer is a definite yes! However, having anticipated these challenges, we dug and laid fiber optic cable from the closest city (Jinja, Uganda) underground, a total of seven miles to the facility. This has ensured stable internet connection with a consistent bandwidth of 40Mbps, of which 30Mbps is dedicated and reserved for theater operations including Remote Assist and Teams. Without this set up, the story would be very different.









What do you do to mitigate potential connectivity loss during a procedure?




In addition to both the dedicated 30Mbps and ensuring that tech support is engaged and available throughout the entire procedure, we have handheld cameras available as backup should the HoloLens disconnect or fail to connect. In a recent procedure, we had to pivot to these cameras when the HoloLens overheated and forced itself to turn off. It doesn't happen often, but it's always good to have backup especially in a surgery!


Currently our internet fiber has no backup, so we are susceptible to a blackout should the cable get cut. However, we are in the process of setting up a wireless link (via microwave transmission) to give us the necessary backup.







If you have any additional questions, or would like to learn more about this project, or how to support our efforts, feel free to follow or message me on Twitter: katie glerum (@katieglerum) / Twitter
It is such an honor to be able to share this story. Thank you to Microsoft for the amazing platform, and thank you to my colleagues at Kyabirwa Surgical Centre for allowing me the privilege of assisting in, and sharing their story.
#MixedReality #HealthcareTech
Brought to you by Dr. Ware, Microsoft Office 365 Silver Partner, Charleston SC.